Jane's First Love Shows Up On 'Jane The Virgin'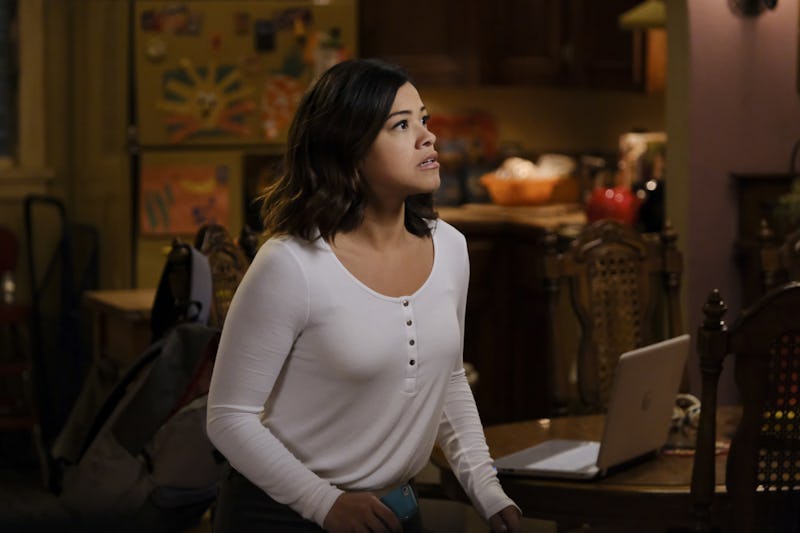 Scott Everett White/The CW
As bookends to Season 3 of Jane the Virgin, the series revealed the other men — besides Michael and Rafael — in Jane's life. While it was her crush Sam during the Season 3 premiere, the Season 3 finale of Jane the Virgin introduces Jane's first love Adam. Portrayed by Teen Wolf's Tyler Posey, Adam comes back into Jane's life in a way that just may make her believe in destiny again. Adam hasn't been a character on Jane the Virgin before, but considering that Posey will be a recurring character in Season 4, Jane is going to get back together with Adam when The CW series returns next season.
The last few minutes of "Chapter 64" are a rollercoaster of emotions. Of course that's the standard for Jane the Virgin, but as Jane simultaneously confronts her feelings for Rafael, receives a long-lost love letter from Michael, and then meets up with her very first love, she is dealing with more romantic drama than usual. While the theme of the May 22 episode is that true love isn't necessarily destiny, Jane finally gets her fateful break after a tough season. When she learns that Michael did write her a letter before their wedding, she figures out that he probably hid it in their apartment under the floor board. Although she fails in finding it initially, a man drops it off at the Marbella during Xo and Rogelio's wedding (yes, they got married! ... again!). But the man who found the letter is no stranger. Instead, it turns out that the person who moved into Jane and Michael's apartment after Michael died was Jane's first love — Adam. Whoa. Now that's some destiny.
Entertainment Tonight reported that Jane the Virgin showrunner Jennie Snyder Urman told reporters about Adam and said, "You're going to need to know what his backstory is, why [Jane] never thought she'd see him again, [and] why he was her first love. That's going to take her on a real journey and obviously, there's big history there." She also said that Adam and Jane will have a creative collaboration and that he will "be pushing her towards things that she might not be comfortable with." So, for Jane at least, the season finale doesn't end on a cliffhanger since fans can know for certain that there's a new(ish) man in Jane's life come Season 4.
Even if you're a fan of Jane and Rafael together, seeing Jane reunite with her first love is still an exciting prospect and something to look forward to during the long wait for Jane the Virgin's next season.