Attention, 'Vanderpump Rules' Fans: Jax Dropped A MAJOR Hint That He Might Work At Tom Tom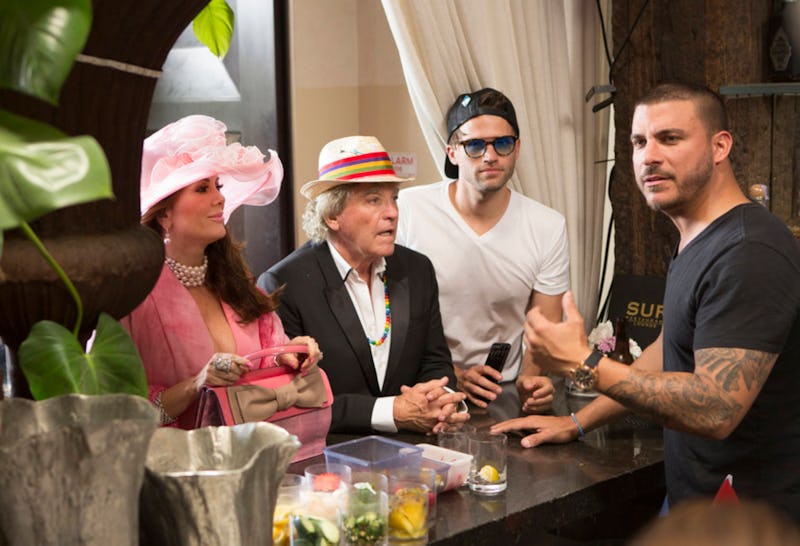 Isabella Vosmikova/USA Network
The Summer of Tom Tom is upon us. On Monday, July 9, Vanderpump Rules' number one hellion Jax Taylor tweeted about going to "meetings at the new #tomtom." Yes, meetings. As in, more than one. At Tom Tom. So, could this mean Jax will work at Tom Tom? While this photo doesn't confirm anything, it sure feels like a whopper of a hint.
Tom Tom is the latest addition to The Real Housewives of Beverly Hills star Lisa Vanderpump's hospitality empire. Located in West Hollywood, the bar is named after Pumpers (and LVP's junior partners) Tom Schwartz and Tom Sandoval. The opening day has yet to be formally announced, but on Sunday, July 1, Sandoval did tell his Instagram followers that Tom Tom would be ready to go in "3 and a half weeks."
About a week later, Jax tweeted that he apparently went to some meetings at Tom Tom. He did not reveal the purpose of the aforementioned Tom Tom meetings. He did not say who else was at the Tom Tom meetings. And he did not say why he, a former SURver and not-Tom, was at the Tom Tom meetings.
Clearly, Jax's photo was not taken at the "romantic industrial" bar named after the Toms of Pump. If the bright fuchsia lighting, the bar that was apparently made out of a bridge, and the vase of lilies behind the newly affianced Bravolebrity look familiar, it's with good reason. As the Instagram geotag confirms, this selfie was snapped at PUMP, LVP's restaurant that's just down the street from Tom Tom.
But apparently, there were meetings at Tom Tom. And apparently, Jax attended those meetings at Tom Tom. Why, oh why might Jax attend meetings at Tom Tom? He is not one of the Toms, he does not work for LVP (as far as we know), and he is not one of Ken Todd's Pomeranians, so what the heck was he doing there? And why didn't he take a selfie while he was at Tom Tom? What on SUR-th is going on?
At the end of Season 6, the unthinkable happened: LVP reached her Jax limit. After one too many Jax-cidents, she told the longtime SUR-tender to quit his job. While we viewers never actually got to watch Jax write up and hand in his letter of resignation, we are to assume that it happened at some point; as far as we know, Jax's SUR days really are a thing of the past. However, at the Season 6 reunion, Lisa did hint at the possibility of Jax potentially working at her newest endeavor, Tom Tom.
Which brings us to the selfie Jax took while standing in front of a mirror at PUMP. Did Jax go to the Tom Tom meetings because he now has a job at Tom Tom, just as fans predicted? No, that selfie does not prove he is a member of Tom Tom's staff, but it sure seems like a clue.
Then again, LVP could've asked Jax to help out with Tom Tom's launch day, and with the launch day only; tending bar at the new establishment on a regular basis may not be in the former SURtender's tea leaves. Or maybe these meetings did not have anything do with Tom Tom, PUMP, or SUR. The location could've been a red herring. Er, a red grilled swordfish from SUR.
Or maybe dude is the type of person who loves to go to a meeting he doesn't actually have to go to? Maybe he went to the Tom Tom meetings because he wanted to show his two best friends his support? Or maybe Tom Tom has an aces air conditioning setup and Jax dropped by the meetings at the to-be-opened restaurant in the middle of the brutal heat wave that swept Los Angeles over the weekend?
Or maybe, just maybe, Jax really will work at Tom Tom. Augh, the SUR-spense is almost too much to bear.