This 'Vanderpump' Star Dramatically Quit SUR & Honestly, It's About Time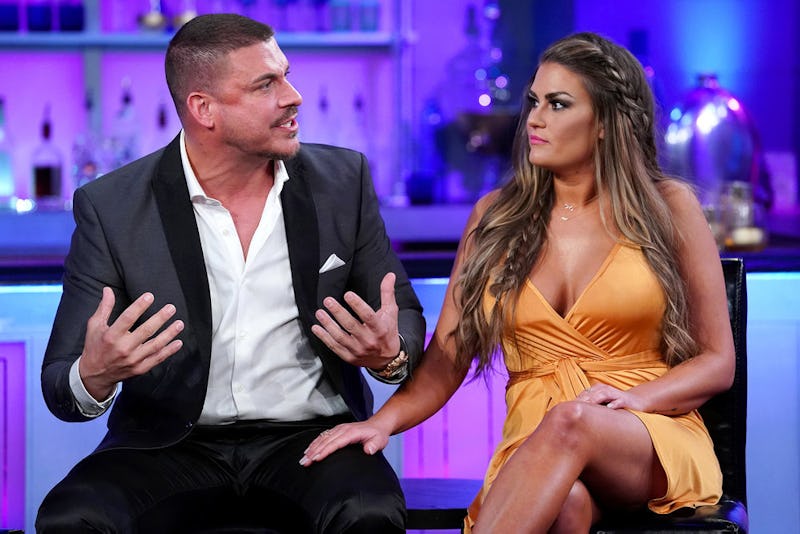 Nicole Weingart/Bravo
Spoilers for the Vanderpump Rules Season 6 finale.
There are some constants in this world that are reassuring: the sun sets, the moon rises, Twitter is a tire fire, and Jax Taylor, terrible SUR bartender, will always be slinging poorly made drinks for Lisa Vanderpump. But on the Season 6 finale of Vanderpump Rules, Jax Taylor quit SUR. Yes, really. Yes, he says he is walking away. No, I couldn't believe it either. What is SUR without Jax? What is a rose without a thorn? And what is Jax doing now?
As usual, Jax can only blame himself for the end of his employment there (not that he'd admit to it). All of his issues right now stem from the fact that he cheat on and lied to Brittany, indicating that he only wants to be in a relationship with himself. All of that would be fine if he could say it out loud, but instead, after he betrayed Brittany's trust, he admitted to it and said he'd change. And then dumped her, but not before having sex with her the morning of the breakup, because, as Jax says, sometimes sex "isn't about a relationship" and is, instead, about "getting off." Okay, great.
All of this, in Lisa Vanderpump's eyes, makes Jax a man that she wouldn't want her daughter to be involved with. It doesn't negate any ability of his to tend bar. Instead, it was Jax's episode of screaming and cursing at everyone (including Lisa and Ken) in the middle of a very loud, very crowded See You Next Tuesday night at SUR that seemed to be the nail in the coffin. And so, she tells him in the finale that the only honorable thing he could do right now is walk out that door and not darken it again.
Lisa rarely calls out her staff — she is one of the producers of Vanderpump Rules, so a necessary degree of drama in all her businesses is expected to keep them going — but in this case, she's had enough of Jax's outbursts. His apologies don't mean anything at this point, because he says "sorry" like I say "bless you" during allergy season. Lisa and Jax have a standoff, and Jax quits. And though he walks away, he still thinks he should get a break, because he's Jax or whatever. What will he do now? Apparently, move in right next door to Brittany, his ex.
Surprised he's not heading to Florida? Earlier in the season, Jax told everyone that he had gotten a job offer from a friend who works for the Tampa Bay Rays to do "social media and marketing" for the team. Neat. Brittany wasn't enthused because she wasn't even consulted about moving across the country, and all of it exploded in Jax's face. So why not try for that job again? Jax tells Brittany that if she's going to stay in their old apartment, he's going to move into another apartment in the same building, because he wants to stay closer to Tom and Katie? The reasoning is fuzzy — Jax just wants to hear himself talk.
In any case, for the first time, Jax is free from the chains that he constantly complained about. He's been in some sort of relationship since the beginning of Vanderpump Rules, and at the end of the season, he's single. (He and Brittany have since reconciled, if social media is to be believed.) He's also free of the job he loved to complain about. The world is Jax's oyster! But what will he do with it? From the looks of his Twitter account, Jax does nothing but talk about hockey. That doesn't necessarily mean that he has that Tampa Bay job, but there's also been no mention of SUR or any of Lisa's other spots.
So maybe, months after filming, Jax went back to Brittany and is still separated from SUR. But after Vanderpump Rules for six seasons, viewers know one thing — SUR is like a magnet, a homing beacon of reality television fame. And Jax will probably be back.