How 'House of Cards' Season 6 Moved Forward Without Kevin Spacey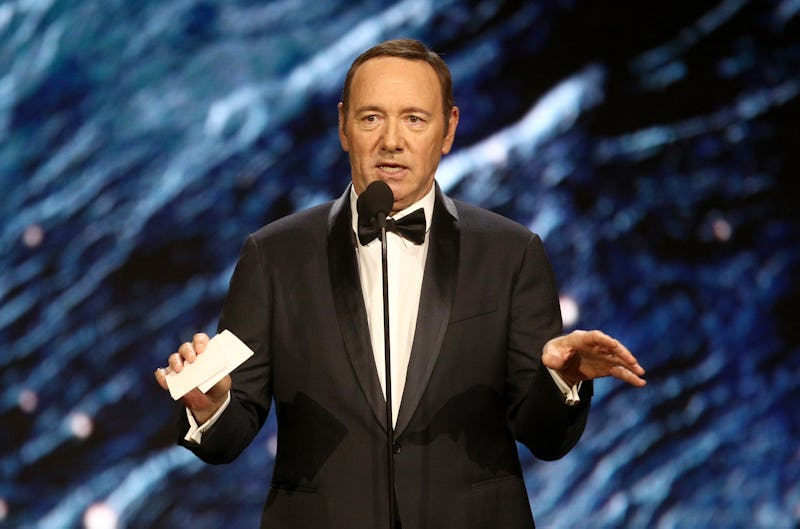 Frederick M. Brown/Getty Images Entertainment/Getty Images
Kevin Spacey was long the face of Netflix's House of Cards, but last year, all of that changed. As reported by BuzzFeed News, the network cut ties with him after an actor came forward with allegations that Spacey took advantage of him when he was 14 years old. Subsequent allegations of molestation and rape, as reported by USA Today, it would be surprising if Kevin Spacey was in House of Cards Season 6 at all.
As Netflix previously stated in the wake of the misconduct allegations, the show will move forward without Spacey, and apparently without Frank as well. "Netflix will not be involved with any further production of House of Cards that includes Kevin Spacey," a statement to Bustle from a Netflix spokesperson said last November. "We will continue to work with MRC [Media Rights Capital] during this hiatus time to evaluate our path forward as it relates to the show."
Since then, trailers leading up to Season 6 have suggested that Spacey's character is dead and gone as far as the show is concerned, and now, the spotlight is on Claire. One teaser revealed Frank Underwood's grave, confirming that he's no longer alive in the newest batch. It remains unclear if any footage recorded before the allegations will make it to the final cut, though it feels unlikely, given how solidly Netflix cut ties.
Though Spacey has remained mostly silent on the allegations that came out following the initial claims from Anthony Rapp, he did address the initial comments from the Rent star in a tweet. "I have a lot of respect and admiration for Anthony Rapp as an actor. I'm beyond horrified to hear his story. I honestly do not remember the encounter, it would have been over 30 years ago," the tweet reads. "But if I did behave as he describes, I owe him the sincerest apology for what would have been deeply inappropriate drunken behavior, and I am sorry for the feelings he describes having carried with him all these years," Spacey added.
He also used the tweet to say he chooses "to live as a gay man," stirring up even more criticism, as many pointed out how inappropriate it is to suggest homosexuality and sexual misconduct have anything to do with one another.
Only some cast members from House of Cards have spoken out about Spacey's departure. Michael Kelly, who plays Frank's former right-hand man, Doug Stamper, told Variety in April that it's difficult moving forward without him. "It's such a mixed bag of emotions because I was with that guy every single day," he told the outlet. "I don't even know how to put it into words because you know one thing for so long and then all of a sudden it's a completely different world you're living in. There's obviously a million emotions that I went through, that I processed during this whole thing. I don't want to talk too much about it because it was heartbreaking in so many ways."
Robin Wright, Spacey's onscreen wife who's now capably taken up the reigns on her own, distanced herself from Spacey after the allegations, telling the Today Show that she wasn't close with him. "Kevin and I knew each other between action and cut and in between setups, where we would giggle," she said. "I didn't really — I didn't know the man. I knew the incredible craftsman that he is."
While Spacey's time on House of Cards is up, the show will go on with Claire Underwood at the helm of the country instead of Frank. It might not be where the production planned on going, but in its final season, things are still sailing full steam ahead.