Netflix Decides To Cut Ties With Kevin Spacey Amid Sexual Harassment Allegations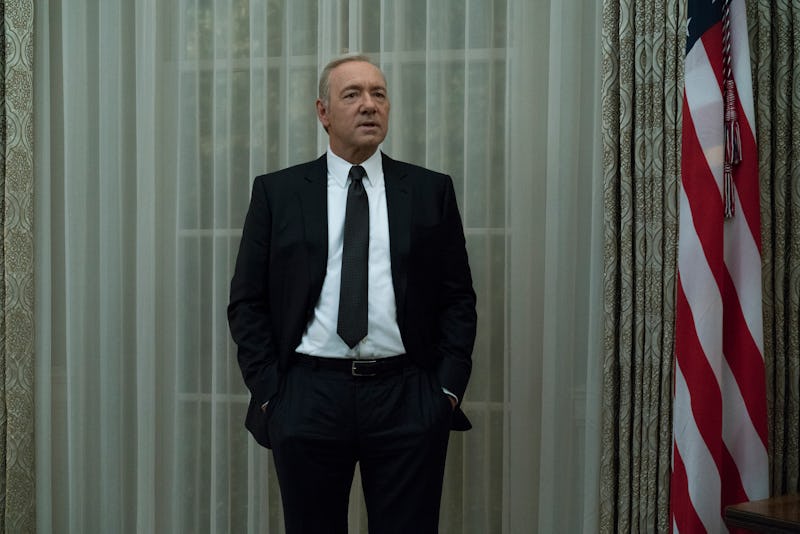 David Giesbrecht / Netflix
Over the past week, sexual harassment allegations have surfaced against Kevin Spacey, with claims ranging from sexual advances toward a teenager to attempted rape of a minor. (Spacey claims to not remember the former incident, but through his rep denied the attempted rape allegation.) In response, Netflix is cutting ties with Spacey, the streaming service confirmed to Bustle. The Emmy-nominated actor won't be involved in Netflix's production of future episodes of House of Cards, where he not only played a lead character, but also served as an executive producer. The Hollywood Reporter was the first to break this news on Friday night. A Netflix spokesperson released the following statement to Bustle on Saturday:
"Netflix will not be involved with any further production of 'House of Cards' that includes Kevin Spacey. We will continue to work with MRC [Media Rights Capital] during this hiatus time to evaluate our path forward as it relates to the show. We have also decided we will not be moving forward with the release of the film 'Gore,' which was in postproduction, starring and produced by Kevin Spacey."
Bustle reached out to Spacey's rep, but did not receive an immediate response. This announcement comes after Netflix already confirmed House of Cards' sixth season would be its final. Netflix and Media Rights Capital also suspended production on House of Cards on Tuesday. At the time, they released the following statement to Bustle:
"MRC and Netflix have decided to suspend production on 'House of Cards' season six, until further notice, to give us time to review the current situation and to address any concerns of our cast and crew."
According to Deadline, MRC reportedly set up an "anonymous complaint hotline, crisis counselors, and sexual harassment legal advisors for the crew," and plans to investigate any further claims that arise. The site also reported that there was one claim against Spacey while filming Season 1 of House of Cards. Netflix told Deadline on Thursday, "Netflix was just made aware of one incident, five years ago, that we were informed was resolved swiftly."
The first public claim against Spacey came from Anthony Rapp, who told BuzzFeed that the actor allegedly made a sexual advance toward him when he was 14 years old. Spacey posted a statement on Twitter, claiming he did not remember the incident. His statement also included an apology and admission that he chooses now to live "as a gay man." Many took issue with the latter part of Spacey's statement, as he seemingly attempted to overshadow the allegations with his own coming out story. An excerpt of his statement read:
"I have a lot of respect and administration for Anthony Rapp as an actor. I am beyond horrified to hear his story. I honestly do not remember the encounter, it would have been over 30 years ago. But if I did behave then as he describes, I owe him the sincerest apology for what would have been deeply inappropriate drunken behavior."
Following Rapp's claims against the actor, others have come forward with their own allegations, including a then-15-year-old, who alleges Spacey attempted to rape him. This man, now 48, spoke to Vulture anonymously about allegedly having a sexual relationship with Spacey beginning at age 14. His rep told Vulture via email, "Mr. Spacey absolutely denies the allegations." (When this news first broke, Bustle reached out to Spacey's rep, but did not receive an immediate response.)
Filmmaker and director Tony Montana claimed Spacey allegedly groped him in an interview with Radar Online. In 2003 at a bar, he claimed he met Spacey, who came up and put his arm around him. Montana alleged to Radar, "He was telling me to come with him, to leave the bar. He put his hand on my crotch forcefully and grabbed my whole package." (Spacey has not publicly commented on Montana's claims; Bustle reached out to his rep, but did not receive an immediate response.)
Meanwhile, actor Roberto Cavazos shared a statement on Facebook about Spacey. Per Deadline, the statement translates to Cavazos alleging he had "a couple of nasty encounters with Spacey that were on the verge of being called harassment." Cavazos also claimed, "It seems that it only took a male under 30 so that Mr Spacey would feel free to touch us. It was so common that it even became a local joke (in very bad taste)." The pair reportedly worked together at London's Old Vic. (Spacey has not publicly commented on Cavazos' claims; Bustle reached out to his rep, but did not receive an immediate response.)
According to a statement released on Thursday, Spacey is currently seeking treatment. His rep told Variety, "Kevin Spacey is taking the time necessary to seek evaluation and treatment. No other information is available at this time." It's unclear what's next for Spacey, but one thing is certain — it won't involve Netflix.