Here's How Kylie Jenner's Social Media Could Change Now That She's A Mom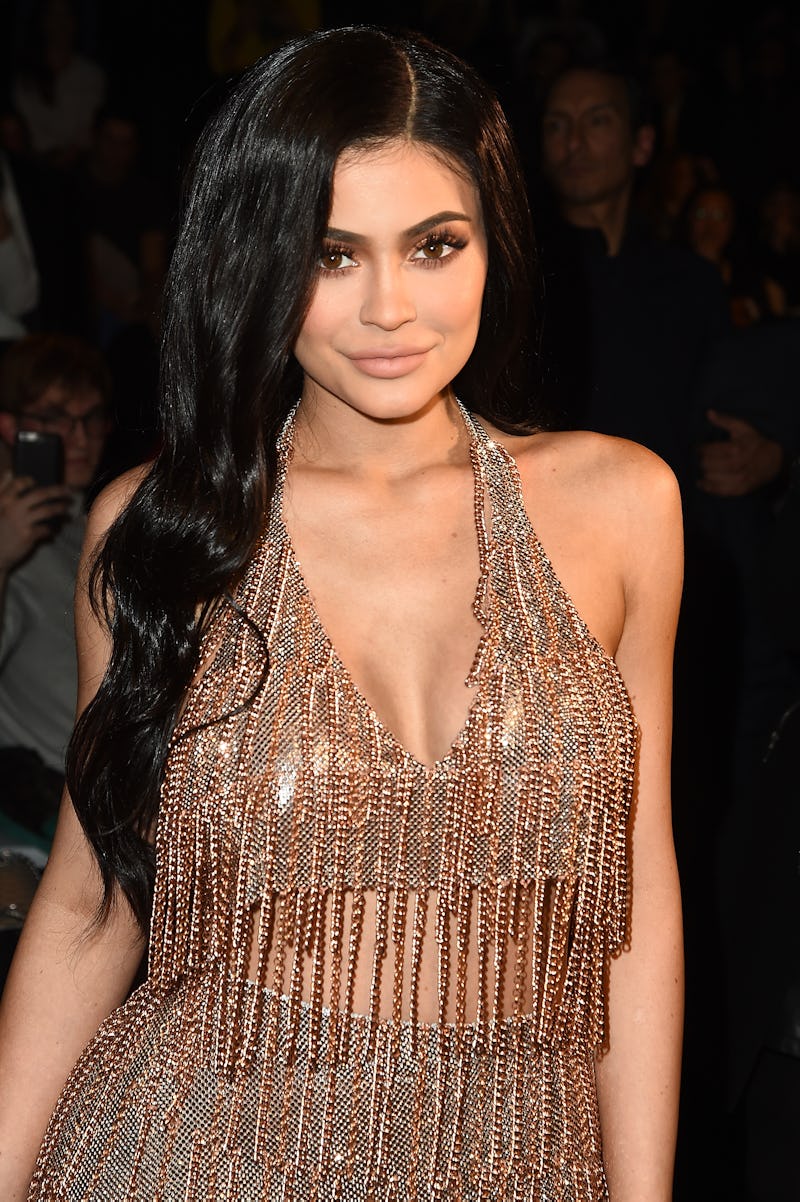 Nicholas Hunt/Getty Images Entertainment/Getty Images
After months of keeping fans wondering, it's official: Kylie Jenner is the mom of a new baby girl. On Sunday, Jenner revealed that not only was she pregnant for the past nine months (just as the rumors said), but that she had also already given birth on February 1. Jenner obviously wanted privacy during her pregnancy, but what comes next? Will this pattern continue? Is the time of Jenner, social media queen and lip kit maven, over as we know it? It's hard to predict exactly what she'll do next, but it's safe to assume that a major shift in her public behavior has already happened. It's also very likely that she'll be following in the footsteps of her older sister Kim Kardashian.
Since the earliest unconfirmed reports that Jenner was expecting first began to surface back in September, fans have been scrambling to figure out whether or not she was about to have a baby. And then, Sunday, just hours before the Super Bowl, it all came to an end. Jenner took to Instagram to admit that yes, the rumors were true, and that despite what most people had assumed, all this mystery wasn't building up to a big gimmicky reveal. Her announcement even included an apology to her fans.
"I understand you're used to me bringing you along on all my journeys," Jenner wrote. "My pregnancy was one I chose not to do in front of the world. I knew for myself I needed to prepare for this role of a lifetime in the most positive, stress free, and healthy way I knew how. There was no gotcha moment, no big paid reveal I had planned."
In fact, all Jenner has shared so far is an emotional 11-minute video featuring her, her friends, and her family members during her pregnancy, leading up the birth of her baby. There are no photos released (just a glimpse of the baby's tiny hand in leg in the video), and no baby name has been shared. Jenner did this her way, but is this how things are always going to be now?
Jenner has always been open about how important motherhood is to her, and the major changes she planned to make in her life after having a baby. In 2015, she told Elle UK that after having a kid, she'd "probably delete my Instagram" and live a more private life, adding that maybe she'd go off the grid entirely. She said:
"I would love to have a family and build a home with a farm in Malibu Canyon and just have my kids and throw away my phone, and just really, like, live my life and not do this anymore."
It's been three years since she shared those plans with the magazine, but she also talked about her "dream" of living the farm life on a 2017 episode of Life of Kylie. It's totally possible that she's since changed her mind or doesn't really want to go completely give up life in the spotlight. But Malibu Canyon farm or not, it's already quite obvious she's planning to take a more private approach to her life the way she has through her pregnancy. She could continue on like this forever, living mostly behind closed doors while throwing her fans an update every once in awhile, and so far, she and her brand haven't seemed to suffer for it.
Although more recent sales figures aren't yet available, as of August, Kylie Cosmetics had made $420 million in the 18 months since its launch, Kris Jenner told Women's Wear Daily, and new products are still consistently launching, with Jenner doing most of her work more behind the scenes these days. And her social stock certainly hasn't seemed to plummet either. So far, Jenner isn't hurting from lack of self-exposure, because the pregnancy mystery kept things moving, but what about now that it's over?
It seems that at this point, she'll need to find a way to keep the balance she found during her pregnancy, and that could mean a permanent change from the constant presence she had on Instagram, Snapchat, and Keeping Up With The Kardashians. As it is, Jenner has been largely absent from the current season. Even when Khloé Kardashian announced she was pregnant, Jenner was only seen briefly on FaceTime. This season has focused mainly on the older sisters, Kim, Kourtney, and Khloé, possibly as a result of Kendall and Kylie being less available for filming. Perhaps Jenner never plans to return to filming full-time.
Now that there's no longer a pregnancy shrouded in mystery to keep people guessing, she will need to find a new way to make her fans feel connected to her and involved in her life, however small, because that's what her makeup brand is built on. Before her pregnancy, Jenner was constantly popping up on social media, almost over-sharing about her life and Kylie Cosmetics. Then, she all but disappeared, much like her sister Kim did after her 2016 robbery in Paris. If she wants to maintain privacy in the way she has during her pregnancy, she needs to be able to find a middle ground.
Striking that balance definitely can be done, and her sister Kim is an excellent role model for this. In the last couple of years, Kim has managed to stay more private than ever before while also sharing bits and pieces of her life and her children where she feels comfortable. For example, she didn't share any information about her surrogate but did share details from her side of expecting a baby, like the pictures she shared from her baby shower. This could be an approach Jenner takes in the future, selectively sharing her and her daughter's life online and on KUWTK as she sees fit in order to keep fans' curiosity satisfied; giving the illusion that she's sharing everything, when she really isn't sharing that much at all.
Whatever happens next for Jenner will certainly be interesting to watch — provided that she gives fans something to watch in the first place. Her baby is here, and if she lets us, seeing her as a mother is going to be so much fun, even if those details do come in small doses.