This Netflix Drama About An Aspiring Reggaeton "Queen" Is What's Missing From Your Watchlist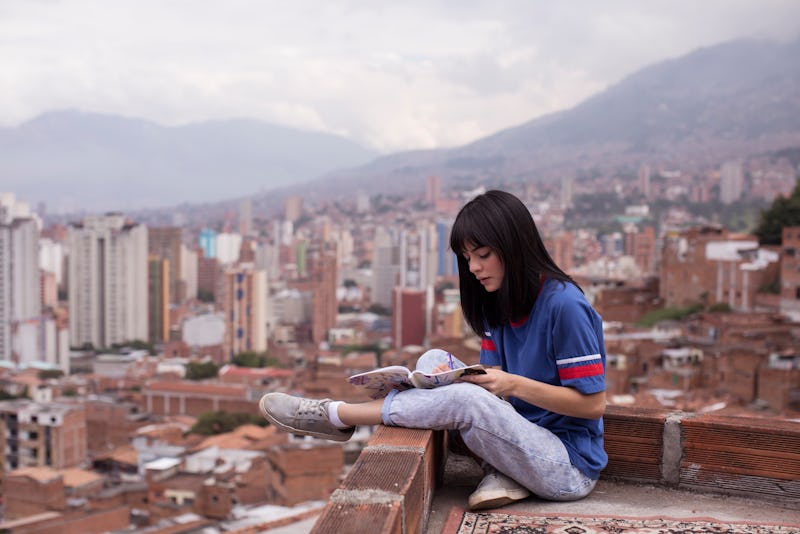 ANDRES VALBUENA
Equal parts Orange Is the New Black, Narcos, and Empire, the Colombian series The Queen of Flow, or La Reina del Flow, premieres Friday, Nov. 9 on Netflix after airing on Spanish-language television. The telenovela first aired in Colombia and follows Yeimy Montoya (Carolina Ramírez), who had childhood dreams of becoming a musician before her parents were murdered. Her bad luck continued when she was framed for cocaine possession (by her crush, no less!) and imprisoned for 17 years up in the States. Now, however, Yeimy has a second chance to get revenge. This kind of drama has to play out over time, which is why it's a good thing that La Reina del Flow will likely return for Season 2.
Per the site Rating Colombia, the telenovela premiered at number one on Colombian television back in June. La Reina originally aired on the Caracol Channel, and per Entretengo, it became one of the top five watched Colombian series from the past five years. However, that's not to say that La Reina didn't receive some criticism. According to an article on Publimetro, some viewers slammed its use of drugs and violence. "We want to show how music, and especially the urban genre, has become the salvation of many Colombians, who have preferred art over violence," Carolina Ramírez told the outlet in response.
And while the show does touch on Colombia's violence and drug trade, the show portrays music as a means of escape, as Ramírez mentioned. Before Yeimy's parents were killed, they were supportive of her music dream, and even after she gets out of prison as an adult, her aspirations remain unchanged. Well, that and avenging her parents' death. The would-be singer makes a deal with law enforcement to be an informant, per the trailer, and after faking her death, she changes her name to Tamy Andrade.
As seen in the trailer, Yeimy's former paramour-turned-nemesis, Charlie Flow (Carlos Torres), grows up to be a famous reggaeton singer. Per Publimetro, many La Reina fans pointed out that Charlie shares many similarities with real-life singer Maluma. For the uninitiated, Maluma is a Colombian reggaeton star, who has collaborated with Latin music royalty like Shakira ("Clandestino") and Ricky Martin ("Vente Pa' Ca"). That said, Torres denies that his character is a straight copycat. "There are a lot of people who write to me in networks that look a lot like Maluma, but this is a completely new character, and although it is part of the urban world, it has nothing to do with Maluma," he told Pulzo, per the same Publimetro report.
That said, the actor went on to say that he did reference several reggaeton stars for his performance — in addition to Maluma — including Sebastian Yatra, J Balvin, Piso 21, and Reykon, per Publimetro. "But of course, [my character is] still very different from all of them," Torres said.
As for his costar, Ramírez, it's obvious that the Colombian actor has a sense of humor, and she often features her goofy antics on Instagram. In one such post, she shared a blooper from La Reina del Flow, where she fell off the couch during a serious moment. In another relatable AF selfie, the actor is shown bleaching her mustache while on a glamorous vacation. In still another, she teases a potential second season. "And if there is a second season and we see #Yeimy more on stage? (It's a poll not a spoiler) #lareinadelflow," she wrote cheekily in a translated version of the post.
And thankfully for La Reina fans, a second season has been confirmed. According to the Peruvian branch of Publimetro, the show announced their renewal at the end of their season finale, which aired Oct. 9. What's more, Caracol also confirmed the news on their Instagram. However, there doesn't appear to be any news about when it will air. And since Season 1 premiered in Colombia five months before it arrived on Netflix, viewers may have a long wait to learn more about what happens with Yeimy. But in the meantime, they can catch up on Narcos or delve into Distrito Salvaje. But fortunately, La Reina will return so that Yeimy can hopefully claim her throne as the rightful reggaeton queen.