Alex Gets Into Trouble On 'OITNB' Season 5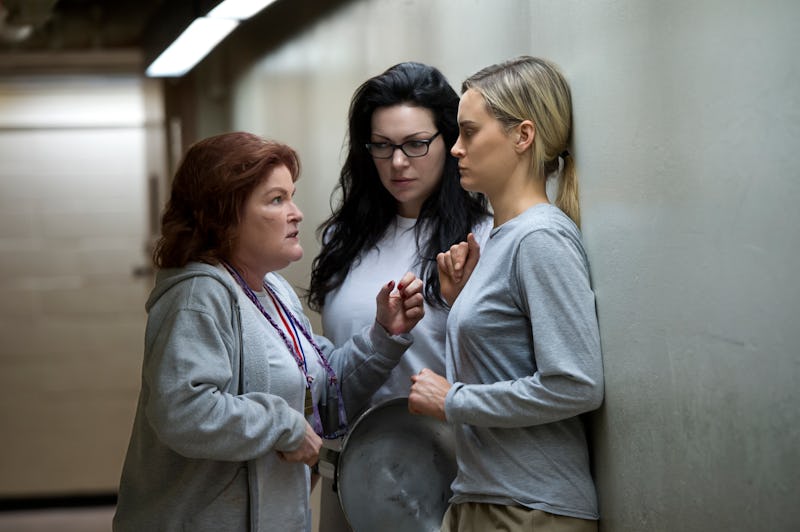 JoJo Whilden/Netflix
The end of Orange is the New Black Season 5 isn't the first time fans have been left wondering about Alex Vause's fate. Who can forget the end of Season 3 when it seemed like she may have died? SPOILERS FOR SEASON 5 AHEAD. And, now it's looking like that may happen again. When Season 5 premiered June 9, Orange Is The New Black fans learned the aftermath of Poussey's death sent Litchfield into chaos, and Alex is in the middle of it. Will Laura Prepon return for OITNB Season 6? (Bustle reached out to Netflix for comment but has not yet received a response.)
Alex has been dealing with the guilt of literally getting away with murder in Season 4 and, as the riot begins, she grabs Piper, played by Taylor Schilling, and to hide out in the prison. This proves to fit the Season 5 narrative, as the storylines focus on other inmates rather than the usual Piper-and-Alex relationship. Granted, Piper and Alex are an important duo to the OITNB narrative. Both have had an opportunity to play the bad influence to the other's cautious character. In turn, their character growth has been mostly together. In an interview with The Hollywood Reporter, Prepon said, "With Alex and Piper, we've seen them go through so many things, but it's always grounded in the fact that they do really love each other. So when everything hits the fan, they go to each other."
While it hasn't been confirmed or denied that Laura Prepon will return to Season 6, with Piper and Alex always drawn to each other, can Litchfield have one and not the other?
Granted, Laura Prepon is very busy when she isn't filming for OITNB. This week she announced on Live with Kelly and Ryan that she and fiancé Ben Foster are expecting a baby girl. On a professional note, she is promoting her new film The Hero which arrived in theaters June 9 and going behind the scenes for OITNB.
According to Movie Pilot, Prepon directed the 10th episode in Season 5, which could open a few doors for life after Alex Vause. On directing her first episode, Prepon has said, "It's gonna be great. Everyone's so supportive, and I've directed myself before so that'll be fine... I can't wait."
None of this indicates that Prepon will lose her cast credit for Season 6, but fans may feel a familiar worry creeping up. At the end of Season 3, Alex's life was in danger, leaving many fans to speculate if they were going to see Alex Vause alive in Season 4. Once again, in Season 5, Alex's fate at Litchfield is uncertain. However, this time, so is Piper's. And I doubt the show can exist one without the other so they'll likely face their fates together. And, even if Alex doesn't make it to Season 6, perhaps Prepon can return to direct and give us Alex in some form. Season 6 can't arrive soon enough.