Jack & Dani Could Be Set For Wedding Bells After Danny Dyer's Adorable Tweet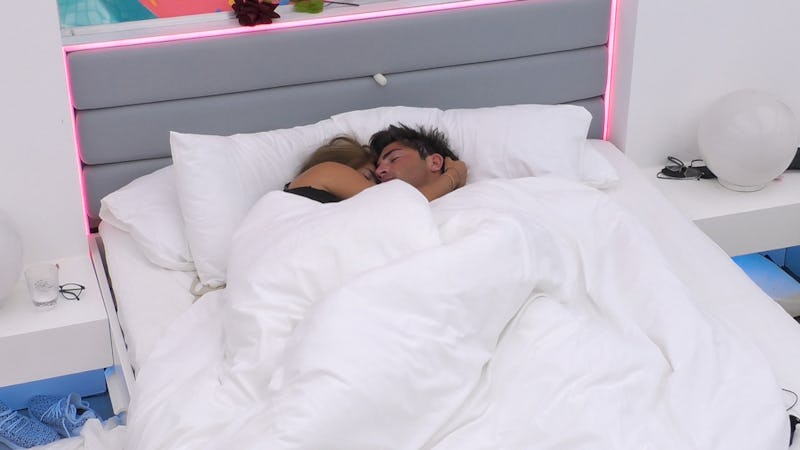 ITV
Their relationship was severely tested when his ex Ellie Jones rocked up on Love Island, but Jack Fincham and Dani Dyer's burgeoning romance has survived the fallout and gone from strength to strength ever since. Following a brief stay at Casa Amor, Jack was reunited with Dani at the main Love Island villa during Monday night's episode. And, following their emotional reunion, the pair even exchanged "I Love Yous" during Tuesday night's show. So, what's next for the couple? And, will Dani and Jack get engaged after Love Island?
Well, the odds are certainly in favour that. Earlier this week, Metro reported that UK betting service Ladbrokes had officially slashed the odds of Dani and Jack getting engaged to 2/1. So, it seems a lot of people are anticipating Jack proposing to Dani, or — because this is 2018 — Dani proposing to Jack, either during or following their Love Island stint.
But, has it happened before? And, how many former Love Island couples have actually ended up getting engaged?
As it turns out, every season of Love Island thus far has resulted in at least one of the couples getting engaged. Now, how's that for an interesting tidbit? Season 1 saw Jon Clark pop the question to Hannah Elizabeth during the show itself. Their engagement sadly later came to an acrimonious end, with the pair not speaking since.
In Season 2, Olivia Buckland found her apparent soul mate in Alex Bowen, and Alex then popped the question in December 2016. The pair are due to be married later this year, with Olivia celebrating her Hen Party in Mykonos with fellow Season 2 contestant Cara Da La Hoyde and Season 3 contestant Gabby Allen, last month.
While last year's show may have seen Dominic and Jessica Shears exit early, the pair revealed their engagement in September last year, as Heat reports. And, following an unofficial wedding ceremony on Good Morning Britain in February, the pair will officially tie the knot in a Mykonos wedding later this year, reports The Mirror.
But, what's the forecast for Dani and Jack? Pretty sunny, actually.
Despite the reveal by Ellie that Jack had a poster — or as he called it, a canvas — of Dani's dad and acting legend Danny Dyer on his bedroom wall, it looks like Dani's dad is far from holding that information against his potential future son-in-law. In fact, it looks like Danny could even be jetting in to meet him.
Posting the announcement that he had been nominated for a TV Choice Award on Twitter on Thursday, Danny added in the caption that he was "off to the villa." Of course, every year, Love Island gathers its finalists family and friends and thrusts them into the villa to meet their loved ones respective new partners. So, does this mean Danny will actually enter the villa and meet Jack?
That's sure what it sounds like. He wrote: "...Right...I'm off to the villa...to sign my future son in laws canvas....lovely." That mention of "son in law" also suggests that Danny would be down with the union, which will surely go a long way. But, will Jack and Dani make it to the final? Viewers on Twitter certainly seem to think so.
With Dani's dad Danny seemingly on route to the Love Island villa and Jack and Dani reunited after his boys excursion to Casa Amor, it's not a stretch of the imagination to think the couple's whirlwind romance could lead to an engagement. If it does, I'll be waiting front and centre with the bunting and congratulations because love is the aim of the show, after all.
Love Island airs on ITV2, Sunday to Friday at 9 p.m.