'Love Island's Josh & Kaz Are Totally In It For The Long Haul & It's SO Cute Why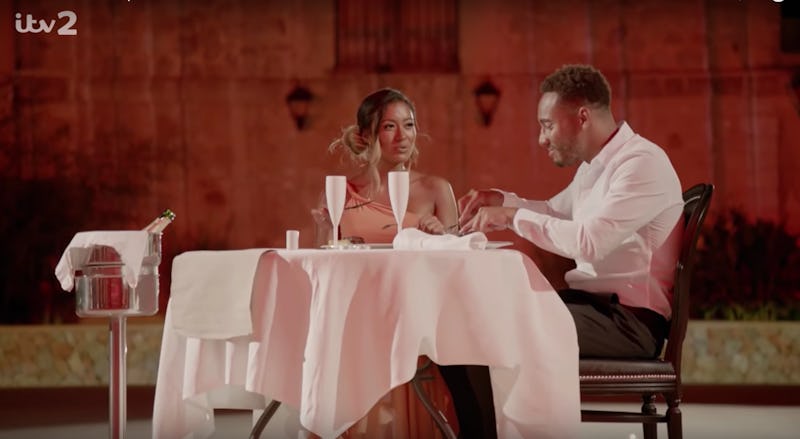 ITV/Love Island
Given the way Josh and Kaz got together, there was a time when some weren't rooting for their success. Kaz was, after all, one of the new additions at Casa Amor sent in to see if any of the boys could have their head turned. Unfortunately for Georgia Steel, who was coupled up with Josh at the time, the 27-year-old found himself captivated by Kaz. The rest is now history, and few would argue that everything didn't turn out for the best. So, will Love Island's Josh and Kaz get engaged?
Ever since their meeting at Casa Amor, Josh and Kaz, a 23-year-old make-up artist from London, became one of the most solid couples in the villa. And let's face it, it wasn't the easiest start for the pair. There was that moment when they walked back into the villa together and Georgia stood there, devastated, before pulling it together in epic fashion and facing the new couple down. Then Georgia ignored Kaz for the first few days, before finally acknowledging her by repeatedly saying she didn't know what her name was. Yes — it was as uncomfortable and rude as it sounds. But they made it through all that, and finished in third place in the Love Island final.
So, could a marriage proposal be on the cards? Fans have been excited ever since Kaz brought Josh a drink, and he responded, as the Express reports, with "buy the wedding dress, yeah!" Well, judging by the conversation the couple had over dinner when they said they loved one another, their plans are actually to take things a little slower at first. "I get to experience all those little things with you that I want to," Josh said of when they leave the villa. "Even if it's just stupid stuff like going to the cinema, munching on popcorn, doing whatever, going to my local pub." Sounds decidedly low key, but also totally understandable after being in the goldfish bowl that is the Love Island villa.
The couple have proved extremely popular on Twitter, with some viewers wishing they had more airtime. Others hoped that they would win, and were frustrated when they finished in third place.
The two made super sweet speeches to each other during the final ceremony. Kaz started, with a heartfelt declaration of her love.
"You've become my best friend as well as my boyfriend. You make me laugh until I cry, and you always have the right thing to say. Falling in love with you, Josh, has been the easiest thing that I've ever had to do. If you promise to never change and continue to make me the happiest girl, I promise I will never take you to any salsa lessons."
Josh then went onto say how his door was "slightly ajar" when he entered Casa Amor, saying that Kaz was the "dynamite that blew the bloody thing off its hinges." He went on to add: "I cannot describe how excited I am to start my life outside the villa with you, with the girl that I love and the girl I'm proud to call my girlfriend. I love you, Kaz."
Well, there's no hint of an engagement yet, but judging by those statements, the pair are in it for the long haul.