Do Not "Count Out The Countess" For 'RHONY' Next Season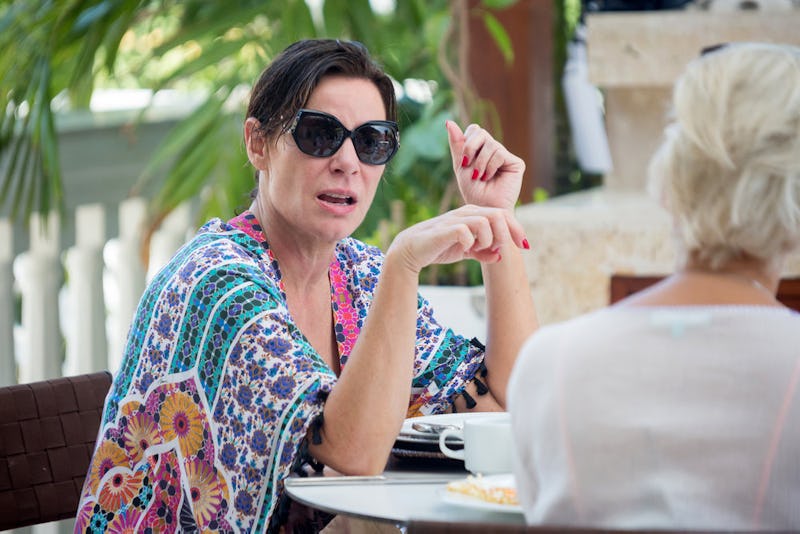 Paul Cheney/Bravo
Signing up for a show like Real Housewives Of New York means that your whole life is on display. It may make for some envy-inducing perks, but mostly, it means that people get to see the ugly parts of your life. Luann de Lesseps is having one of those years — she got involved with a new man, who cheated on her. And then she married him. And then they got divorced. And then she got arrested. And then she went to rehab — twice. Putting all of that on display takes a lot of guts, but it also might have some fans wondering if Luann de Lesseps will return to Real Housewives Of New York? The show has been a true constant in her life.
Life is messy, and 2018 was really the first time in a decade that we've seen the Countess falter. That's OK, by the way! Stuff happens and the messy stuff is often the same stuff that can propel you forward in life. Luann married Tom D'Agostino in Palm Beach on New Year's 2017, and the marriage only lasted seven months — the two filed for divorce, per E! Online, in August of that year. Of her short-lived marriage, Luann told E!, "I don't regret it, I don't take the pictures down, I'm not that kind of person. I don't, you know, live in the past. It's part of my life and that's how I live."
While she didn't have any regrets, per se, she wasn't completely over it, because in December 2018, Luann was arrested, as reported by People, and charged with alleged disorderly intoxication, alleged battery against a police officer, allegedly resisting arrest, and allegedly threatening a public servant. (She has since reportedly agreed to a plea deal, as per TMZ.)
After a stint in rehab, Luann came back, bigger than ever. She even has her own cabaret show, #CountessAndFriends, and from what viewers saw on the last episode of Real Housewives Of New York Season 10, it's great. Unfortunately, Luann checked herself into rehab again in the summer of 2018, missing the Real Housewives Of New York reunion. Oh, and her children are suing her, too.
All of these issues would take any other Housewife down, quite frankly. Many would fold and leave the show to figure everything out, but will Luann? Probably not. Even though she missed taping the Real Housewives Of New York Season 10 reunion (which was not a walk in the park, let me tell you), she is getting her own Watch What Happens Live! special following the last episode of the reunion in order to air her grievances and react to the season. If she were leaving, would she even bother? Luann also posted on her Instagram that she was sad to miss the taping, but her health comes first. She also used the hashtag #nevercountoutthecountess, which seems like a rallying cry that she'll be back for Season 11.
Luann is one of the original Real Housewives Of New York cast members, along with Ramona and Bethenny, so it would be a Big Deal™ for her to leave. But it doesn't seem like she will. Carole is already out and Jill Zarin isn't joining, but Luann will stay. She'll stay because she's stronger than her haters and because she doesn't seem to think that a bump in the road is a reason to quit a job she's loved for years. While no explicit information has been given about Luann's coming back to Real Housewives Of New York, let's assume the Countess will rule again.