Here's The Deal On Whether Meghan Markle & Trump Will Cross Paths When He Visits The UK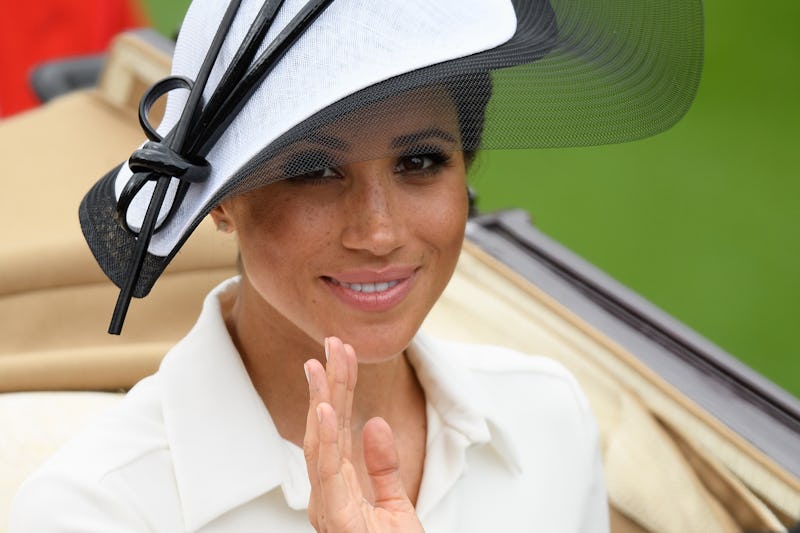 Leon Neal/Getty Images Entertainment/Getty Images
The Duchess of Sussex appears to be adjusting to royal life quite well. Back in May, she and the Duke of Sussex appeared together at Prince Charles' garden party at Buckingham Palace in May in celebration of Charles' 70th birthday. And earlier in July, she took Serena Williams and Reddit co-founder Alexis Ohanian to Prince Harry's polo match. The Duchess is making all the appearances expected of a new royal, but it's unknown if she's expected to meet with other countries' heads of state. So, will Meghan Markle meet Donald Trump on his trip to the United Kingdom?
Well, the answer is still murky. First, the meeting won't be a traditional state visit, according to People. Trump will visit the United Kingdom for a "working visit" from July 12-14. Trump will meet with Queen Elizabeth II at Windsor Castle on July 13, according to Town & Country magazine.
"Yes, yes, I mean he has to see the head of state. Putting his foot on British soil, it's job one, it's very important, very symbolic. Meeting Her Majesty is the most important thing, because she's the head of state, and from then on, it'll be what the president wants to do," U.S. ambassador to the United Kingdom Robert Wood Johnson told Sky News.
Trump cancelled his trip to London in January amid reports of pending protests. He said it was because "the best located and finest embassy in London" had been sold.
When the original trip to the United Kingdom was being planned, there were reports that Trump wanted to play golf with the Queen. "Discussions are underway about the president playing a round of golf on the private nine-hole course at Balmoral while the Queen looks on," according to the Telegraph's Christopher Hope and Ben Riley-Smith. Though that might not actually happen, Trump is expected to visit one of his golf resorts in Scotland.
The Telegraph also reported that the Duke and Duchess of Cambridge were set to be a part of the festivities welcoming Trump and Melania to London. But this was before Markle married Prince Harry in a lush and traditional ceremony at St. George's Chapel at Windsor Castle. Markle is arguably the most famous royal at the moment, and it's unclear how involved she will be in the head of state's visit. But we know that Trump loves celebrity.
The Daily Express, a British tabloid newspaper, said it's likely Markle would attend a banquet put on by the royal family. Royal expert Richard Fitzwilliams told the newspaper's website that his "visit is a working visit not a state visit which would be very different." In other words, according to Fitzwilliams, Markle could still end up at a dinner party for Trump, even despite her publicized negative views of the American president.
When she appeared on The Nightly Show with Larry Wilmore in May 2016, Meghan said she would move to Canada if Trump won the election.
It's really the moment I go; we film Suits in Toronto and I might just stay in Canada. Yes, of course, Trump is divisive, think about female voters alone, right? I think it was in 2012 the Republican Party lost the female vote by 12 points; That is a huge number and with as misogynistic as Trump is, and so vocal about it, that is a huge chunk of it.
So if the two do happen to meet, things could be a little awkward. That being said, according to the UK Parliament's website, members of the royal family are expected to keep their lips sealed on any personal political views.