This Bizarre Law Reportedly Stops Meghan & Harry Having Custody Over Future Kids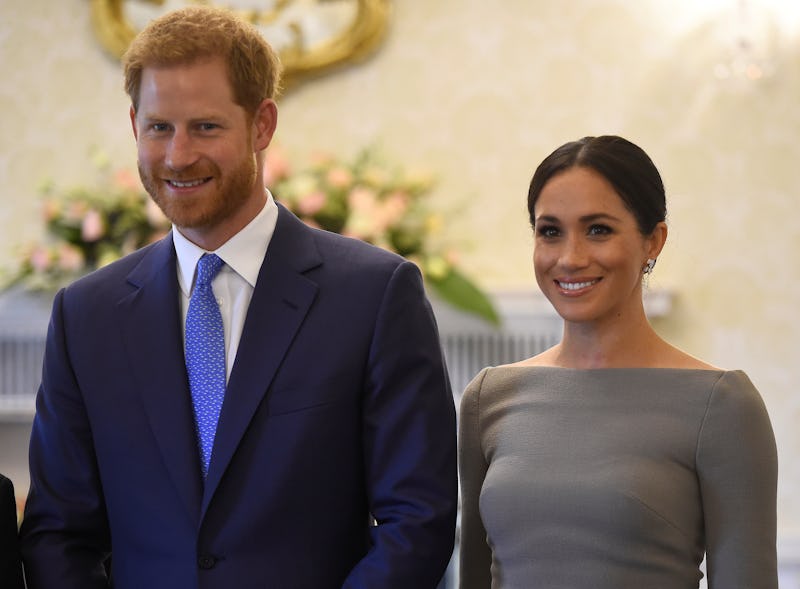 WPA Pool/Getty Images News/Getty Images
Ever since Prince Harry and Meghan Markle tied the knot, people have been waiting with bated breath for a pregnancy announcement. I'm not about to break that news, and to be honest, expecting a recently married woman to be pregnant is pretty unfair and kinda sexist either way. However, if the couple do decide to have a family, there are some interesting new claims that would give anybody marrying into the royal family reservations. It turns out that custody works in mysterious ways over at Buckingham Palace. So, will Meghan and Harry have custody of their children? Well, according to a royal expert, no.
Marlene Koenig, author of Queen Victoria's Descendants, told to News.com.au that apparently there's an age-old law in place that gives Queen Elizabeth custody over her great grandchildren. And yes, that includes Prince William and Kate Middleton's clan: Prince George, Princess Charlotte, and even little Prince Louis.
"The sovereign has legal custody of the minor grandchildren," Koenig told the publication. "This goes back to King George I [who ruled in the early 1700s], and the law's never been changed. He did it because he had a very poor relationship with his son, the future King George II, so they had this law passed that meant the King was the guardian of his grandchildren."
It's been three centuries since the law was passed in 1717, which Koenig defined as the "right of supervision extended to his grandchildren and this right of right belongs to His Majesty, King of the Realm, even during their father's lifetime".
I'm sure it can get a little frustrating sometimes having to defer to somebody else before you make any major parental decisions. It's something that Prince Charles has come up against in the past as, according to Koenig, he has previously had to ask permission from the Queen before making any major travel arrangements.
She told News.com.au, "When [Princes Harry and William] were little, Prince Charles asked the Queen if both children could fly on a plane together to Scotland, to which the Queen said yes. Technically, they needed permission for travel. The Queen has the last word on parenting decisions like that."
However, the Duke and Duchess of Cambridge have been known to bend the rules a little when it comes to royal protocol and their children. For example according to The Sun, an unspoken rule of the palace is that heirs to the throne aren't allowed to fly in the same plane as the sovereign together — meaning that Prince William would have to travel separately from Queen Elizabeth, Prince Charles, and even his own children.
It's for a pretty dark reason though, as it's meant to protect the line of succession to the throne, so there's always a remaining heir or monarch if one of the planes goes down. In recent years though, Prince William and Kate Middleton have been seen jetting round the world in the same plane as their children despite the official rule; though they still apparently had to approach the Queen about it first.
A royal spokesperson told The Sun, "While there is no official rule on this, it is something that the Queen has the final say on."
One odd part of the whole custody arrangement is the potential for fallout if Prince William or Prince Harry's relationships lead to divorce, as apparently the topic of children is something that wouldn't even come up in the proceedings.
Koenig referenced the divorces between Prince Charles and Diana, and Prince Andrew and Sarah Ferguson. She told News.com.au, "Custody is not included [in those divorce documents] because they did not legally have custody of their children to begin with."
Definitely not a great position to be in, but fingers crossed that Meghan Markle and Kate Middleton never have to worry about that. TBH, it sounds to me like it's about time they updated the royal rulebook.