Here's Exactly How Likely It Is That Meghan & Harry's Baby Will Ascend The Throne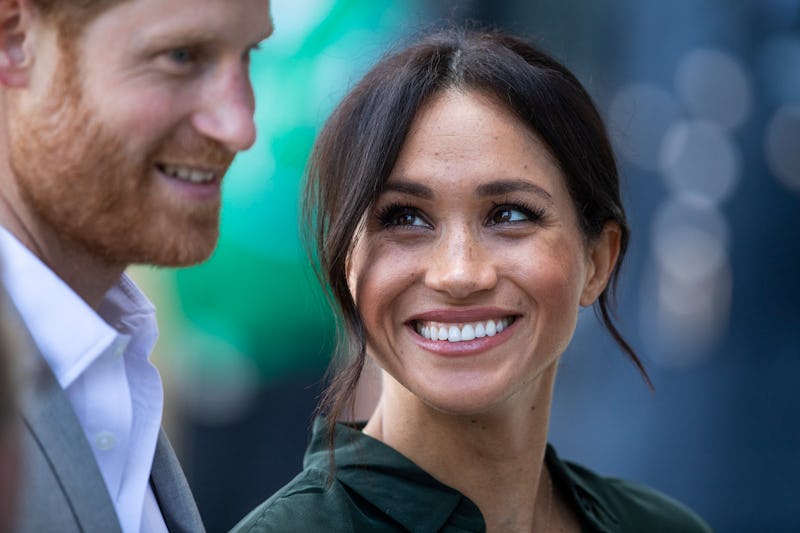 Dan Kitwood/Getty Images Entertainment/Getty Images
It's a pretty big day for the royal family, as Kensington Palace has announced that Prince Harry and Meghan Markle are expecting their first baby early next year. (I'm not crying, you're crying.) Having a wee one is a pretty big deal, but the birth of Harry and Markle's kiddo will have major ramifications on the monarchy as their future child is set to shake up the line of succession. So, will Meghan Markle's baby be king or queen? Well, while they won't be directly in line for the throne, there is still a very slim chance they could possibly take the crown.
The royal line of succession is a pretty tricky thing but luckily, the official royal website has a simple breakdown of how it all works. Basically, although Prince Harry is in sixth place (after his own father Prince Charles and brother Prince William, as well as his three children Prince George, Princess Charlotte, and Prince Louis), his unborn baby will fall after him in seventh place if nothing changes by next spring.
Currently, the crown can only be passed on if the Queen abdicates or passes away. If either of these two things were to happen, her husband Prince Philip would not become king. Instead, their son Prince Charles would take the throne.
Although Prince Harry was previously fifth in line, the birth of his nephew Prince Louis changed everything earlier this April and pushed him one down the list. And when Harry's own child comes into the world next spring, he or she will also have a knock-on effect on the other royals further down the line of succession such as Princess Eugenie and Princess Beatrice.
But is it likely that Markle and Harry's kid will ever actually wear the crown? TBH, it seems pretty unlikely, as he or she will have their grandad Prince Charles, uncle Prince William, their cousins George, Charlotte, Louis, and their father to contend with first. I know, it's pretty complicated isn't it?
But there are a lot of rules to abide by when it comes to the line of succession, which are forever changing. In fact, recently, a hugely important regulatory change was made, which has had impacts on members of the family. In 2013, a law was passed called the Succession to the Crown Act, which impacted Harry and Markle's relationship in a big way. You see, the new law stated that "a person who (when the person marries) is one of the six persons next in the line of succession to the Crown must obtain the consent of Her Majesty before marrying."
Given that Prince Louis hadn't been born when Harry proposed to Markle, he was firmly fifth in line to the throne, meaning he needed to get his granny's consent to marry the Suits actress.
However, the Queen was happy to give her blessing. Her Majesty's official approval was released in a statement on March 15, which ticked all the boxes required. The letter read: "My Lords, I declare My Consent to a Contract of Matrimony between My Most Dearly Beloved Grandson Prince Henry Charles Albert David of Wales and Rachel Meghan Markle, which consent I am causing to be signified under the Great Seal and to be entered in the Books of the Privy Council."
Fast-forward seven months and it looks like the Queen made the right decision as her grandson and Markle couldn't look happier. Congratulations to the parents-to-be.