There's Still A Chance Melissa Joan Hart Will Appear In The 'Sabrina' Reboot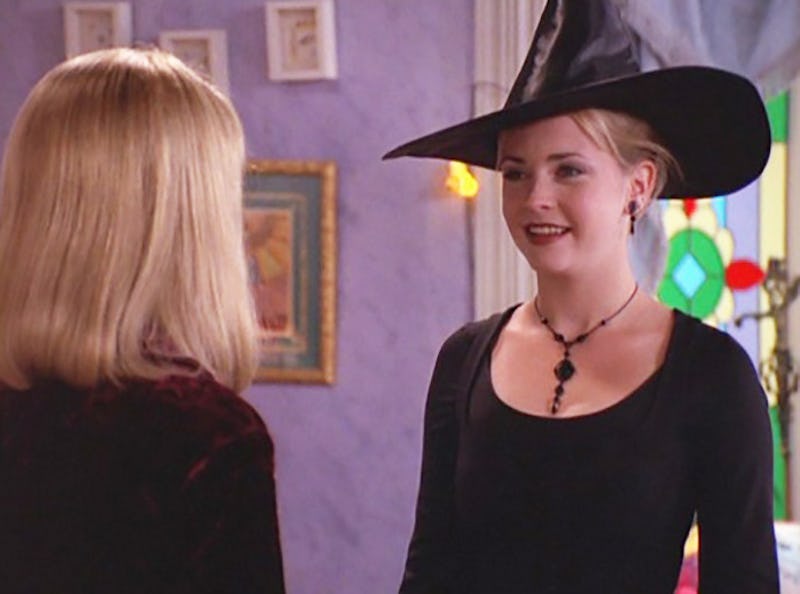 CBS Television Distribution
When The CW network announced a Sabrina The Teenage Witch reboot for the 2018-19 television season, fans went absolutely crazy. But Roberto Aguirre-Sacasa, the man behind the Riverdale television series, isn't exactly resurrecting the old WB favorite. He's reportedly adapting The Chilling Adventures of Sabrina, which is a spookier, horror-infused take on the beloved teen witch. Since it's an entirely new series, whether Melissa Joan Hart will be in the Sabrina reboot is a fair question. After all, she's the Sabrina fans know and love — happy, goofy, and a touch sardonic.
"Chilling" is not the word anyone would use to describe the original WB series, the early comic books, the TV movie from 1996, or the animated series from 1999. That may be precisely why Hart hasn't been attached yet — but it doesn't rule out a cameo. Early on Thursday, the actor posted an image of The Chilling Adventures of Sabrina to her Instagram account that, had it been caption-free, might have hyped up fans for her involvement in the series. She describes it as "Sabrina with a twist," more like a "Buffy type of Sabrina" than her fans are used to. But "FYI," Hart wrote at the end of her caption, "No, I'm not involved in this new production."
That's fair; the mother of three hasn't been acting much since her Freeform sitcom Melissa & Joey ended in 2015. Additionally, Hart spoke about returning as Sabrina Spellman at 2017's San Diego Comic-Con, even though it mostly let down fans. "I think Riverdale is gonna do it with the younger, hotter Sabrina," she explained, "They're going to do it different, the way they've done it with all their other characters."
However, since the Sabrina The Teenage Witch reboot was only announced on Sept. 20, there's plenty of time for the crew to bring in Hart. Even if she isn't involved as of right now, she could have a cameo. Sabrina's aunts, Hilda and Zelda, are still a part of The Chilling Adventures of Sabrina comic book series. The teen witch's chief enemy is the diabolical Madame Satan. Or, Hart could even make an ironic appearance, like her "character" in Not Another Teen Movie. (The self-lampooning bit had Hart coaching a male party character on when to best introduce a "slow clap" into the scene.)
Working against her future involvement, though, are two key factors. First, the team behind Riverdale went out of their way to find a cast of mostly unknowns, and Hart starred in a vastly different take on Sabrina Spellman. That said, the "up-and-comers-only" approach to casting only applied to the Riverdale teens; the parents are played by the likes of Luke Perry, Skeet Ulrich and similar '90s faves. What could be more iconic than having Hart return to Sabrina? Well, the appearance of Nick Bakay as sassy '90s Salem the cat, actually. But Hart is good, too.
The unnamed series is currently in development, and expected to debut in 2018 as a companion to Riverdale. Since the Sabrina Spellman character is an Archie Comic original, there's a chance our teenage witch will appear in the Riverdale series before spinning off on her own. (Sabrina lives in Greendale, which has been casually name-dropped on the Riverdale series.) Fans of Aguirre-Sacasa's comics, though, will know that The Chilling Adventures of Sabrina series is not a part of the Afterlife With Archie anthology from which she spun off. The two are related, but exist in separate realities; consider them part of the Aguirre-Sacasa Riverdale multiverse.
Witches can be tricky, so we'll have to keep an eye on Hart. Just because she can't pass for a tortured high school teen doesn't mean she won't have some involvement in the show. Maybe she's just trying to throw us off the scent.