Why 'Neo Yokio' Is The Perfect Anime Introduction For Newbies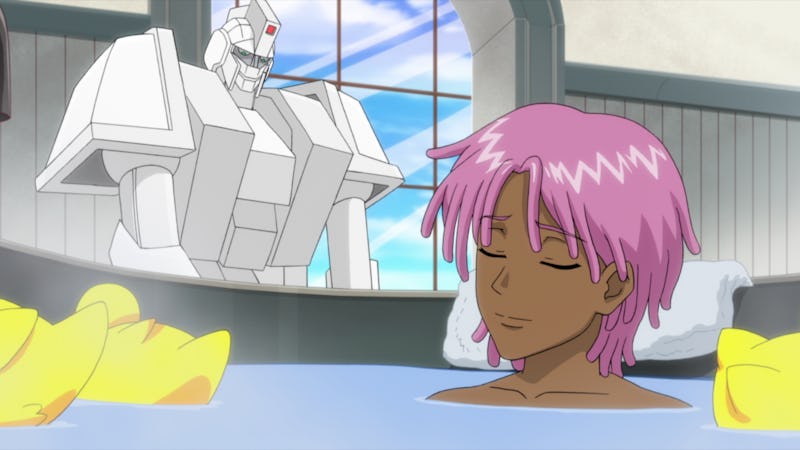 Netflix
The first season Netflix's Neo Yokio can be easily finished in one sitting. The show's first season is merely six half-hour episodes, and with no word on if there will be a Season 2 of Neo Yokio, fans aren't going to get much of a taste for the new show before they're left waiting for more. If the Jaden Smith anime has got you hungering for more absurd, humorous, and action-packed animation, then Netflix has plenty of similar shows to tide you over until the streaming service announces whether Neo Yokio will be returning for a second season.
Update: According to a tweet from Netflix, Neo Yokio will be returning for a second season on December 7, 2018.
The new series is truly a one-of-a-kind product, as a collaboration between Vampire Weekend frontman Ezra Koenig and Jaden Smith inspired by the genre of Japanese animé. Neo Yokio follows Kaz, one of the titular city's most eligible bachelors, as he balances upper-crust life with occasional demon hunting. If you find yourself speeding through Neo Yokio as your very first animé, you're likely to be surprised by just about everything contained in the series. The show balances Kaz's day-to-day life with his giant robot butler with the constant threat of demon attacks. And while that may sound a bit over the top, it's par for the course for some of the shows that Neo Yokio pulls inspiration from.
Neo Yokio creator Ezra Koenig took to Twitter to speak on Neo Yokio leading up to the series' premiere, and admitted that the show is "loaded with references & homages to '80s/'90s anime." Even those largely unfamiliar with animé as a genre, have probably encountered cartoons like Sailor Moon or the Pokémon cartoon series at some point. This era of pre-2000's anime served as the basis for Neo Yokio, drawing from tropes and hallmarks of the genre and updating them for a millennial audience.
For starters: there are large robots all over the place. Giant robots are to anime like macaroni is to cheese. Giant robot — or "mecha" — anime was popularized by the show Mobile Suit Gundam in 1979, and shows like Code Geass and Gurren Lagann are in a similar vein. The genre was parodied and deconstructed by the show Neon Genesis Evangelion, which aired to great critical acclaim in 1995 and seems to be a specific point of inspiration for Neo Yokio. Neon Genesis Evangelion combines teenage angst and philosophical musings with science-fiction and giant robots, and Neo Yokio strives to combine those high-brow concepts with demon hunting and a lead vocal performance by Jaden Smith.
Also present in Neo Yokio is plenty of monster fighting, which is reminiscent of many popular animé series, but especially the aforementioned Sailor Moon. While Kaz doesn't have any transformation sequences quite like the Sailor Scouts did, he's still a young man forced to battle threats far beyond what is expected of the average young adult. In animé, it often seems like it's the young who are forced to protect the world from the forces of evil, and Neo Yokio honors that tradition with its young cast of demon-fighters.
If you're looking for more shows about young people fighting demons and monsters, Netflix has monster-fighting shows that Neo Yokio shares similarities with, such as Bleach and Naruto. Be warned though, while Neo Yokio is short, these series are exceptionally long; Bleach has over 60 episodes on Netflix and Naruto has over 150.
Koenig and Smith have pulled weird elements from decades of animé shows and mashed them up into one series. Neo Yokio may seem utterly unique, but it's paying tribute to an entire genre that came before it. Neo Yokio Season 2 may not be coming soon — or even at all — but if you're interested in more shows like it, there are plenty of other fantastical animated worlds to explore.