Pokemon Hairstyles To Wear While Catching Them All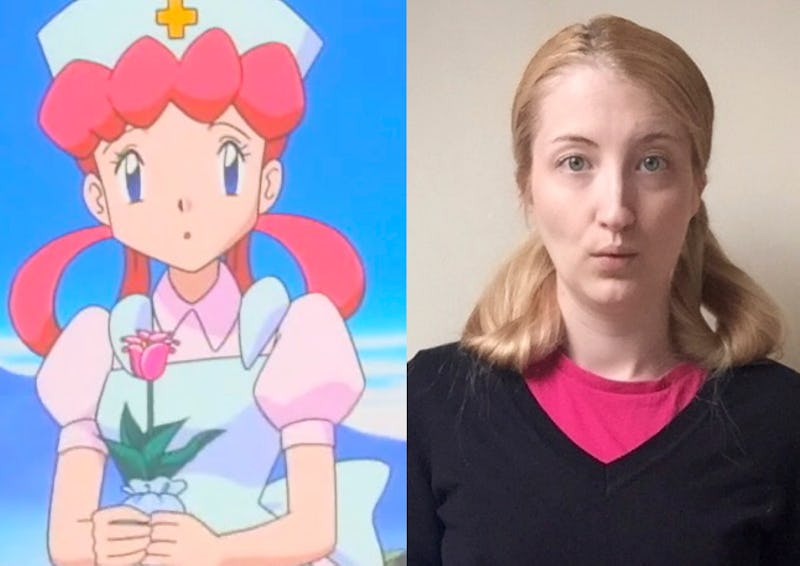 When I first watched the original Pokémon anime series back in the '90s, I was so happy to discover that there was a plethora of really cool female characters in the storyline, including Misty and her fabulous pokémon trainer hairstyles. Not only was Misty a tough cookie who wasn't afraid to tell her friends (or anyone) how she was feeling, but she also had totally quirky anime character hair and she wore edgy Pokémon fashion. Misty's hair wonderfully defied gravity when she wore it in a high side ponytail with spiky bangs. It was actually a similar shade to Leeloo's style from The Fifth Element — an awesome bright orange hue.
Then, of course, there was Nurse Joy and her many clone-like relatives who all wore that same dusky pink hair color and I'll never forget the ultimate bad girl Jessie of Team Rocket who sported huge, purple locks in a variety of styles when she was undercover. In the more recent series of the Pokémon anime, Pokémon the Series: XY , it appears everyone is rocking cool 'dos, such as Professor Sycamore who wears a curly, black style that makes him look like a heartthrob movie star rather than a professor of pokémon. There's also the insanely fashionable Serena, who is based on the playable character from the Pokémon X and Y video games, who has incredibly thick hair and wears it in a loose ponytail. In recent series, however, she pulled an Emma Watson and hacked it all off.
So in honor of these adventurous gals with their crazy cool hairstyles, I recreated some of my favorite Pokémon Trainer 'dos of all time to see how they held up in real life. Here's what happened.
Before
This is my "normal" everyday hair. As you can see, it's long, blonde, and fairly thick. A lot of the female characters from Pokémon have crazy bangs, but considering I have zero bangs, let alone wacky ones, I tried to choose styles that wouldn't look too different in the absence of fringe. I also tried to mainly pick hairstyles that would suit my long length, as I knew I wouldn't be able to pull off any of the shorter looks.
1. Misty's Kooky Side Ponytail
OK, so this isn't one of those longer styles, but I just couldn't miss out considering Misty was my favorite leading lady. I first attempted a side ponytail that looked alright, albeit nothing like Misty's short and spiky 'do.
I then went back to the drawing board. I created a small bun at the back of my head leaving some hair free, which I then pinned up in a vain attempt to try and get Misty's spiky ponytail. As you can see, it totally didn't work because my hair is so thick and half of it fell down almost immediately.
Verdict: This was an epic fail for my long, heavy hair but I think it could be a definite win for those with shorter locks or a shoulder length style. The cherry on the cake would be if you had bangs, which you could spike out using gel. The moral of the story is: Don't try Misty's hair if your locks are like mine. It just won't work the way you want it to, unless you're a trained hairdresser and can weave some magic.
2. The Quirky Nurse Joy Pigtails
Nurse Joy is such a sweetie and is always there to help heal your pokémon in the game and TV series alike. The hilarious thing is that all of the Nurse Joys look the same, although she did get a slight makeover in the most recent series.
To achieve this look, I sectioned my hair off into two pigtails. Next, I took one pigtail and twisted it to make it thinner and easier to work with. I then used another hair tie to secure the end of the pigtail in place at the top, placing the hair tie more or less on top of the first one. I repeated this for the other side.
Verdict: This was quite a simple look to recreate and I like how it's kind of youthful and cute. If you wanted to create really solid pigtails like Nurse Joy's, perhaps you could somehow wrap your hair around wire so that it stayed in place better, as my pigtails had a mind of their own and had no interest in preserving the middle part.
3. Serena's Loose Ponytail
Serena and her adorable fire type pokémon Fennekin make for a nice addition in Pokémon the Series: XY. Serena is a spunky teenage girl who loves fashion and enjoys baking, and her dream is to become a Pokémon Performer. She is a kind hearted gal who is always seen in the latest trends and she and her Fennekin take pride in their appearance.
This look was insanely easy to recreate. Serena's hair is comprised of a very loose ponytail with hair coming down in sections at the front. She completes her look with a stylish hat.
Unfortunately, I didn't have a pretty summer hat lying around at home so I had to make do with this fluffy winter one. On the plus side, it ended up going really well with my black sweater. To get Serena-inspired locks, I sectioned off two strips of hair around my face, put the rest in a loose ponytail at the back, and put my fluffy hat on.
Verdict: This is quite a feminine look on Serena, but in real life it just looks shambolic and isn't practical at all. This is one of those times when anime hair just doesn't hold up in reality. After all, you've got a lot of things to do, like eating your food without dipping the ends of your hair in it.
4. The Ursula Spirals
Ursula's hair is on another level. I didn't have a Meowth in hell's chance of replicating gravity-defying hair with just my fair hands, some ribbon, and hair ties, so I created a look inspired by Ursula's awesome locks instead.
To begin, I used my heated rollers to curl my hair. After taking these out, I separated my hair into pigtails and then brushed the curls together to create these spiral style curls. To finish the look, I tied ribbons around the pigtails and loosened the hair around my face to give it a softer feel like Ursula's.
Verdict: Although it's a very sweet look, I'm not sure if it looks a tad too juvenile. I feel I look like a rag doll.
5. The Huge Caitlin Inspired Hair
Caitlin is not a trainer to be messed with. You can tell this from her absolutely epic entrance to the arena before battling Cynthia, which consisted of being lowered down inside a giant rose and the rose petals opening to reveal Caitlin inside, wearing a rose bud style hat. I didn't have a rose bud hat (do these even exist IRL?) so I made do with another giant, fluffy one instead.
To start this look, I kept my hair curly from my previous style, which I had achieved through the use of heated rollers. Next, I brushed out my curls so that I was left with big waves. After this, I tucked the hair around my face behind my ears and brought the rest of my hair forward. To complete this look, I back combed my hair to create more volume and placed the big hat atop my head.
Verdict: I really like this style as it is feminine and quite romantic. However, I would have to get a different hat for the summer months as I wouldn't want to go outside in that sweltering little number.
Go forth and become the ultimate poké-fan in Pokémon Trainer inspired locks!
Images: Phoebe Waller; TV Tokyo; Giphy