The *NSYNC Holiday Collection Was All You Ever Wanted & Now It's Completely Sold Out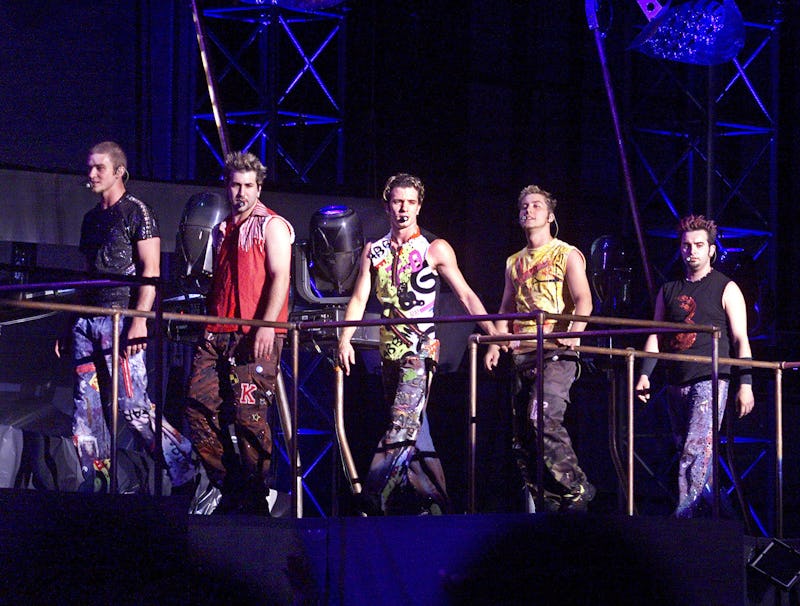 PA Images/PA Images/Getty Images
Are those bells I hear in the distance this holiday season, or the dulcet tones of Justin Timberlake's falsetto? Is that mistletoe hanging from the ceiling, or is that just five boy band members hanging from strings while playing life-sized marionettes? The holidays are, after all, a time for miracles, and there is perhaps no bigger holiday miracle than *NSYNC-branded holiday clothing — it was such a major moment, in fact, that the entire collection is already completely sold out. But will the *NSYNC's holiday clothing collection be restocked ? The answer just might tear up your holiday heart.
First, let's discuss the collection of Christmas pas. The *NSYNC holiday collection featured a vast and varied range of merchandise, including sweaters, pins, shoes, a knit hat, a mug, and even a stocking. The collection comes after Epic Rights acquired licensing for a collection of apparel and accessories using the band's moniker.
"*NSYNC was fully on board with the forthcoming range, too. In a statement, member Lance Bass, who will serve as the liaison for the new collection, said in a statement. "The band is thrilled to create an exciting new line of new merch with Epic Rights in celebration of our 20th anniversary."
The collection of merchandise will extend beyond the holidays, but the overwhelming festiveness of the Christmas and winter gear is pretty unparalleled. Even the band's website has a message for all the former and current fangirls and fanboys who will rock their merch to at least one holiday party: "We don't wanna spend one more Christmas without you," the site reads.
Justin, Joey, Lance, JC, and Chris may not want to spend one more Christmas without you, but as of Nov. 17, you might be forced to spend all of your Christmases without their merch. There is not one pin, sweater, mug, T-shirt, or hat left on the website: The entire nostalgia-inducing collection is completely sold out. In a ghastly scene reminiscent of the Grinch's descent onto Whoville, *NSYNC fans grabbed every last morsel of their holiday wares.
It's enough to make fans want to turn the lights down low and turn up the volume on an acoustic version of "This I Promise You" while snow falls gently to the ground, but will the collection be restocked? Bustle has reached out to the brand for information, but has not heard back. This leaves inquiring minds left with nothing to do but wonder:
Will God spend a little more time on making this merchandise, or will it just be Gone? Will the *NSYNC holiday collection pop back up out of nowhere, proudly proclaiming, "It's Gonna Be Me," or will fans have to say an infinite "Bye, Bye, Bye?"
The answer is uncertain, much like the future and the beauty products necessary to create Justin Timberlake's 1997 hairdo. Until then, fans can curl up with *NSYNC's Home For Christmas and pray that Santa Claus won't tear up their hearts, even if *NSYNC's sold out clothing collection did.