OMG, Peter Kraus' Name Isn't On The 'Bachelor Winter Games' Cast List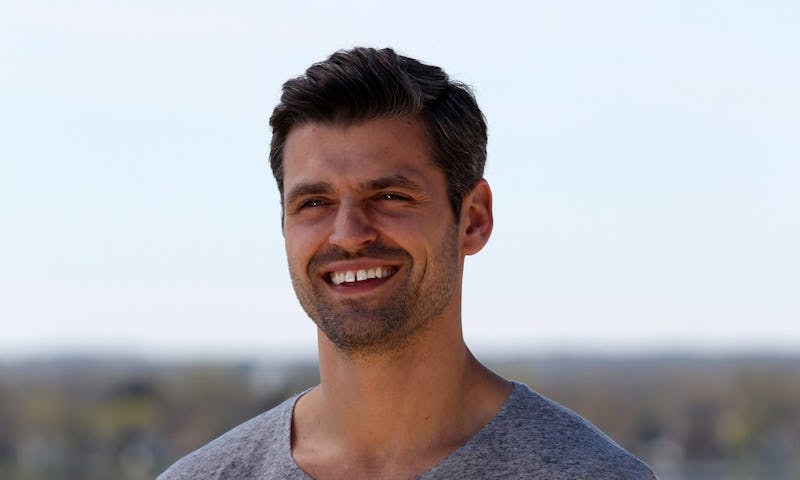 ABC/George Burns
Back in October, hopeful viewers of Bachelorette seasons past celebrated the rumored return of fan-favorite contestant Peter Kraus to the beloved TV dating series' upcoming Bachelor Winter Games (supervising producer: Lindsay Liles). But The Bachelor Winter Games cast list is out, and Peter's name isn't on it, which means fans are bewildered and confused about if Peter will be in Bachelor Winter Games or not. Bustle reached out to Warner Bros. and ABC, who declined to comment.
During the Television Critics Association Winter Press Tour on Monday, Jan. 8, ABC released the names of 24 competitors set to participate in the network's upcoming Games. But, much to the chagrin of Kraus' robust fan following, it's possible that the 32-year-old Bachelorette finalist might not be reprising his status as the series' most treasured runner-up. (And to all those Bachelorette buffs who spent the better part of last season gunning for Kraus to snag Rachel Lindsay's final rose: apologies if that one still stings.)
Because, while the much-anticipated roster of contestants touts a handful of fallen Bachelor and Bachelorette darlings from past years, Kraus' name is nowhere to be found. But, while he isn't included in the cast list's current iteration, four of Kraus' competitors from Rachel Lindsay's Bachelorette season are: Dean Unglert, Eric Bigger, Jamey Kocan, and Josiah Graham.
However, with a registrar that promises an eventual sum total of 12 domestic Bachelor and Bachelorette fan favorites as well as 14 international ones (the Games is sort of like a Bachelor-Bachelorette fusion meets MTV's The Challenge meets the Winter Olympics), ABC should be rolling out the names of two "additional singles," according to Entertainment Weekly, in the forthcoming weeks.
Rumors of Kraus' potential involvement in The Bachelor Winter Games — now gearing up for its Feb. 13 premiere — began to circulate last October, when Bachelor series creator Mike Fleiss teased the former heartthrob contestant's involvement via Twitter. "Yes, Peter will be looking for love--and going for the gold--on #TheBachelor Winter Games!!!!" Fleiss wrote in a tweet that went viral on the social platform soon after.
Fans still stumped about Season 13 Bachelorette Rachel Lindsay's finale decision were thrilled and celebrated Kraus' imminent return to their television screens. The rejoicing didn't last long, though. During a Nov. 17 appearance on The Morning Breath, the sparkly-eyed silver fox himself clarified that, despite Fleiss' seemingly set-in-stone announcement, Kraus' involvement in The Bachelor Winter Games had not yet been confirmed.
"Mike Fleiss likes to tweet a lot of things," he said. "I feel like he even said I was the Bachelor at one point, so I think he just likes to throw people off." At the time, Kraus said that, while he hadn't yet signed on to participate in the Winter Games, he wasn't totally averse to the idea, either. "It's definitely something I've been interested in — it looks like a blast, and I know some of my good friends are going onto it," he told Morning Breath hosts Jackie and Claudia Oshry.
Then again, it wouldn't be totally inconceivable for the almost-winner of The Bachelorette's last season to opt out of a second go-round for potential heartbreak. Last August, then-bachelorette Lindsay sent everyone into international bouts of tears when she sent Kraus home in what is now considered to be perhaps one of the most emotional breakups in Bachelorette history. (Seriously, everyone was crying.) Her decision seemed to hit Kraus pretty hard, too; when the executives approached him soon after with an offer to fill the next Bachelor slot, Kraus reportedly declined the proposition. (The offer was eventually passed along to current bachelor, Arie Luyendyk Jr.)
With several weeks to go ahead of The Bachelor Winter Games' four-episode miniseries run (helmed by regular series host Chris Harrison), anticipation is high regarding the two remaining unannounced names. Whether the final cast list will include Kraus is still up for debate, but fans have their fingers crossed with the hope that maybe the network is just saving the best for last.