This New Star Wars 'Ship Is Both Seriously Great & So Disappointing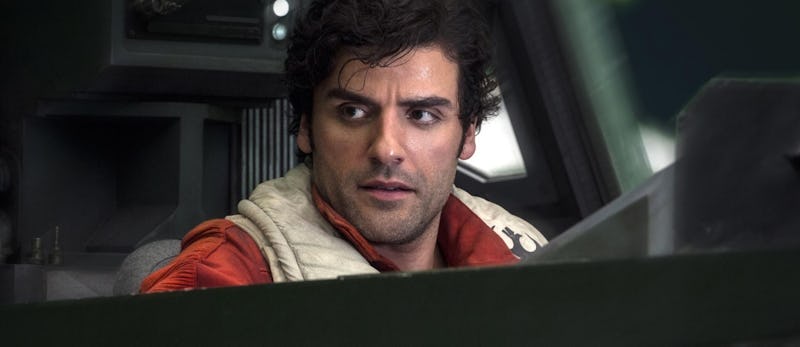 Walt Disney Studios
Spoilers ahead for Star Wars: The Last Jedi. From the very first moment that the commander pilot Poe Dameron appeared on-screen in Star Wars: The Force Awakens, fans across the globe knew they had a new obsession on their hands. Poe is confident, charismatic, headstrong and very attractive (oh hey, Oscar Isaac), so it's no wonder he became an immediate fan favorite. And now, he might turn out to be one half of a romantic duo, seeing as The Last Jedi made it seem pretty darn likely that Poe and Rey will get together in Star Wars: Episode 9, the next major installment in the blockbuster franchise.
That might seem strange to say, considering that for the vast majority of the movie, Poe and Rey don't interact — they don't even share any scenes together. The duo don't end up meeting until the very end of the movie, when nearly all of our beloved main characters are together in a room reuniting and celebrating their temporary victory against the First Order. As Finn tends to his new love interest, the badly injured Rose, Rey encounters Poe for the very first time. They introduce themselves to each other, and while nothing more is said, it's clear there is some serious sexual tension felt between the two characters.
Of course, the moment could just be a silly, unimportant scene, meant to stir fans' interest but not actually develop into anything real later on in the series. But it's definitely possible that during Episode IX, Rey and Poe will actually get together, or at the very least, have more, chemistry-filled scenes. It's just too intense an introduction, and there's too much fan interest around Star Wars' characters love lives, for the heroes to not actually develop any relationship in the next and final movie in this trilogy.
If Rey and Poe do get together, it'll either be the best news ever or a total disappointment, depending on what Star Wars couples you already ship. There are plenty of people out there who want nothing more than for Poe and Finn to get together, due to the chemistry the duo seemed to share during 2015's The Force Awakens. There was so much love for the pair that the 'ship #FinnPoe was born, and actors John Boyega and Oscar Isaac have seemingly gone out of their way during interviews and press events to showcase their affection for one another, all to make fans happy.
But the likelihood of Finn and Poe actually happening is pretty slim, primarily because of the romance forming between Finn and Rose in The Last Jedi. Sure, the duo made no official moves towards a relationship, but they did share a sweet kiss, and they seem to care deeply for one another. Expect to see that bond explored way more in Episode IX, and for #FinnRose to take over, too.
It might be disappointing to think thank Finn and Poe are probably never going to actually get together, especially considering the lack of LGBTQ+ representation currently in the Star Wars universe, as well as blockbuster movies overall. It'd be truly refreshing to see a gay romance portrayed in a Star Wars movie, but as of now, that unfortunately just doesn't seem likely.
Instead, we might get Finn and Rose, as well as Poe and Rey, as the new Star Wars couples to root for. And hey, who knows — maybe Episode IX will introduce more romantic pairings we haven't yet discovered, and fans will end up with a plethora of couples to 'ship for years to come.