Here's The Verdict On 'Prison Break' Season 6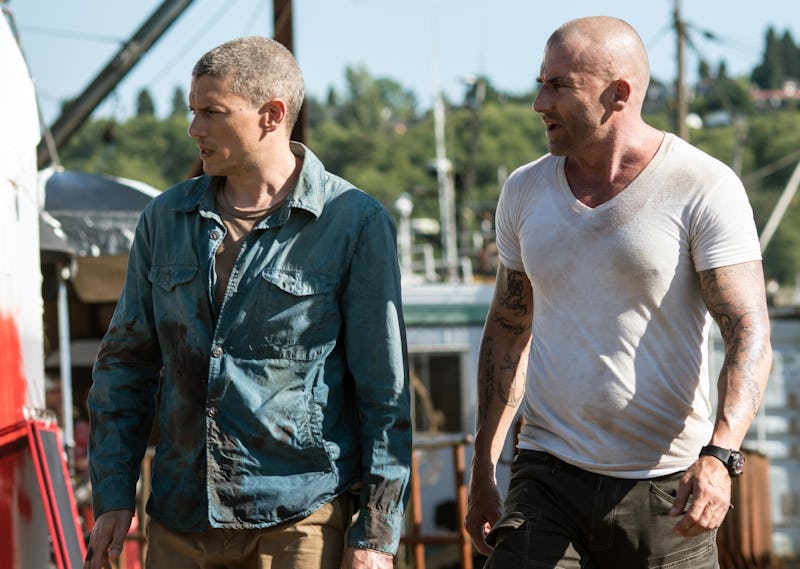 Ed Araquel/FOX
It's a feeling of uncertainty that Prison Break fans know all too well. Season 4 ended in 2009 and was followed up by a very conclusive finale movie which appeared to kill off Michael Scofield (Wentworth Miller). Eight years later, Fox rebooted the series, and a miraculously alive Michael's future still hangs in the balance. Prison Break: Resurrection airs its finale on May 30, but will Prison Break return for Season 6?
UPDATED: Fox announced on Jan. 4 that they're developing "a new iteration" of Prison Break for Season 6. No release date has been announced.
EARLIER: According to Deadline, Fox CEO Gary Newman confirmed earlier in May that there are "no plans right now" to extend Prison Break. That means it's not on the Fox schedule for next fall or midseason, but the door doesn't seem to be completely closed. "We loved this season," Newman clarified, and said that if creator Paul Scheuring approached the network with a concept for another chapter, it would be considered.
In an interview with Entertainment Weekly, Miller echoed Newman's statement. "I wouldn't rule it out," the actor said. "I feel like there's more story there, and now we're talking about multiple generations. There are a lot of different directions that we could go, but I'm not in favor of exploring any of that unless there's something awesome that we can sink our teeth into."
When Prison Break returned in April for a brand-new set of nine episodes, it was promoted as a limited series event. While fans may view it as a continuation of the series, Season 5 has really served as a reset for the characters and the overall Prison Break narrative. To end the series the first time, Michael sacrificed himself to save his family. The revival surprised fans by revealing that he's actually very much alive and was forced into hiding.
Another revival surprise was the inspiration for explaining the show's lengthy hiatus. Season 5 contained parallels to another epic journey: Homer's Odyssey. This season, Michael has had to fight to break out of Ogygia Prison in Yemen (with the help of his brother Lincoln, of course) in order to get back to his wife Sara, who is living in Ithaca and being hunted by a rogue CIA Agent called Poseidon.
The underlying message of the Prison Break universe is that obtaining freedom is usually made possible by embracing family and loyalty. This loyalty is also apparent through the show's fans, who continued to follow the show and its characters for five seasons and through a very long pause.
And that support will apparently be rewarded with a satisfying conclusion. Scheuring told Collider about Season 5, "This thing was designed as a close-ended piece. At the end, you'll be like, 'That was the dynamic. That's what happened. And that's how it was resolved. Wow!' There's no over-hanging piece that will make you want to come back next year."
Prison Break: Resurrection does not have a definite return date, and it could truly be over for good. But if fans take anything from the series, it's that Michael Scofield always has a strategy in place. Who knows what the next eight years will bring?