Why 'Queen Of The South' Fans Shouldn't Stress About The Future Of The Series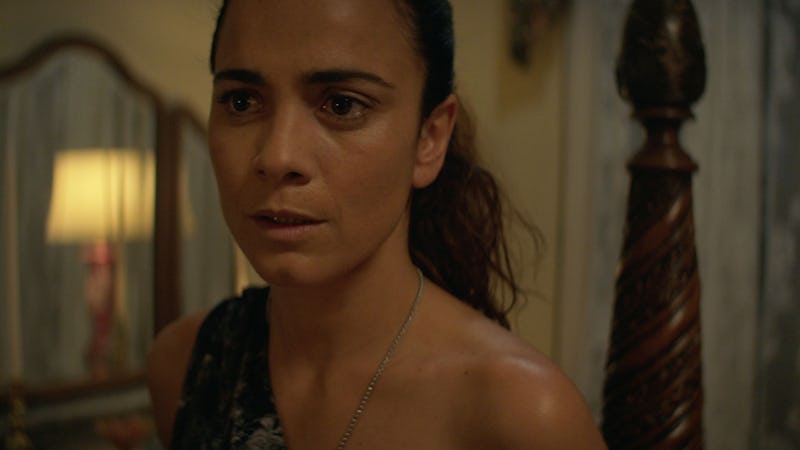 USA
Just because Queen of the South isn't based on a true story, doesn't mean it doesn't bring just as much action and drama as Narcos or any of the other cartel-related crime series currently on TV. In the Queen of the South Season 3 finale, which airs on Thursday, Sep. 13 at 9 p.m. ET on USA, protagonist Teresa Mendoza (played by Alice Braga) faces down her fiercest rival, but will Queen of the South return for Season 4?
There's no official word on whether USA is planning to cancel the series or bring it back for a fourth installment. The ratings for Queen of the South are down very slightly since Season 2, from .38 to .35 in the 18 – 49 demographic, as reported by TVSeriesFinale.com. Season 1 only brought in a .39 rating, so overall the series has actually retained a fairly consistent audience during its three-year run. Currently, it's coming in third place out of the 10 USA series on the air, behind The Purge Season 1 (.55) and Unsolved Season 1 (.38). Keeping all that in mind, it seems likely that USA would bring Queen of the South back for Season 4.
Most fans probably know that Queen of the South is based on the book from author Arturo Pérez-Reverte called La Reina del Sur, which also inspired the 2011 telenovela by the same name. However, when it comes to deviating away from the source material, Queen of the South has struck out on its own from the very beginning. One of those key differences is that the show is set in Dallas, TX, as opposed to Spain. That decision in particular, Vanity Fair points out, opens up the show to the possibility of exploring the border issues that are so relevant in today's political climate. Maybe that could be a prominent topic for the writers as the show moves into Season 4.
That's not to say, however, that the cast and crew aren't dedicated to maintaining the spirit of Pérez-Reverte's initial vision, even as the show moves forward into uncharted waters. While talking to Vanity Fair, executive producer David Friendly explained that Alice Braga is constantly consulting the original story. "She literally carries around a tattered copy of the book with her every shoot day," he said. "We're talking about months here. And she has passages underlined."
While Teresa Mendoza's story has already come to a close on the page, there are still a lot of possibilities left for her on screen. In an interview with Parade, star Alice Braga explained that the challenge and excitement of letting her character change from season to season is one of the most thrilling parts of working on TV.
"I have only done films before Queen of the South, so it is my first experience to be able to work on a character that stays alive. Even if you finish a season, the heartbeat is still there a little bit until we go back into production the next year. That as an actress is a great challenge because the character is still alive and you can transform it."
Even though Queen of the South won't stay on the air forever, Braga said she will always be dedicated to supporting the portrayal of strong women behind and in front of the camera. Talking to Fab TV, she said that she has her own production company called Los Bragas which produces Netflix original shows Samantha and Sintonia, and has multiple other projects in the works. "More than ever, I want to support other women, other filmmakers, to make their shows, to do their work, because if we don't empower each other, things won't change. So we need to keep on doing it."