Photos Of The Original 'Queer Eye' Cast Hanging Out Will Make You Feel SO Nostalgic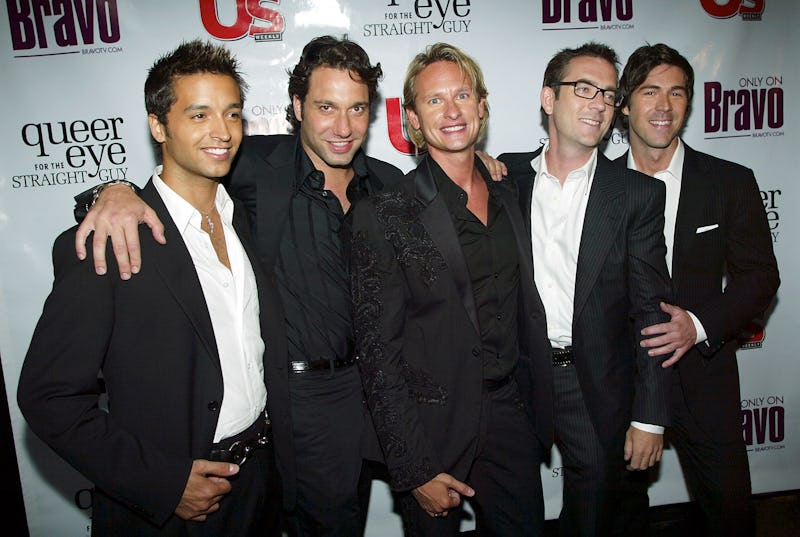 Scott Gries/Getty Images Entertainment/Getty Images
Ted Allen, Kyan Douglas, Thom Filicia, Carson Kressley, and Jai Rodriguez revolutionized TV as the cast of Queer Eye For The Straight Guy, nearly 15 years ago. Netflix has rebooted Queer Eye with five new leads, but the original cast still is beloved by anyone who watched the series in the 2000s. And fans will be happy to know that the original Queer Eye cast are still friends. Because even though the show went off the air in 2007, their bond goes far beyond television.
Queer Eye premiered on Bravo in 2003 and featured gay men making over straight men in all aspects of their lives. Each person on the Queer Eye team had a specialty: "Food and Wine Connoisseur" Ted, "Grooming Guru" Kyan, "Design Doctor" Thom, "Fashion Savant" Carson, and "Culture Vulture" Jai. Since the reality makeover show ended, the Fab Five have continued to find success in their professions. Ted hosts Chopped on Food Network. Kyan gives hair tips and does style makeovers for The Rachael Ray Show. Thom still has his own interior design company and has hosted shows for Style Network. Carson is a judge for RuPaul's Drag Race and judged Miss USA in 2017. And Jai has an acting career with appearances on How I Met Your Mother and Grey's Anatomy.
These five men have stayed connected in their personal lives, it seems. In an AOL.com 2014 interview, Ted acknowledged the friendship the five men continue to have. "We are all still great friends, always will be, and the rowdy humor flows instantly whenever we get together," Allen said.
They also are happy for their replacements of Bobby Berk, Karamo Brown, Tan France, Antoni Porowski, and Jonathan Van Ness. Series creator David Collins told Entertainment Weekly, "the original guys, the OG, are thrilled for us. That's probably been one of the most beautiful things is that everyone has been so supportive on this journey and really, really loved each other." And when the original cast met with the new cast, Jai told them, "You don't have to be best friends, but you will forever be brothers."
Whether their bond is friendship or brotherhood, the social media pages of the original cast show that they do get together from time to time. And the genuine love they still have for one another will make your Fab Five-loving heart soar.
Reuniting On Bravo
When the show turned 10 years old in 2013, Andy Cohen hosted a Queer Eye reunion for Bravo. As Bravo noted, it was the first time in seven years that the five men had been all together.
Doing The Daytime TV Circuit
Ted and Kyan have both been contributors on The Rachael Ray Show, but they joined forces for a mini-Queer Eye reunion on the daytime talk show in March 2015.
Hitting Up The Bar Scene
Carson, Kai, and Ted appeared to be having fun when the trio met up in July 2015.
Lunching In New York City
Kyan got cuddly at lunch with Carson in New York City in April 2016.
Taking To The Water
Just a couple weeks later, Ted and Thom enjoyed boating on Skaneateles Lake in New York with Ted's husband Barry Rice, who is an interior designer like Thom.
Using Terms Of Endearment
Jai referred to Thom as bae in this August 2017 photo.
Getting Away
Jai and Carson proved how legitimate their friendship is when Jai spent time at Carson's Pennsylvania farmhouse in August 2017.
Working Together
Carson joined Thom for a day of filming for the design company Lillian August. Even while working, they managed to be silly — just like on Queer Eye.
Lounging Poolside
Kyan wrote, "I can't with how much I love these mo's" as the caption for this picture with Carson and Thom in Los Angeles during October 2017.
Teasing Even When Not Present
Although Ted wasn't around for the above photo of Thom and Kyan, he reposted it to his own Instagram to mock Kyan's long hair. (Ted claimed that Kyan looks like Bachelor producer Elan Gale with his unruly mane.) Ted also teased the poolside photo of Carson, Thom, and Kyan. And Jai wasn't left out either since Ted reposted a photo of Jai with Lily Tomlin to roast the Culture Vulture.
Sharing Selfies
During his time in L.A. in October, Kyan also met up with Jai as Jai's Instagram photo of them reuniting proves.
Posting Throwbacks
Social media certainly wasn't what it is now when the original show aired, so the stars take advantage of flashbacks and throwbacks to highlight memorable moments from the show, like Ted did with this picture of Carson.
Supporting The New Queer Eye Guys
Ted missed hanging with the new cast of Queer Eye, but Kyan, Thom, Carson, and Jai were able to make it in honor of the reboot. And don't worry, photos of Ted's head were passed around, so he was there in spirit.
Although it's rare that you'll see all five of the original Queer Eye guys together in a photo, their posts prove that they truly are friends all these years later. Because with these five men, friendship just keeps getting better.