Spotify Users May Need To Look Elsewhere For Taylor's New Album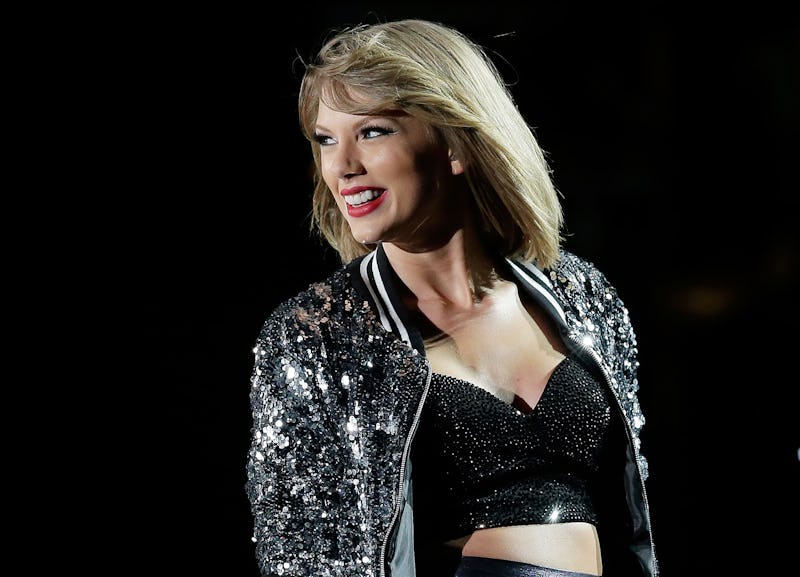 Mark Metcalfe/Getty Images Entertainment/Getty Images
The entire Reputation album is finally about to be here. Ever since Taylor Swift announced in August that she would be releasing new music, her biggest followers haven't been able to contain themselves. Now that the entire record is about to be released at midnight going into Friday, some of her supporters might be wondering if Reputation will be available on Spotify. Well, it's not entirely clear if or when the 27-year-old musician will make her album in its entirety available for her fans to stream on the service just yet. Bustle has reached out to Swift's rep for comment on if the album would be streaming, but has not yet received a response.
According to a Tuesday report from Bloomberg, "people familiar with the matter" of Reputation's streaming availability reportedly said Swift's reps told music streaming services that the album wouldn't be streaming during its first week. Per Bloomberg, the same sources further said Swift and her team are still negotiating release terms with streaming services.
On Monday, The New York Times also released an article featuring an interview with four anonymous major streaming services executives. These execs reportedly said they don't think Reputation would initially be made available on Spotify or any other streaming service, but they believed that could change in the future. According to the Times, a spokeswoman for Swift declined to comment on whether or not her new album would be available for streaming at all.
"Look What You Made Me Do", "...Ready For It?", "Gorgeous", and "Call It What You Want" are all on Spotify, but per the Times, "Call It What You Want" did not appear on Spotify's "New Music Friday" playlist when it was released Friday, Nov. 3. Spotify spokesman Graham James wouldn't provide the publication with a comment on whether or not Reputation would be available on the streaming service, but after the Times asked about "Call It What You Want" missing from its "New Music Friday" playlist, James said, "Our policy is to work with artists and managers who want to work with us to connect with their millions of fans on Spotify."
In 2014, Swift pulled her music from Spotify. It was only in June when Swift's entire catalog was made available again on Spotify, in addition to Pandora and Amazon. While chatting with TIME in November 2014, she opened up about her decision to take her music off of Spotify. "I think there should be an inherent value placed on art. I didn't see that happening, perception-wise, when I put my music on Spotify." She added, "Everybody's complaining about how music sales are shrinking, but nobody's changing the way they're doing things. They keep running towards streaming, which is, for the most part, what has been shrinking the numbers of paid album sales."
She continued, "I think that people should feel that there is a value to what musicians have created, and that's that. I wrote about this in July, I wrote an op-ed piece in the Wall Street Journal. This shouldn't be news right now. It should have been news in July when I went out and stood up and said I'm against it. And so this is really kind of an old story."
If you're disappointed you can't listen (yet) to all of Swift's newest music on Spotify, Spin reports there is one place you can stream it right away: iHeartRadio. There is actually an online party called the "iHeartRadio Reputation Album Release Party". According to iHeartRadio, its stations will play a new track (starting Friday at midnight ET) from Reputation at the top of every hour across the nation. Then, at 8 p.m. local time Friday, there will be an hour-long special featuring never-before-heard audio from Taylor's Secret Sessions. The special will broadcast across 126 iHeartRadio Pop and AC stations, in addition to streaming on iHeartRadio.com.
Even if Swifties do have to wait a week to listen to Reputation on Spotify and other streaming services, they really should count themselves lucky, because after three years they still are getting a whole new list of Taylor songs.