A Robbie Williams Cameo On The Take That 2019 Tour Isn't *That* Unlikely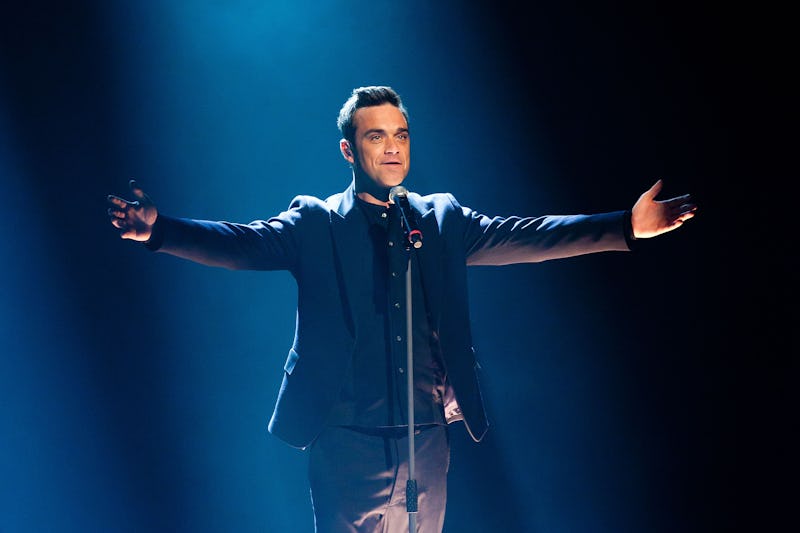 Marco Prosch/Getty Images Entertainment/Getty Images
The two ongoing questions of my lifetime are a) will Posh be in this Spice Girls reunion, and b) will Robbie Williams be in this Take That reunion? The groups have plenty in common. Both are '90s heritage acts, both have one slightly less committed member among them, and both are touring next year. Did you ever imagine that you could look back on 2019 as the year you saw both Take That and the Spice Girls? Me neither. But it would just be better with the Rock DJ. So, will Robbie Williams tour with Take That in 2019?
Update: On Dec. 5, Heat quoted Williams as saying: "As long as we stay healthy, I'm sure there'll be another moment where we all get together. Maybe we can coax Jason back, who knows? We shall have to see. But definitely, definitely in the future. We will all ride again. Next year when the boys are on tour, I'm on tour too. If we're in the same place at the same time, there's an open mic at my gig. I'm sure there's an open mic at theirs too."
Earlier: Williams, the notorious rebel of the group, surprised everyone when he rejoined Take That after 15 years, back in 2010, as The Guardian reported. He departed for the second time, only a year later, as Newsround reported on Oct. 4, 2011, but will he be back this time around? When a fan reached out to Take That frontman Gary Barlow via Twitter in August, 2017, they outright asked the question on everyone's minds, in a since deleted tweet: will Take That be performing as a five piece on the upcoming Greatest Hits tour? Barlow put any hopes to rest, by tweeting back "Doubt it x." Shucks.
Williams' return was made much more unlikely when Jason Orange left the band, as the BBC reported on Sept. 25, 2014. "I'm in if it's a five-piece," the "Angels" singer told OK! Magazine back in February, 2017. Although, there was still hope back then, as Williams confessed: "I'd probably be in even if it isn't." More recently, the hope was rekindled when Williams — now an X Factor judge — joined his former bandmates for a performance on the show on Dec. 2, as The Mirror reported.
Gary Barlow, Mark Owen, and Howard Donald took to the stage as a threesome to perform their 2009 hit single "Shine" before Robbie appeared, enthusiastically, to join them for the vintage classic "Everything Changes." The boys were all dressed in white tuxes and set to dazzle — and that they did.
So, if Williams does join the group for the 2019 tour — something that's yet to be officially confirmed or denied — you can expect a knockout performance. Bustle have checked in with Williams' rep to see if they can confirm for us, and I'll fill you in when I get word back.
Back in that interview with OK! from 2017, Williams originally said that a 2019 tour wouldn't be possible for him, due to health related issues. But now he's got some big solo dates lined up for 2019 — including a huge headline performance at British Summer Time in Hyde Park — so now he's got no excuse to not at least join his boys for a couple of shows. Since Posh is out for the count, do the '90s a favour, Williams, and relight its fire. Take That needs you, the '90s needs you, a nation who still can't get over how good "Let Me Entertain You" was needs you. Entertain us.