Why People Are So Worried About Ruth Bader Ginsburg Retiring Now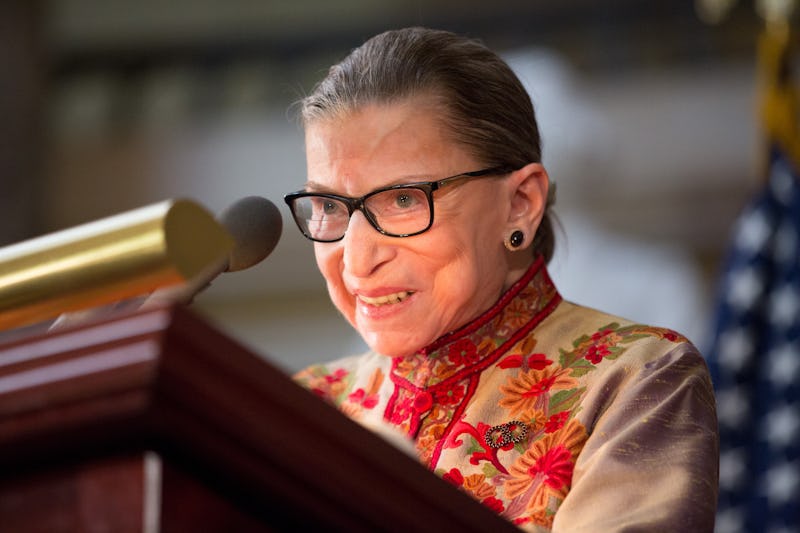 Allison Shelley/Getty Images News/Getty Images
After Supreme Court Justice Anthony Kennedy announced his impending retirement on Wednesday, there was plenty of talk about another SCOTUS justice and her future. If you're wondering whether Ruth Bader Ginsburg will retire soon, the liberal-leaning justice likely has zero plans of leaving her position just yet.
Though she may be a bonafide octogenarian at 85 years old, Ginsburg has all but indicated that she will stay in her Supreme Court seat for years to come. Consider the fact that she has already hired four full-time law clerks through 2020. In January, Ginsburg hired Katie Barber, Rachel Bayefsky, Rebecca Lee, and Matt Rubenstein. Normally, justices don't employ full-time clerks with advanced timelines unless they intend on serving at the same time. By hiring these four people, Ginsburg appeared to be sending a solid message for the curious lot that she's here to stay.
With Kennedy's announcement, public attention falls on Ginsburg whose age might prompt concern about yet another justice leaving the ranks and opening the seat to more hardliner conservatives. But Ginsburg has been clear about her plans. In January, she told PBS that she would follow the plan of former Supreme Court Justice John Paul Stevens. The former conservative justice retired at the age of 90.
Still, Ginsburg has her fair share of cynics who don't see the justice staying on the Supreme Court bench for too long. People from that crowd include University of California's law school dean Erwin Chemerinsky. Chemerinksy told PBS, "I think that Justice Ginsburg has made clear that she has no intention of retiring. I am sure she wants to stay on the court until the end of the Trump presidency if she can."
Chemerinsky added that "no one can know whether she will be on the court on Jan. 20, 2021, if Trump serves one term, let alone Jan. 20, 2025, if he is re-elected." In spite of skeptics, Ginsburg has given enough hints she's here to stay. In the same PBS report, Ginsburg's friends also said that she didn't seem like the kind of person to step down from her job so soon.
It makes sense that people may be curious to know about Ginsburg's plans, especially considering her age. Forward magazine's chief editor Jane Eisner told USA Today, "It's fair to say that there are many people worried about her health, and some who were concerned that she didn't retire earlier, when President Obama would have had the opportunity to appoint her successor." But the justice — who has survived colon and pancreatic cancer, and has a stent in her heart — seems to be doing just fine.
In 2016, Ginsburg wrote an opinion-editorial for the New York Times, noting the power and significance of the Supreme Court; the justice's words may give her readers a hint as to how seriously Ginsburg takes her job. "The [Supreme Court]'s main trust is to repair fractures in federal law," she said. "Because the court grants review dominantly when other jurists have divided on the meaning of a statutory or constitutional prescription, the questions we take up are rarely easy; they seldom have indubitably right answers."
Ginsburg added, "Yet by reasoning together at our conferences and, with more depth and precision, through circulation of, and responses to, draft opinions, we ultimately agree far more often than we divide sharply."
Based on her Times opinion-editorial, her impressive health, her commitment to a solid work-out routine which includes lifting weights and doing squats, and the fact that she is inspired by the formate justice Stevens' work plan, it wouldn't be too far off to say that Ginsburg is sticking around for now.
Read more on Kennedy's retirement and Ginsburg:
This Is How Soon Trump Could Pick Justice Anthony Kennedy's Replacement
Here's What Justice Anthony Kennedy's Retirement Could Mean For Abortion Rights
This Is Who Trump Might Have His Eye On To Be The Next Supreme Court Justice
Each One Of RBG's Fancy (And Fierce) Collars Has A Story — Here's What They Mean