This New Netflix Show Is Every Food & Travel Lover's Dream Come True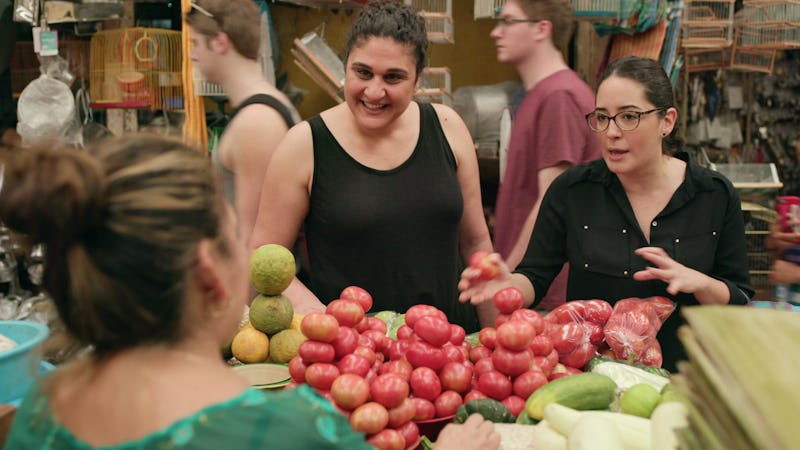 Netflix
Chef Samin Nosrat wants you to know that you only need four simple elements to make a great meal. In fact, she wants you to know it so badly that she not only wrote a hugely popular cookbook, but is now preaching her culinary gospel in Netflix's Salt Fat Acid Heat, her new show out Oct. 11. Foodies and novice cooks alike will surely be drooling over this new food series, which will follow Nosrat on an international flavor journey that should soon have viewers begging for a Salt Fat Acid Heat Season 2.
Unfortunately for them, Netflix hasn't revealed any plans for a second chapter of the show, but that doesn't mean they should give up hope just yet. Netflix has found great success with culinary shows like Chef's Table, which was recently renewed for seasons 5 and 6, so if Nosrat's new show is a runaway hit, it seems likely that the streaming service could decide to make more episodes. After all, Nosrat's cookbook of the same name was a New York Times bestseller with a devout following, and those fans will likely be tuning in when the show debuts on Netflix.
Salt Fat Acid Heat will see Nosrat exploring each of her four fundamentals — which, as you may have guessed by now, are salt, fat, acid, and heat — in four different and equally beautiful locations. According to The Guardian, she'll head to Japan to explore their use of salt, Italy's cheese and olive oil-rich culture for fat, Mexico for their fresh citrus in an exploration of acid, and back to her hometown of Berkeley, California to work with heat.
In each country, Nosrat gets the intel on local cuisine from a lineup of chefs and culinary experts — a diverse group she hand-selected in order to fill her show "with people of colour, with women of colour, with older women, with home cooks, [and those] who don't typically get credit for their work," she told The Guardian. The result is a series that looks as diverse as the food it explores.
The last leg of Nosrat's journey takes her home, into the kitchen with her Iranian mother, who joins her to make tadig rice. "Well, I thought, we gotta have a scene with my mom because isn't it the best thing in the world when a person's mom comes on television and is like, 'You don't know how to do your thing that you're a professional at?'" Nosrat told Condé Nast Traveler. "My mom's got a lot of personality, and she's not coming to me for cooking advice. "
Though her trip takes her around the world, Nosrat hopes that her show inspires people right where they are, in their own kitchens. "The ultimate goal of everything I do is to get people to cook. My dream is that someone watches it and says, 'Holy moly, I want to do that. And I can do that,'" Nosrat told CNT in the same interview. "Travel is the most beautiful, inspiring, and efficient way to teach this philosophy. It's such a wonderful tool, and it's a big part of how I learned to cook."
Viewers will get to follow Nosrat on her international journey without ever leaving their couch. And then, if Nosrat achieves her goal, they'll get in the kitchen and cook... and hopefully write a strongly worded email to Netflix about why the show should be renewed.