How To Watch Shark Week If You Don't Have A TV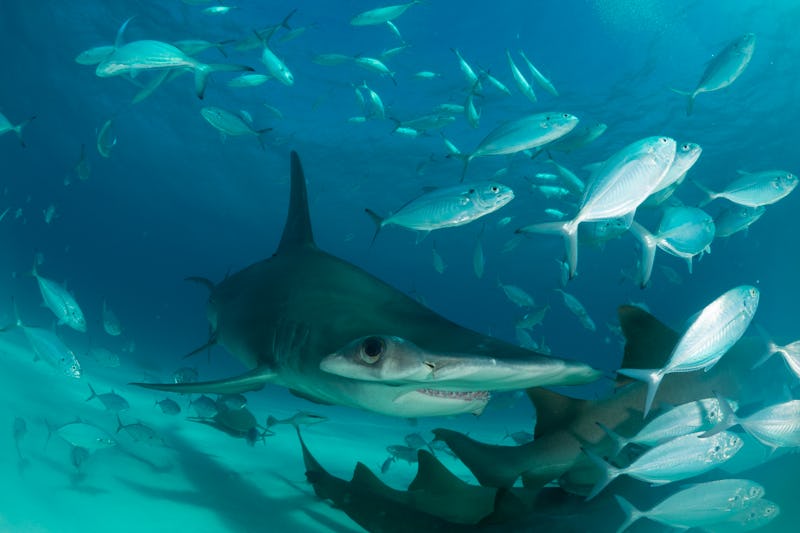 Copyright Discovery Communications, Inc.
With the seven days of television programming officially in session, it's time to ask the important questions: Will Shark Week 2017 be on Hulu? After all, you're definitely going to want to scope out the best way to catch up on the episodes and specials you missed — I mean, don't you want to see Michael Phelps racing a great white shark with your own two eyes? And how about Chris Noth (aka Mr. Big) paying homage to his days on Sex and the City by narrating a program called Sharks in the City? Suffice it to say, there's a lot of fun stuff going on this year, and you're not going to want to miss out.
Unfortunately, Hulu's not going to be able to help you stay afloat with all the Shark Week goodness this time around — because it will not be featuring the show. In past years, the popular streaming site has featured various clips and old episodes, but now a visit to the Hulu Shark Week page only gives you the disheartening message, "Currently Unavailable." To make matters even worse, if you search "shark week" in the search bar, it'll bafflingly take you to a long list of South Park episodes. (Is it because "Shark Week" and "South Park" sound slightly similar? Lord only knows why search metrics are the way they are).
Still, even though Hulu doesn't exactly have your back this time around, there are plenty of other ways to watch Shark Week online — so you'll still be able to catch all the must-sea programming. First off, there's the Discovery Channel website and Discovery Go app, both of which offer full episodes and streaming services (so long as you have a cable subscription that includes the Discovery Channel, that is).
Two of Hulu's competitors are also good for keeping up with all the shark action, too — both Amazon and iTunes offer their own version of Shark Week passes that will give you access to all the new shark programming. Both will also allow you to purchase single episodes, which is a good option if there are only a few programs you really want to see.
So, there you have it — no Shark Week for Hulu this year, unfortunately. Still, you should have more than enough options to ensure you get your yearly mega-dose of shark coverage.