Here's Everything You Need To Know About Stassi's Rumored Boyfriend So Far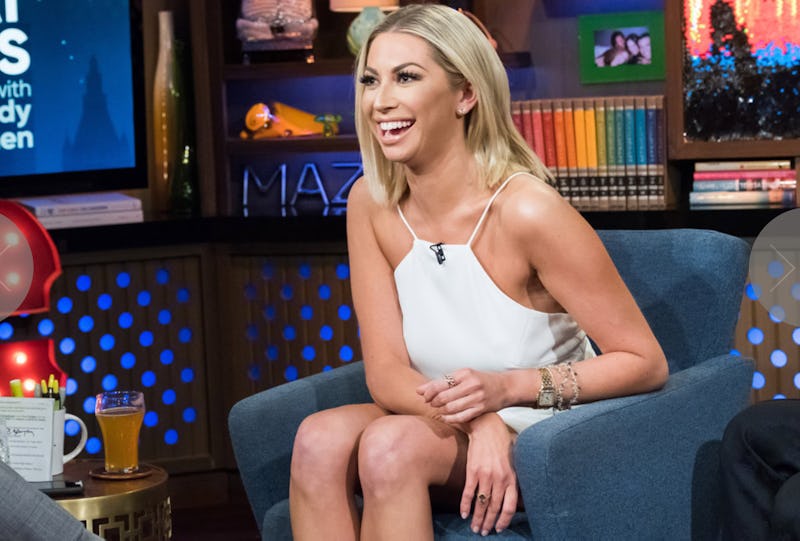 Charles Sykes/Bravo
Don't expect Vanderpump Rules star Stassi Schroeder to get back on the pinot grigio-drenched rollercoaster that was her relationship with Patrick Meagher, because it sounds like she has happily moved on. On Thursday, Us Weekly reported that Stassi is dating a new guy named Beau Clark. E! News also claimed that this is the name of the Bravolebrity's boyfriend. So, who is this Beau person? To the internet we go.
But before we try to round up some details about this guy, here are some more tidbits about Stassi and Beau's reported relationship. E! News' source claimed that the pair is "exclusive," got set up by Pumpers Katie Maloney and Kristen Doute, find the same stuff funny, and is really into dogs. It sounds like they're off to a solid start.
The source added, "Stassi is happy that she didn't have to use a dating app and met him organically through her best friends." Given Stassi's tumultuous history with a certain celebrity dating app, it's probably for the best that things worked out this way.
While Stassi has been keeping the new dude's name under wraps, she hasn't been too vague about her current relationship status. On the Monday, Feb. 12 episode of Watch What Happens Live with Andy Cohen, Stassi, who officially ended things with her longtime boyfriend Patrick last summer, confirmed that she's not single. "I am in a relationship right now," she told the audience before putting her hands in front of her face. She also revealed that Kristen and Katie are responsible for matching her up with the fellow in question. Again, she was careful to not spill his identity, but she did let everyone know that he does not work at SUR.
When Us Weekly asked the Straight Up with Stassi host about her rumored boyfriend on Feb. 15, she replied, "Yes, I have a new Beau." Get it? Get it? But wait, there's more: In a recent Facebook Live interview with Maxim, Stassi said her boyfriend's initials are "B.C." Oh, how about that.
Now, neither have posted photos of each other on Instagram, but Beau sure has popped up in a bunch of Stassi's Instagram Stories. As The Daily Mail pointed out, just Thursday, she shared videos of the two of them hanging out at the Abbey, and then some more videos of his dodgeball game. Huh. They sure are pulling a real Dean Unglert and Lesley Murphy post-Bachelor Winter Games, which is to say they're all but confirming their romance by posting a bunch of Instagram Stories together.
When Stassi told the WWHL viewers that the new dude doesn't work at SUR, she wasn't trying to throw us off the scent. According to E! News, Beau works in commercial casting. But what else? What's his story? What's his whole deal? Uh, his "whole deal" is to be determined, but at the very least, there are some social media posts to parse. To the Instagram we go. Hope you're ready for things to get real scientific.
So, Stassi is following two Beaus, and the Beau that looks like the guy in Stassi's Instagram Stories uses the handle @thegoodthebadthebogie. (Told you things were going to take a turn for the scientific.) Assuming @thegoodthebadthebogie is the droid, er, dude we're looking for, here's the portrait this Instagram account paints of Stassi's rumored boyfriend: He lives in Los Angeles, is a Rams fan, a country music fan, a beer fan, a Vans sneaker fan, and a dog fan. All in all, he seems like a real good time Charlie.
Oh, and what do we have here? Might this be a photo of Beau hanging out at a hotel rooftop pool with Kristen and Brian Carter of Vanderpump Rules back in May 2017? Oh, it most definitely is.
Anyway, it sounds Stassi is not quite ready to go up on the roof of Vanderpump Dogs and shout everything there is to know about her relationship. So until she and the beau decide to go public-public, the Stories will just have to SUR-fice.