Netflix's New Taco Show Won't Just Make Your Mouth Water — It'll Teach You A Lot Too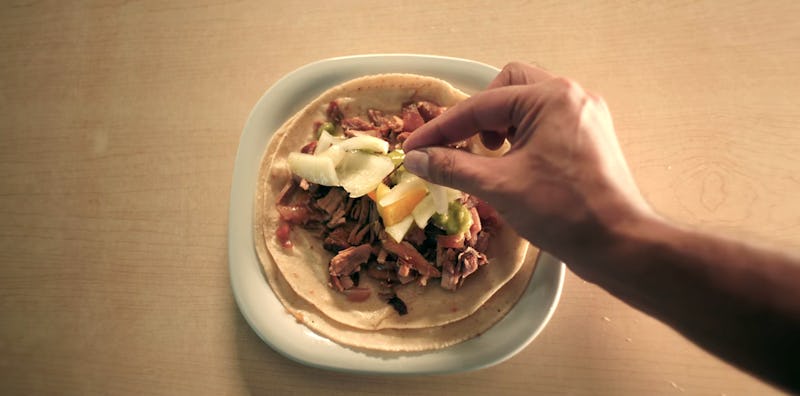 Netflix
After Taco Chronicles hits Netflix July 12, you'll want to plan a trip to Mexico ASAP. The first season travels south of the border to retrace the histories of various taco styles and the people who make them. It's not clear yet if Taco Chronicles will return for Season 2 or if it's just a one-off tacumentary (sorry!!), but considering the first season covers just six types of tacos, there's certainly room not for more episodes — and in your belly.
In Season 1, the six tacos covered are asada, barbacoa, canasta, carnitas, guisado, and pastor. If you aren't familiar those types, or if your most "authentic" taco experience has been going to a Chipotle or Taco Bell, then Taco Chronicles will absolutely help to educate you. But even taco connoisseurs should learn something about their favorite food from the show since, according to Netflix, the intention is to expose the "long, rich, little-known histories" of these popular tacos. Making your mouth water is just an added bonus.
Besides these six types, there are numerous other kinds of tacos. As Mexconnect highlighted, other traditional Mexican street tacos include cabeza, cazuela, dorados, fritanga, and pescado. Each variation has its own unique history, so Taco Chronicles could easily continue exploring these individual taco types in future seasons.
But before we get too far ahead of ourselves, here's a primer for all the tacos you'll be learning about in Season 1 — you know, so you won't feel totally schooled by the series.