Fans Of 'The Bletchley Circle' May Have Mixed Feelings About This Season 3 News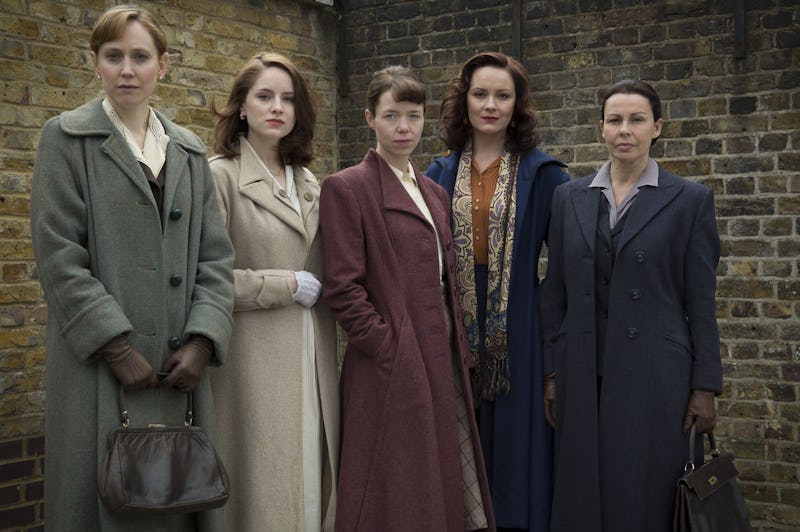 ITV/Shutterstock
It may not seem like it, but it's been four years since The Bletchley Circle first aired. Centred around four former wartime code-breakers who use their aforementioned knowledge to solve crimes, the programme demonstrates the formidable power of women during World War II. Whilst the investigations have continued in the spin-off show The Bletchley Circle: San Francisco, will the OG programme The Bletchley Circle return for a third series?
Unfortunately, it's not looking promising. The second series of The Bletchley Circle aired in January 2014, but was later axed by ITV in April of the same year. The cast were understandably upset regarding the news, but were not really that surprised. "In the climate that we're in at the moment, it's really hard to get shows re-commissioned," actress Sophie Rundle (who portrayed Lucy) told Digital Spy. "Doing a second series was a complete bonus — we only thought we were doing a one-off drama."
I contacted the show to find out whether there had been a change of heart; was there a potential future for the original series following the success of The Bletchley Circle: San Francisco? A spokesperson tells me that although there is no official comment regarding a third series of The Bletchley Circle, there will be more episodes of The Bletchley Circle: San Francisco. They reveal: "Eight episodes were recorded for this series — four-episode two parters. The next four will air in 2019."
Well, at least there's going to be more The Bletchley Circle: San Francisco.
I mean, sure it's in a different setting — obviously — and set a few years later, but it still features two familiar faces, Camilla 'Millie' Harcourt (Rachael Stirling) and Jean McBrian (Julie Graham). Travelling to San Francisco, Millie and Jean continue to solve murders using their knowledge in code-breaking by teaming up with two new characters, Iris Bearden (Crystal Balint) and Hailey Yarner (Chanelle Peloso).
But why not just make a third series of the OG show? Well, this spin-off isn't solely a British production. Jointly produced by Canadian Omnifilm Entertainment and the UK's World Productions, as reported by Variety. The Bletchley Circle: San Francisco has not only been distributed on home turf by ITV, but also across the Atlantic via BritBox (United States) and Citytv (Canada).
In my opinion, the current spin-off series could be viewed as a spiritual third season of the original show. That's what executive producer and showrunner Michael MacLennan believes as well. Speaking in a ITV press pack sent to Bustle UK, he explained how even though this is a spin-off, it still retains the spirit of the original programme.
"An important part to my approach was to make sure that we continue to work with our British partners, because on the one hand, this is a completely new world for us, but at the same time it has to feel like it contains the beating heart of the original," MacLennan explains. "I came to the show with a great affection for it myself, so it's not like I'm trying to reinvent the wheel."
Familiar faces combined with an American flair, The Bletchley Circle: San Fransisco is a welcome return to the kick-ass codebreakers of World War II and I can't wait to see it continue in 2019.
The Bletchley Circle: San Fransisco concludes tonight on ITV at 9 p.m.