'The Keepers' Director Weighs In On Season 2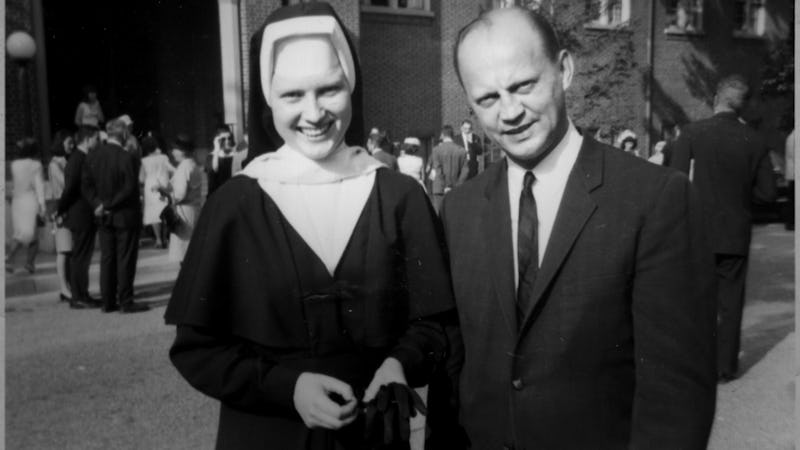 Netflix
When a new show sinks its hooks into you, one of the first questions you might ask yourself is: How long will it run? Subscribers who find themselves engrossed in Netflix's newest true crime docuseries may ask a similar question this weekend. So, to get ahead of the game, Bustle asked director and executive producer Ryan White if The Keepers would return for Season 2 — and his answer was illuminating.
With the proliferation of original programming platforms and various formats during our current Golden Age of TV, it can be admittedly difficult to tell at first-glance what's a one-off miniseries, what's a limited series that may or may not continue in the future, what's an anthology series that switches things up every year, and what's a good old-fashioned traditional ongoing series. And even if The Keepers was originally envisioned as a one-off, there's always the possibility that a combination of high viewership, critical acclaim, and social media buzz could drive Netflix to renew it for a second season — just as they did with its former true crime sensation, Making A Murderer. (Season 2 of that show is scheduled to premiere sometime this year.)
White says he envisioned The Keepers as a one-and-done examination of Cesnik's murder, but he doesn't necessarily rule out the possibility of continuing it. "My goal was not to make a second season," White tells Bustle. Then he adds, "Never say never." In terms of what a hypothetical Season 2 could entail, White mentions that "we've already seen a lot of movement just since the trailer came out ... A few days ago, the Baltimore Police exhumed Father Joseph Maskell's body to get a DNA sample."
Maskell, though never charged in connection with Cesnik's murder, is at the center of The Keepers after being accused by many women of sexually abusing them while they were at Keough High School in the late '60s and early '70s. The series theorizes that Cesnik could have been murdered to keep this alleged abuse secret, as several woman in the series claimed that Cesnik did know about the alleged abuse. Maskell denied the sexual assault accusations until his death in 2001. Maskell was never charged in Cesnik's case, but the Archdiocese of Baltimore, who employed Maskell and oversaw Keough, state on their website, "When suspicions arose regarding Maskell in 1994, he was interviewed by the police and also by The Baltimore Sun about the allegations of sexual abuse and also about the murder of Sr. Cathy." A spokesman for the Archdiocese acknowledged the accusations made against Maskell in a statement to Bustle:
"Since the 1990s, when the Archdiocese of Baltimore first learned of an allegation of child sexual abuse against Maskell, and on numerous occasions since, the Archdiocese has publicly acknowledged and apologized for the horrific abuse committed by him. The Archdiocese reported the allegations to civil authorities in the 1990s and cooperated fully in any investigation, removed Father Maskell's faculties to function as a priest, apologized to victims and offered them counseling assistance, sought additional victims, and provided direct financial assistance to 16 individuals abused by Maskell.
Though it was unaware of the abuse at the time it occurred approximately 50 years ago, the Archdiocese deeply regrets the damage that was caused to those who were so badly harmed and has worked diligently since becoming aware of their abuse to bring some measure of healing to them. The Archdiocese is wholly committed to protecting children, holding abusers accountable — clergy and laity alike, and promoting healing for victims. These are hallmarks of the Archdiocese's child protection efforts, which we strive to constantly strengthen.
There is no room in the Archdiocese for anyone who would harm a child and every effort must be made to ensure what happened before never happens again. It is our hope that The Keepers advances this pursuit, just as we hope the series helps those who have kept alive the memory of Sr. Cathy and our collective hope that justice will be won for her."
But, The Baltimore Sun reported this week that the DNA sample taken from Maskell was not a match for crime scene evidence — putting police right back to square one of their cold case investigation. (A spokesperson for the Baltimore County Police Department told Bustle in a statement that the department is still actively looking into the case, though. "This has been one of our most active cold cases for many years; our current team of detectives continues to work diligently to solve this case," the statement said.
But, even if the DNA test and other potential developments still managed to lead to enough material for a second batch of episodes, it would likely be a long time before viewers actually got to watch another season. It took three years to put Season 1 together, White says. He also says he's not interested in doing a Season 2 of The Keepers that revolves around a completely different case; if the show ever comes back, it will be in order to continue the story of Sister Cathy. "There could be incredible movement that comes out of this truth being unburied, and perhaps I would continue to cover that," he says. "But I'm very happy with the seven episodes that we did create and the impact that I know they can have. So if it ends with that, I feel fulfilled."
Check out the "Netflix" stream in the Bustle App for more Netflix news, plus recommendations on what to watch next.
Additional reporting by Martha Sorren