Elizabeth Debicki Has Given Tom Hiddleston & 'The Night Manager' Fans MAJOR Hope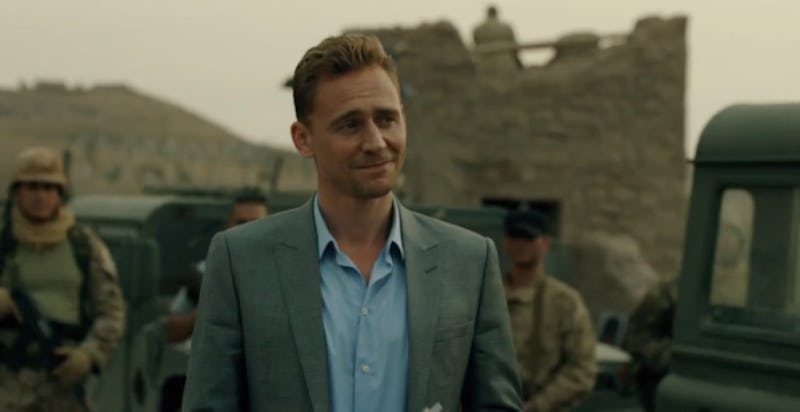 The Night Manager/BBC
Tom Hiddleston. OK, now that I've got your attention, let's talk good telly. Good telly is important because it makes us all happy AF without having to do exercise or get drunk. Good telly like The Night Manager however, is next level. Starring homegrown talent Hiddleston, the thrilling spy drama was a rip roaring success. The show aired back in 2016 and as of yet, despite fans lusting after it, there has yet to be another edition of this racy AF story. However, recently buzz has people wondering will The Night Manager have a second season?
The TV show is based on a 1993 novel, also called The Night Manager, by the famous spy author, John la Carré. As the novel has no sequel, it is easy to understand why fans might be a little concerned that it is a one time deal series and they aren't getting anymore hot Jonathan Pine action. However, recently a star from season one may have let slip that a second season is a brewing. Yes, you heard me right. Elizabeth Debicki who featured in the show as Jed, spilled the tea when she spoke to Radio Times while promoting Peter Rabbit, which she also stars in. OMG is this real life? We flipping hope so.
Do you remember Debicki? She is the talented and gorgeous actor who played the miserable lover of the super villain arms dealer Richard Roper. When asked in her interview if there was to be another instalment of the spy drama she definitely made it seem like it's a go.
"Is there another one? I'm sworn to secrecy…"
Tease, tease, tease. When further questioned by her co star in the film, Daisy Ridley, she lets slip a bit more info, making it seem like it's basically only a matter of time before we get a second go at this sexy spy drama.
"I think [a sequel] might be in the works, yeah."
Well, that sounds like we should absolutely get our hopes up!
Hiddleston also confirmed that he is totes down for a second season, meaning we could see the hotness and daring that is Jonathan Pine. He spoke to an audience at The Royal Television Society, acknowledging that the series is based on a book that has no sequel but saying that he is up for where the writers might go with it.
"There's no book and there's never been a Le Carré story that has been extended beyond the confines of the novel. It would be interesting to try that".
Hiddleston fans all over the globe are probably letting out a monumentous sigh of relief as we speak. The show, which also starred superstar home grown talent like Olivia Colman and Hugh Laurie, was so huge that the finale had more viewers than a documentary about the Queen turning 90, the BBC reports. One million more to be exact. Well, no offence queenie but I know which one I would find more entertaining, am I right? Who would have thought that a show about a crazy handsome guy who works in a hotel and then ends up involved in some cray AF espionage would leave fans wanting more? Erm everyone? Not to mention those sex scenes which actually led to Hiddleston being crowned Rear Of The Year in 2016. Now that's a pretty cool claim to fame.
Director of the show Susanne Bier also confirmed in March 2017 when she spoke to Broadcast that scripts for the second season are in development. Deadline also reported that there is a pretty stellar group of writers working on the new season, including British spy writer Charles Cumming, who spoke to The Daily Mail about his involvement in the much anticipated second season.
Sounds like it's going to be pretty amazing and I really hope you're able to contain your excitement while you wait for a second season, I know I can't.