Why 'The Kissing Booth' Resonated So Much With Fans — And A Sequel Might Be Possible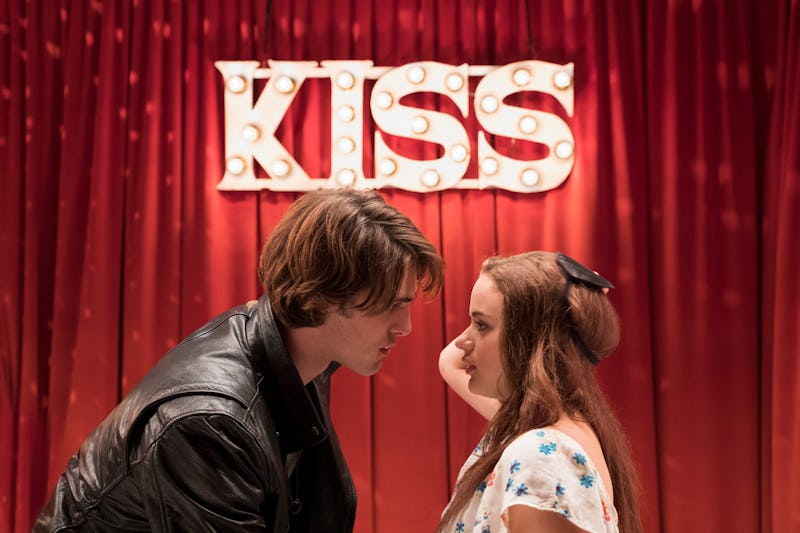 After the film took over the internet this summer, fans are demanding a sequel to The Kissing Booth. Netflix's surprise hit teen rom-com has amassed a passionate fanbase, and turned out to be a major success for the streamer. In an interview with Deadline, Netflix president Ted Sarandos claimed the film is "one of the most watched movies in the world right now." Although Netflix is notorious for not sharing ratings, according to The Washington Post, the site did reveal that one in three viewers goes on to watch The Kissing Booth multiple times. That's reportedly 30 percent higher than the statistics for other Netflix films. (Bustle reached out to Netflix and Wattpad about the possibility of a sequel, but did not hear back at the time of publication.)
The moral of the story is fans can't get enough of Elle's romance with bad boy Noah, or her friendship with Lee. Viewers want more, and they might just get it. In a new New York Times interview with the author of the book on which The Kissing Booth is based, Beth Reekles, the topic of a sequel couldn't help but come up. Reekles told NYT, "I'd love there to be, but who knows? I know all the fans of the movie and the book would like one." That's for sure, but would the stars be on board?
In June, the film's lead, Joey King, told Seventeen,
"Of course, I would love to work with everyone again. If the opportunity arose, who knows, right? Something could happen. Something might. I don't know. If there was a sequel, I have no idea."
She also told the outlet that she definitely wants to see Elle and Noah end up together, which is a sentiment the movie's fans almost certainly agree with.
If Netflix does decide to greenlight a sequel, they won't have to look far for source material. Reekles, who wrote the novel on Wattpad when she was just 15, also wrote a companion novella. The Beach House, which was also published via Wattpad, is set during the summer before Noah goes off to college. In that way, it's definitely not a sequel — but with a little bit of plot shifting, it could be.
Despite not winning over critics — The Kissing Booth has a 13 percent score on Rotten Tomatoes — and being called problematic by multiple outlets (including Bustle), the film's success is undeniable. And so is its appeal. Ultimately, The Kissing Booth is speaking to an audience that appears to be craving fluffy, lighthearted teen fare.
The movie's director, Vince Marcello, explained to NYT,
"The John Hughes films and movies like 10 Things I Hate About You were formative for me. Hollywood hasn't been making those kinds of films in recent years, and that's the reason we're so hungry for them."
Marcello's assertion checks out. Romantic comedies have been on a decline in recent years, with Hollywood seeming to favor large tent-pole franchises instead. According to The Numbers, there were just 15 romantic comedies released in 2017. In 2007, there were 35. At a certain point, Hollywood's interest in the genre appears to have waned.
However, films like The Kissing Booth suggest there's an audience out there whose needs aren't being met. Netflix has an opportunity to revitalize the genre. In addition to The Kissing Booth, the streaming giant has also found success with films like Set It Up and Alex Strangelove. In the next two months, they'll be adding another YA adaptation — Jenny Han's To All the Boys I Loved Before — and critical darling Sierra Burgess Is a Loser.
If the future of the rom-com is at Netflix — and it's starting to look like it might be — then the least the streaming service can do is give the people what they want. And it's pretty clear that what they want is more of The Kissing Booth.