ALERT: 'Veronica Mars' Just Dropped The New Season A Whole *Week* Early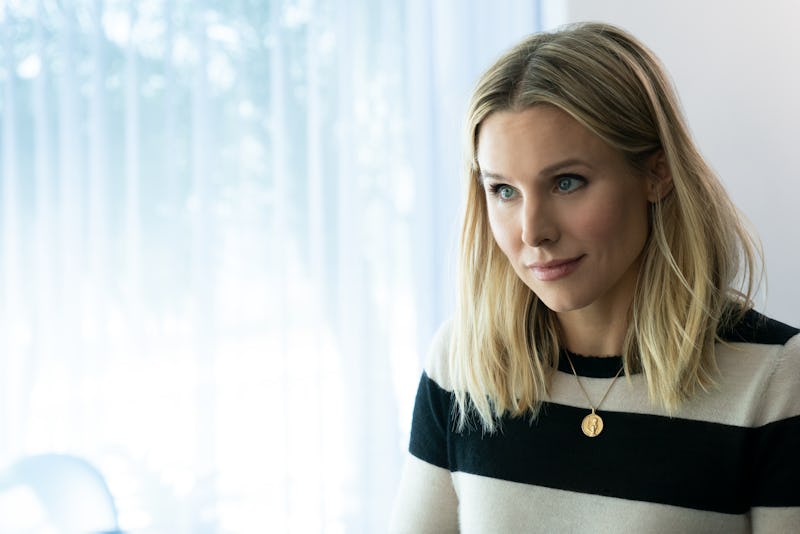 Courtesy of Hulu
The latest TV revival returned to life sooner than expected. Veronica Mars Season 4 dropped a week early to Hulu and fans are understandably scrambling. Originally slated to release the 8-episode revival of Veronica Mars on Friday, July 26, the star's titular heroine announced news of the surprise drop. Cast members from the revival appeared at a panel for the show at San Diego Comic-Con on Friday, July 19.
TVLine reported that during the panel, Bell announced to a crowd of stunned Marshmallows that all eight episodes of Veronica Mars Season 4 were available, like right that minute. In a video posted to the outlet's Instagram, Bell can be seen expressing frustration that fans would have to wait another week for new episodes. The panel was held the day after Bell's birthday, causing her to proclaim, "I want it on the internet for my birthday right now, Hulu." As if by magic, Ms. Mars made it so.
Co-stars Enrico Colantoni, Jason Dohring, Ryan Hansen, Percy Daggs III, Francis Capra and Kirby Howell-Baptiste, along with series creator Rob Thomas and longtime collaborator Diane Wright Ruggiero were also on hand in San Diego for the official impromptu launch. But as the world begins their binge, some are already wondering: will a Season 5 be worth investigating?
While some may argue talk of another VM season is premature, this Neptune-set drama following a curious PI has evolved a lot over the years. From Veronica's Season 1 days as a burgeoning teen detective to her father's disgraced sheriff, to her collegiate status in Season 3, there was a lot to uncover in the first three seasons, which ended in 2007.
But each season's standalone mystery format lent itself to VM getting new life after the show's series finale. In 2014, a Veronica Mars movie was crowd-funded purely from fan fervor. After toying with a career as a lawyer, Bell's character returned to her PI roots and opened the door to the very revival, which was released today.
Another development to fall in Marshmallows' laps? Oh, just confirmation from Kristen Bell herself that she'd be down to reprise her role for another season. Per The Hollywood Reporter, Bell said this during the Comic-Con panel: "I'll play Veronica until everyone in Neptune is dead." She later said that returning to her iconic role was an ode to her two young daughters:
"It was a hard decision at first [to return to the series], but then I was like, no, you have to have to have this character — this superhero without a cape — out there as an example for your children, and it's going to be worth it."
As if Bell's comments on returning to Veronica Mars for a potential Season 5 weren't enough, could she be involved in the upcoming Gossip Girl reboot? You know you love her (as the OG shady narrator), XOXO Gossip Girl.
Well, suffice it to say, it has been a day for Veronica Mars fans as they cancel plans, prepare their couches, and settle in for major consumption of their fave show. When they emerge from the haze will a Season 5 be in the cards?