This 'Queer Eye' Alum Wants To Go To The Emmys & Already Has The BEST Outfit Planned Out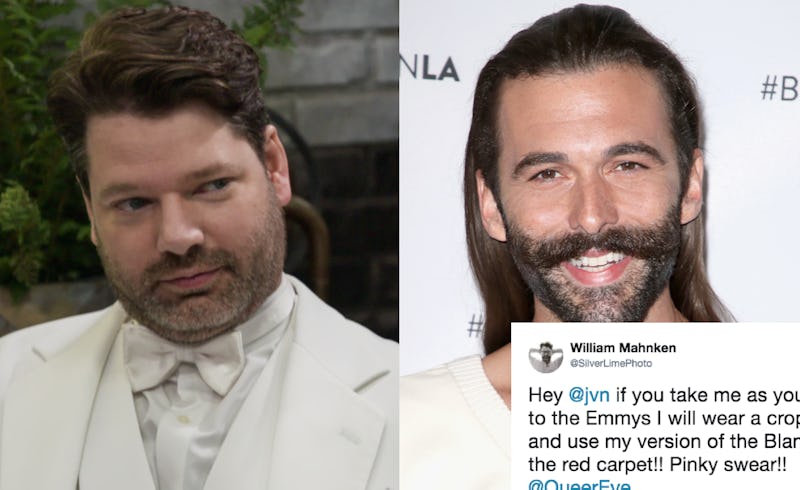 David Livingston/Getty Images Entertainment/Getty Images; Netflix; William Mahnken/Twitter
Every episode of Queer Eye is inevitably a gem, but some contestants' stories just keep on giving. It turns out that Queer Eye's William could be Jonathan's Emmys guest, and his choice of attire will have fans crossing their fingers that this actually ends up happening. That's William Mahnken from the Netflix series' Season 2, by the way, and Fab Five member Jonathan Van Ness, who bonded during the former's makeover.
They've apparently stayed on good terms post-show as well, as William tweeted an unusual proposal to the grooming specialist on July 25. "Hey @jvn," he wrote, "If you take me as your 'plus one' to the Emmys I will wear a crop top tuxedo and use my version of the Blanche voice on the red carpet!! Pinky swear!!" And Jonathan wasted no time in responding; just one minute later, he tweeted back,
"Got it babe! Crop top tux at the emmys would be iconic, let's see if I bag a man if not & my moms not avail you're in"
In case you don't speak Jonathan, that means the mustachioed reality star loves the look and is totally on board with the idea, and that William is currently third in line for the coveted plus-one position. (Behind any future love interest that Jonathan meets between now and the Sep. 17 ceremony, and the self-care maven's own mother.)
William couldn't help noticing his placement either, swiftly tweeting back, "Yes!!!! I'm number 3!!!!!!!" with exactly the right number of exclamation points befitting this situation: 11.
And once again, Jonathan was glued to his phone and ready to put things in perspective, reassuring his prospective date, "I mean... at least your [sic] on the podium right? Like bronze can go gold henny."
And it's as easy as that for dreams to be made. Of course, no one would ever wish negativity on Jonathan. It would be amazing if he met someone special before September, and his mom would probably be delighted to be by her son's side as he contends for Emmys for both Queer Eye and his own Game of Thrones parody web series on Funny Or Die — Gay of Thrones.
But in case those plans don't pan out, William in a cropped tux is a pretty great alternative. And considering how much he's already delighted fans, it's no surprise that the newly married man came up with it. On the show, audiences found themselves rooting for William as he pulled himself together throughout the episode, culminating in a marriage proposal to his girlfriend of three years, Shannan Eller.
The two were wed within a couple weeks of Season 2's premiere, and they haven't stopped including fans in their love story since the show wrapped. Earlier this month, William and Shannan actually went on a double date with fellow Queer Eye couple Tom and Abby, who got remarried after reuniting in Season 1. The date wasn't filmed, but William looked out for us by posting plenty of photos from the interaction, so no one missed a minute.
All of which goes to say that come September, you very well may see William strutting down the Emmys red carpet with his belly button on full display. He has a habit of making his dreams come true lately, so if he sets his mind to something, he could totally make it happen.