Jonathan Van Ness' Excitement About His Emmy Noms Is Truly Contagious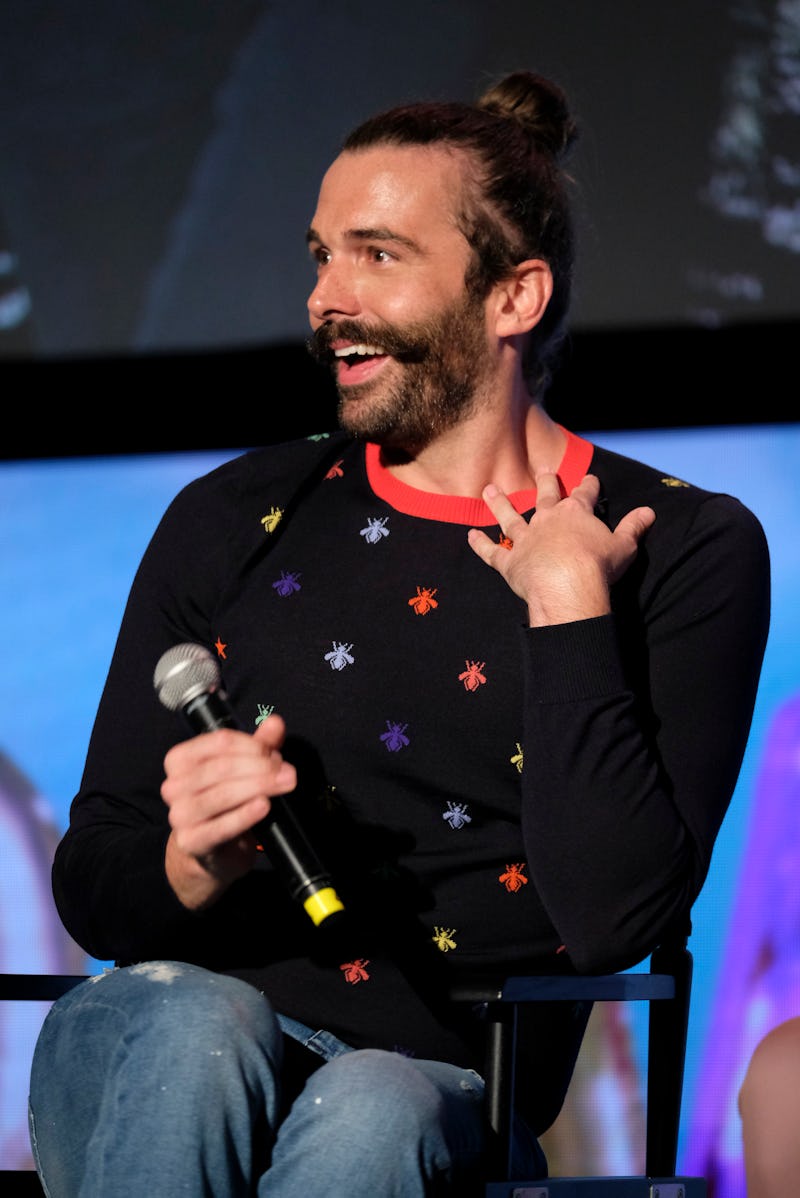 Frazer Harrison/Getty Images Entertainment/Getty Images
To quote the Queer Eye theme song, "Things keep getting better." And that sentiment couldn't be more fitting for the Netflix series, which raked in four Emmy nominations on Thursday. On top of that, Jonathan Van Ness earned an Emmy nom for his Funny Or Die web series Gay of Thrones in the Outstanding Short Form Variety Series category. Naturally, Queer Eye's resident grooming expert was pumped about the recognition. Jonathan Van Ness' reaction to his Emmy noms couldn't make that more clear.
In a statement from his rep on Friday, Van Ness told Bustle:
"I'm so, so incredibly grateful to be able to represent the beautiful LGBTQIA community and am just so honored to be recognized for both Queer Eye and Gay of Thrones."
What a perfect statement. Can you believe? OK, you probably can believe it, because if you've even watched five minutes of an episode of Netflix's Queer Eye revival, it's obvious that he comes across as super sincere. Any time he's on-screen, Van Ness (rightfully) steals the spotlight — and not just because of his envy-inducing hair. He's usually strutting around or making everyone around him laugh with well-timed humor.
On top of that, Van Ness helps boost people's egos, one self-care tip at a time. He often emphasizes he wants to give the "heroes" on the show simple tips they can actually replicate on a daily basis, and it's no secret that viewers at home have also benefited from the words of wisdom he bestows. The whole idea being that if you feel good on the outside, it'll translate to how you feel inside.
To celebrate the news of the Emmy noms for Queer Eye and Gay of Thrones, Van Ness posted a photo alongside a group of some of the talented people he works with. In the caption, he wrote:
"To be recognized in this way moves me to tears, the gratitude, the love, gahhhhhh!! @gibblertron @funnyordie I love you all so so so much 💙💙💙💙💙🌈 so much congrats @netflix @queereye #emmys2018 #queereye #gayofthrones"
The IG post also included screenshots from the Emmy site, showcasing which categories his projects were nominated for. And that's not the only thing he shared to mark this milestone. In what might be the most genuine video you'll ever see on your feed, Van Ness shared footage of the moment where he found out about his Funny or Die nom. Seriously, watch and try not to get emotional. He wrote,
"The moment I found out about #gayofthrones , we all just had found out about @queereye 4 nominations, all my friends here are so supportive and excited for my success as much as theirs. Gay of Thrones was a baby idea @gibblertron and I had that literally was a pipe dream. This is incredible, so many thanks so much love, here is to all our dreams 💙 I love you so much @bobbyberk @tanfrance @karamobrown @antoni 🎥 @denisecrew"
Before you click below, just a warning, you'll definitely wind up jumping for joy right along with Van Ness.
As if those celebrations weren't enough, the ultimate joy came in the form of a #InMyFeelingsChallenge video, starring none other than Van Ness and co-star Tan France, aka Queer Eye's style guru. The pair is seen dancing along to Drake's "In My Feelings," which has taken on a life of its own as a viral challenge. (Don't worry, France later shared a video with all five Queer Eye guys on his IG Story and it's truly a delight.)
At the end of the day, the Queer Eye cast's enthusiasm about their nominations is contagious. And the fact that Van Ness received an additional nomination for his web series is just the icing on top of the cake. His reaction couldn't be more heartwarming. Oh, and leave it to Van Ness to give fans one more piece of advice. In an Instagram post he shared later on Thursday, he wrote, "Thanks for all the support today & no matter how many no's you encounter don't quit." Now go grab some tissues and cue all the happy tears — it's more than warranted.