Williams Sonoma Just Dropped A MASSIVE Peppermint Bark Line For This Year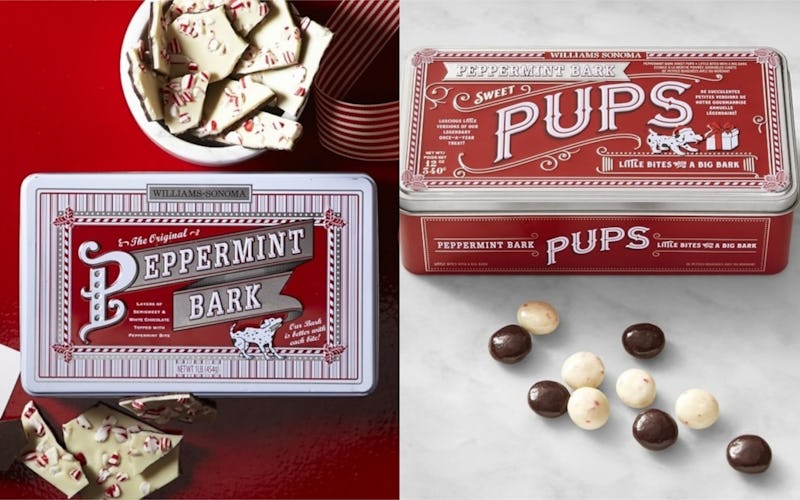 Williams Sonoma; Remixed by Bustle
I am a firm believer that the period between September and the beginning of January is the best time of year. We start with fall; we ease into the Halloween season; then comes Friendsgiving season; and lastly, we get the myriad winter holidays that occur throughout December and early January. And now that we're just over the Halloween hump, the winter holidays are closer than ever — which means Williams Sonoma's Peppermint Bark is back for 2018. This year actually marks the 20th anniversary of the stuff's initial debut, too — and as a result, there are tons of options available this year. From the original bark itself to a whole bunch of treats inspired by it, there's something here for everyone. Hoorah!
Williams Sonoma didn't invent peppermint bark, of course; chocolate bark has been around in one form or another for quite some time. It's believed to be a variation on the French candy known as mendiants — the little chocolate discs studded with nuts and dried fruit given out around the holidays. The nuts and fruits symbolized the four major mendicant orders of the Roman Catholic Church: Almonds represented the Carmelites, hazelnuts the Augustins, figs the Franciscans, and raisins the Dominicans.
Chocolate bark takes that same idea and tweaks it a bit: Instead of individual discs of chocolate, it consists of a large sheet of the stuff that's broken into many pieces. As Mental Floss notes, the peppermint variation, which usually features crumbled up candy canes, peppermint extract, and both white and dark chocolate, has been sold in the United States at least since the 1960s — but in 1998, Williams Sonoma created their version of the treat, and, well… there was no going back. It was a huge hit, and over the past 20 years, it's become a staple of many people's holiday celebrations each winter.
Williams Sonoma's Peppermint Bark features a custom blend of Guittard chocolate and triple-distilled oil of peppermint. To make it — a process which takes 24 hours from start to finish — master candy makers start by melting dark chocolate and pouring it across a marble slab. It's then topped with chocolate and tons of peppermint candy pieces.
In 2018, W-S's culinary experts have made a whopping 24 different Peppermint Bark products available for our holiday celebrations. Here are a few highlights — but if peppermint bark is your thing, you'll definitely want to head over to Williams Sonoma to check out the full array of offerings.
1. The Original Peppermint Bark
2. Dark Chocolate Peppermint Bark
3. Salted Peppermint Bark
4. Peppermint Bark Sampler
5. Peppermint Bark Paws
6. Peppermint Bark Pups
7. Peppermint Bark Cookies
8. Peppermint Bark Pretzels
9. Peppermint Bark Brownie Mix
10. Peppermint Bark Ice Cream Starter
Williams Sonoma's Peppermint Bark treats are available both online and in stores. Happy (very) early holidays!