The New Ride At Harry Potter World Sounds Scarier Than The Dark Arts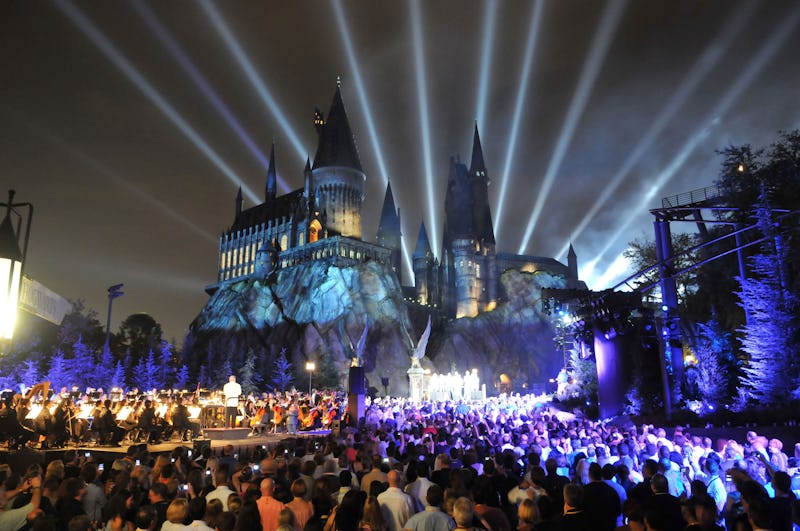 Handout/Getty Images Entertainment/Getty Images
There's a brand new Harry Potter ride coming to Universal Studios in Orlando, and it sounds like the most magical yet. According to the park's blog, this ride is going to "redefine the category" of rollercoasters, which is so intriguing. Even more interesting is the reveal that this new ride will be set in the sleepy village of Hogsmeade, which isn't the most obvious setting for an action-packed ride. Obviously, Universal Studios are plotting up something so huge for this rollercoaster that us mere Muggles can't even imagine it — and we're just going to have to wait until 2019 to find out.
Here's what we do know: this new Hogsmeade ride will be "one of the most highly-themed coaster experiences we've created [and] will combine a new level of storytelling with an action-packed adventure." The blog also says that the ride will incorporate fan-favorite creatures and characters from J.K. Rowling's story, that it will be fun for family members of all ages, and that it will be "unlike anything we've ever done before." Whoa. It sounds like this ride will take visitors fully into the magical world of Harry Potter, immersing them into the beloved story at the same time as thrilling them with an exciting ride.
Universal Studios have created some pretty innovative Wizarding World rides using 3D technology and groundbreaking design, so there's no doubt that this new ride will bring Hogsmeade to life in a way that borders on real-life magic. Now we just need a Time-Turner so we it can hurry up and be 2019 already!