'Wonder Woman' Was Snubbed At The Oscars, & Twitter Is LIVID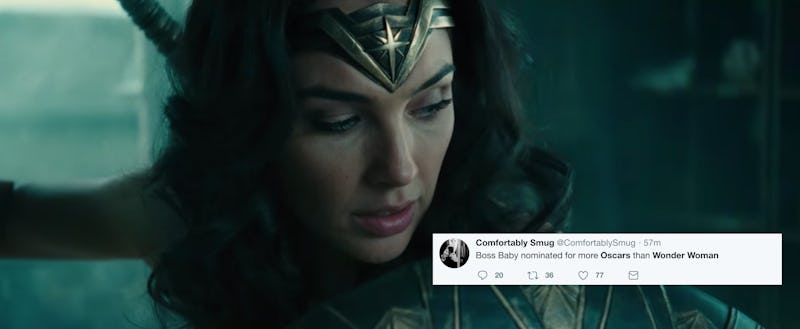 Warner Bros. Pictures/YouTube/Twitter
For all the wonderful films and creators who were deservedly honored with Academy Award nominations, there were a few who were snubbed. Wonder Woman received no 2018 Oscar nominations, and Twitter is up in arms about it. Superhero films don't tend to get honored in the heavy-hitting categories like Best Picture or Best Director, although their stars do sometimes crack the acting categories. But the trailblazing flick won't even be up for an award in the sound-mixing or effect categories at the 2018 ceremony on Mar. 4, which is a confusing omission that points to how far the industry still needs to go in recognizing the contributions of women.
Nominations were announced on the morning of Jan. 23, and fans had their ears perked for any mention of the film. It had come up empty-handed at the Golden Globes, but so had a lot of films that wound up with nominations. The Big Sick was shut out of Globes nominations entirely, and Lady Bird received acting nominations and a Best Motion Picture — Musical or Comedy honor but no Best Director nod. Both those omissions were rectified in Tuesday's announcements, but Wonder Woman still got no love.
A Best Director nod for Patty Jenkins felt like a lot to hope for, given her award season-long failure to be recognized, and the fact that Greta Gerwig is only the fifth woman ever to be nominated in that category. (Kathryn Bigelow is the only woman ever to win, for 2010's The Hurt Locker.) Jenkins joins powerhouses like Ava DuVernay, Nora Ephron, Dee Rees, and Nancy Meyers in the snubbed-director-of-box-office-sensations category, so she's in good, if infuriating company.
And, as far as Best Picture goes, it was a long shot, but many fans were still optimistic. The film was one of 11 selected for the Producer's Guild of America's Darryl F. Zanuck awards, snagged a SAG Awards for Best Ensemble, and is listed as one of the American Film Institute's Top Ten Films of 2017. In fact, as The Los Angeles Times points out, it's the highest domestic grossing film of 2017 to be shut out of the nominations.
However, this is familiar territory for superhero movies. Even with a terrific amount of Golden Globes buzz, last year's Deadpool was also shut out of nominations, so Wonder Woman's exclusion could be as much to do with the content of the film as with its women-centric storyline, cast, and crew. Except if that was the case, you might at the very least expect to see the action film crop up in some of the production categories. There were opportunities in original score, cinematography, sound editing, sound mixing, visual effects, costume design, production design, make-up — seemingly endless openings that were ultimately filled by films that are very similar to Wonder Woman.
We're talking box office winners with no acting nominations, like Beauty and the Beast and Star Wars: The Last Jedi, both of which came away with multiple nominations. We're talking about fellow superhero movies like Logan and Guardians of the Galaxy 2, which got a nod each in the adapted screenplay and visual effects categories, respectively. We're talking about Boss Baby, a movie with a 52 percent rating on Rotten Tomatoes which was nominated for Best Animated Feature. (While not animated, so ineligible in that category, Wonder Woman has a score of 92 percent, 40 points higher than the Oscar-nominated Boss Baby.)
So what's the hold up with Wonder Woman nominations? That's what fans of the ground-breaking franchise want to know, and they're not shy about asking on Twitter.
Their complaints covered a wide variety of issues, but, at heart, each was the same: Wonder Woman deserved better. No one is saying that this movie was the best of the year. This movie was popular, it was ground-breaking, and it made a lot of money, qualifiers which were enough to earn the other nominees their spots.
And if nothing visibly distinguishes the snubbed Wonder Woman from its nominated peers, then perhaps the answer is something more systemic and below the surface. Perhaps in this category, as in others, the Academy is not yet ready to let women-helmed projects and women-centric stories exist on the same plane.