'Lady Bird's Multiple Oscars Nominations Are A Sign Of Something Really Promising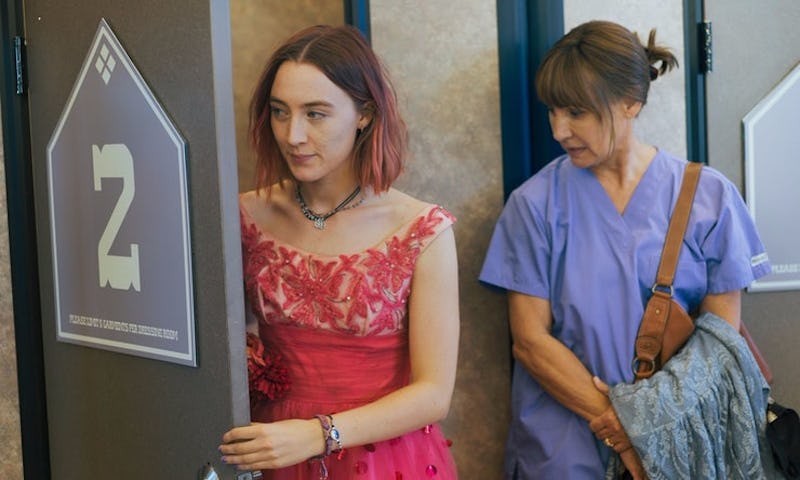 A24
After much anticipation, the 2018 Academy Award nominations were announced on Tuesday, and the fate of one film in particular has drawn attention: Lady Bird received five Oscar nominations. Throughout the early morning announcements, fans had their ears perked for news of the beloved coming-of-age story written and directed by Greta Gerwig. And by the end of the broadcast, the film had racked up nods in the Best Supporting Actress, Best Actress, Best Director, Best Original Screenplay, and Best Picture categories. Lady Bird is, at its heart, a female-driven movie and a female-driven story, and its multiple nominations on for the 2018 ceremony suggest an important change in the way those stories are treated.
While much-deserved, nomination was hardly a sure thing. There has been buzz for months about the Saoirse Ronan-starring feature, with a near total consensus that Ronan and her costar Laurie Metcalf would receive nominations on Jan. 23. And indeed, they did: the pair came away with a Best Actress Nomination and a Best Supporting Actress nod, respectively, mirroring their showing at the 2018 Golden Globes earlier this month.
But less certain than the fate of the actors was the fate of the film itself. While Lady Bird was arguably the best-reviewed film of 2017, its status was never on lock heading into the nomination ceremony. Award season in general has a tendency toward whiteness and maleness, and the Academy Awards are often labeled as the most egregious offenders. The ceremony has been hit with the hashtag #OscarsSoWhite multiple years in a row, and consistently struggled with a lack of diversity.
And, unfortunately, the Academy doesn't necessarily fare much better when it comes to the gender divide. Up until Tuesday's nomination, only four women had been nominated for Best Director since 1929: Lina Wertmuller for Seven Beauties in 1975, Jane Campion for 1993's The Piano, Sofia Coppola for Lost in Translation in 2003, and Kathryn Bigelow for The Hurt Locker in 2010, the only woman ever to have won the distinction. Greta Gerwig became the fifth woman in that category, and broke a record by being the first woman to receive an Oscar nomination for her directing debut.
Those are impressive barriers being broken down, but again, it was hardly a guarantee. Gerwig was snubbed for a Best Director nomination at the Golden Globes, though her film took away top honors in film and acting categories. Her name also didn't crop up in the Globes' Best Original Screenplay Category, which makes the love it received in that category at the Oscars all the more ground-breaking.
Perhaps this signals that such stories will be sought out and honored at the Oscars moving forward, instead of summarily dismissed, which has been an issue in the past. While women-centric films have never had much of a problem raking in acting nominations, they often don't translate to much love elsewhere. Ten women are nominated for acting awards each year, of course, but they're often nominated for films that aren't in contention for big honors. In 2017, for example — meaning the 2016 ceremony, confusing as that is — four out of five of the Best Actress nominees were from films that didn't crack the Best Picture category, as compared with one of out five of the men.
Two years earlier, the stats were the same. Four out of five of the men in the Best Actor category represented Best Picture nominees, but only one out of five women in the Lead Actress category did the same, and it was for a film that already had a male nominee. (Felicity Jones and Eddie Redmayne, for The Theory of Everything.) In fact, when it comes to winners, in the Academy's 89-year history, the Best Picture and Best Actor winners have matched up 28 times, while Best Picture and Best Actress have matched up only 10 times.
It's impossible to predict whether Lady Bird will come away with the win and increase those statistics by one, but either way, this is a watershed moment. It's proof of just how far we've come in recognizing and rewarding female voices, and of how far we still have to go to make this the rule instead of the exception.