This Oscar-Nominated Cinematographer's Statement On Working While Pregnant Is Must-Read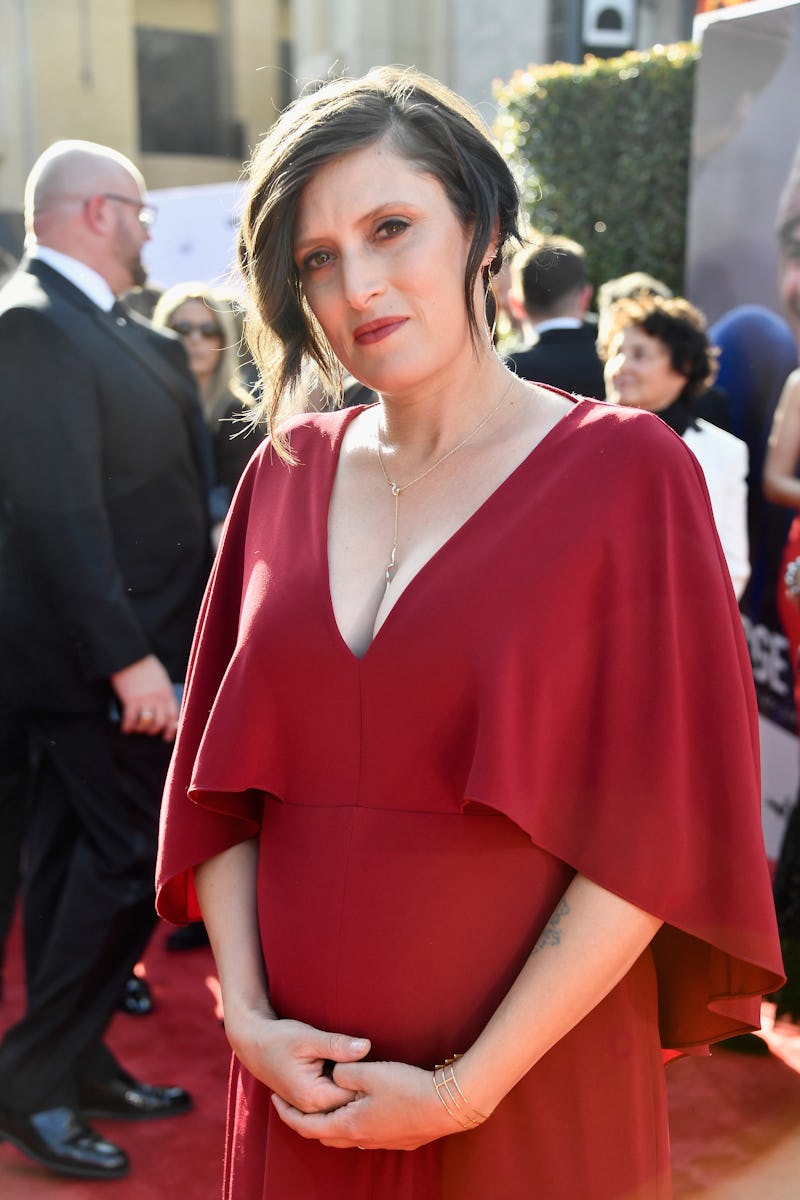 Frazer Harrison/Getty Images Entertainment/Getty Images
She's already broken down a hugely significant barrier in her career, but this trailblazer shows no signs of slowly down. Now cinematographer Rachel Morrison got real about working while pregnant in an Instagram post sure to dispel misconceptions about pregnancy in her industry.
Morrison is a groundbreaking cinematographer. In 2018, she earned an Academy Award nomination for Best Achievement in Cinematography, making her the first woman ever to be nominated in that category. She also became the first female cinematographer to join the Marvel Cinematic Universe with Black Panther. On top of that, she's a wife, married to production manager Rachel Garza, and a mother — their first son was born in 2014. Now expecting her second child, Morrison took to Instagram with a message to expectant mothers and those who employ them. Under a photo of the visibly pregnant Oscar nominee balancing a camera on her shoulder and pointing toward the camera, Morrison wrote:
There's a common misconception that likens pregnancy to some kind of disability — the idea that women who are pregnant shouldn't be active and can't go about their normal lives... While no two pregnancies are the same, I just want to say that for many to most women this isn't the case at all.
Morrison revealed that she recently wrapped a feature called Against All Enemies, which is due out in 2019, at "8+ months pregnant." She added that she already has another project lined up, and plans to "keep shooting for as long as anyone will hire me." But if you're about to issue a standing ovation for how hard the cinematographer is pushing herself in advance of her due date, hold your applause. Morrison continued:
The point is I am NOT a superhero. I am just going about my life doing the thing that I love for as long as I can because the more I work before baby the longer I can take off after. Which should also be MY choice and no one else's.
She added that if it was purely about physical ability, she "could have gone back to work within a week of having my son." But that isn't what happened. She continued, "At the time, I lost many jobs because people were nervous to hire me so soon after the birth." She goes on to emphasize that she doesn't recommend an immediate return to work for every mom, or even every parent. In fact, she had shared above that the reason she's putting in so many hours pre-delivery is so she can take that time off after. But regardless, her main point is that these decisions should be personal, and not dictated by one's profession. And it's hard to argue with that.
Ultimately, it seems that Morrison just wants to be treated not as a woman, not as a mother, but as a person. And as a highly capable person at that. If she says she's down to work right up until her water breaks, then she's the person to make that call. And if she wants to return to set a week after giving birth — you guessed it! — that's her call to make as well. Certainly there are inconvenient aspects of pregnancy and parenthood, but at the end of the day, Morrison wants to be clear that this is a positive and not a negative. As she finished her caption:
Pregnancy and motherhood in general is not a disadvantage and the craft doesn't suffer as a result. If anything the added experience and enhanced empathy has made me a better cinematographer and filmmaker.
Morrison has already brought her groundbreaking eye to a score of Hollywood projects, and now she's bringing her perspective to the industry's politics as well. If only there was an Oscar nomination we could give her for the latter, because it's a field in which change is crucial.