Yankee Candle Is Dropping 3 Advent Calendars This Year & The Scent Lineup Is Perfection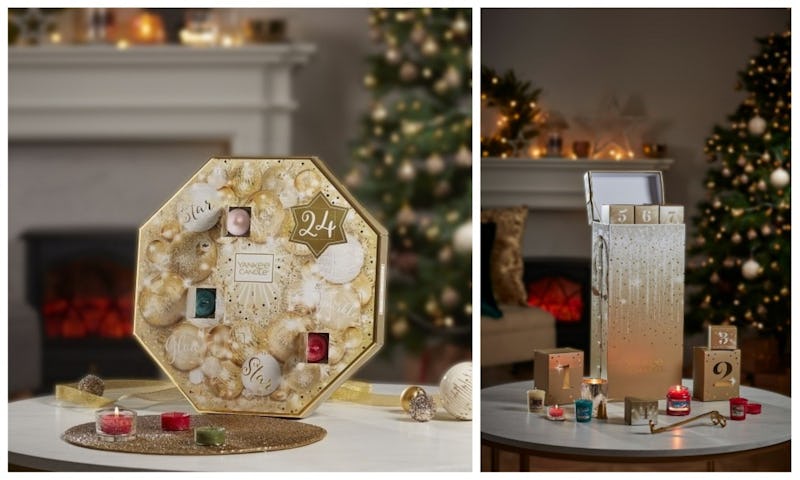 Yankee Candle
Is… is August a little too soon to start talking about the winter holidays? My gut say yes — after all, we haven't even gotten to Halloween yet — but after seeing pictures of Yankee Candle's 2018 holiday advent calendars, I'm… prepared to start diving into a winter wonderland full of snow and peppermint and icicles already. Then again, maybe I just feel that way because snow and peppermint and icicles are all really appealing when it's, y'know, around 100 degrees out with 75 percent humidity. Whatever. The pictures are gorgeous, and I can only imagine that the actual items contained within them smell gorgeous, too. This is Yankee Candle we're talking about, after all.
The revelation comes to us courtesy of Good Housekeeping UK, who just unveiled what the scented candle giant has waiting in the wings for us this holiday season. Several new scents will be arriving, including Frosty Gingerbread, which I assume will smell like a soft, iced gingerbread cookie, and the utterly refreshing-sounding Icy Blue Spruce — but that's not all. Not one, not two, but three different advent calendars are on the horizon, too, set to shower us all with scented candles each day in December leading up to Christmas. Heck, and yes.
(Why not all four?)
Interestingly, the "advent" period originally referred to the four weeks beginning on the nearest Sunday to St. Andrew's feast day, which is celebrated on Nov. 30, and continuing through the next three Sundays, according to Scott Allen at Mental Floss. The practice of celebrating the advent is believed to have existed since around the fourth century. What we think of as advent calendars, however, are much more recent; in the mid-19th century, according to Allen, German Protestants would mark up doors with chalk or light candles in order to keep track of the days left until Christmas — which is about when "advent" started to mean the period between Dec. 1 and Dec. 24 instead of its original meaning. Printed advent calendars, in which little paper door were opened on an actual calendar to reveal a new picture each day, date back to the early 20th century; however, as Christmas became both more commercial and more secular, advent calendars began to feature sweets, small toys, and other treats as the gifts behind each of their 24 doors.
In recent years, though, there's been a move towards "alternative advent calendars" — countdown methods that take the form of a traditional advent calendar, presenting those who use them with something to open each day leading up to Christmas, but filled with something… unexpected: Socks; whiskey; bath products; anything goes.
While regular advent calendars are typically geared towards children, alternative advent calendars are aimed at adults — which means that you can put gifts inside them you'd normally want to keep away from children. Like, for example, candles, because goodness knows, letting kids play with matches is an awful, terrible idea.
If you are an adult, however — particularly one who finds flames festive and likes things that smell good — Yankee Candles' advent calendars are definitely for you. The company has been producing them for a few years now, with new options every year — and this year's calendars are rather spectacular. They're not available for purchase yet, but the images and details for the three calendars available in the UK for 2018 have just hit the internet, so let's take a look, shall we?
First, there's the Holiday Sparkle Advent. According to Good Housekeeping UK this calendar bestows upon you a scented tea light each day during the 24 days leading up to Christmas, as well as a tea light holder. Among them are candles featuring two of this year's new holiday scents: Icy Blue Spruce, which features spruce trees, juniper berries, and a blast of spearmint, and Glittering Star, which includes sugar plum, ginger, and sandalwood. It retails for £24.99, or around $32.20 USD.
The Fold Out Advent, meanwhile, has a few surprises up its sleeve. Not only do 12 votive candles, 12 tea lights, and a votive holder await inside, but also, the whole thing folds out (as the name might suggest) to display a cute little Christmas scene. It retails for £34.99, or around $45 USD.
For those of you who take your advent very, very seriously, there's the Christmas Tower Advent: A tower of boxes, each filled with something delightful, to be opened one by one as the days of December tick by; you pull the ribbon on the side of the tower each day to bring that day's surprise to the top. Inside, you'll find two jar candles, 12 votives, six wax melts, and a wick trimmer. It retails for £74.99, or almost $100 USD — so, y'know, it's not cheap, but… well… look at it.
According to Good Housekeeping UK, these three calendars will hit Yankee Candle stores and the website in October. There's no word yet on whether these options will also be available in the United States — but we can wish, right? Hope springs eternal and all that.
BRB, dreaming of a white Christmas. Literally. It's just so hot out, people.