Astrologers Tell Us How Valentine's Day Will Impact Your RelationshipThis Year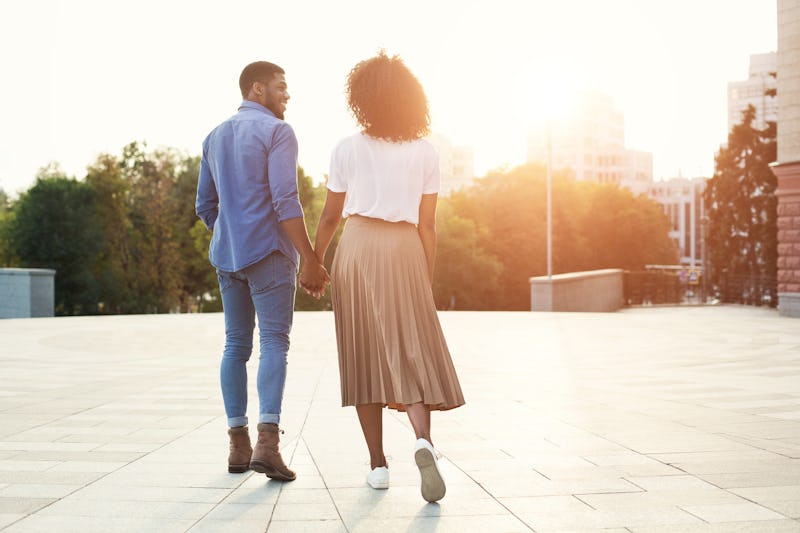 Shutterstock
Whether you're looking to get away for the entire weekend or just have a quiet dinner together at home, the planetary energies surrounding Valentine's Day 2020 are here to make your relationship stronger. And as astrologer Elisabeth Grace, tells Bustle, couples have a lot to look forward to on Feb. 14.
On Valentine's Day, the Sun will be in Aquarius, which is all about innovation and ideas, while the Moon will be in Scorpio, which can give you a need for emotional depth and substance. "Already we can see that those with significant others will be seeking to prove their fidelity to one another, in ways that are uniquely creative," Grace says.
The best part is, the Scorpio moon will be in harmony with three other planets at this time: Mercury, the communicate planet, Neptune, which deals with our dreams and fantasies, and Jupiter, the planet of luck.
With Mercury and Neptune together in Pisces, we'll see people and situations in the best possible light. "It favors intuition, empathy, and soulful connection," Grace says. So in general, having deep and meaningful conversations and building intimacy will be a big focus for relationships this year.
As far as whats in store for Feb. 14, 2020 and your relationship, here's what astrologers say ever sign can expect this Valentine's Day.