Zoë Kravitz's Upcoming 'High Fidelity' Series Is Putting A Major Spin On The Original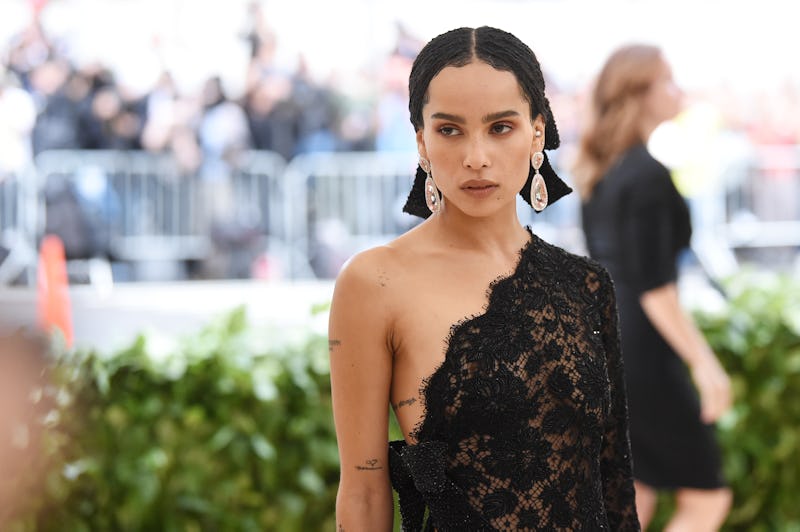 Jamie McCarthy/Getty Images Entertainment/Getty Images
Whether it be the 2000 cult-classic film or the original 1995 Nick Hornby novel, High Fidelity has had its place in pop culture for over 20 years. Now, Zoë Kravitz will star in a reimagining of High Fidelity, and it's giving a whole new spin to the story fans know and love. In the upcoming series, to premiere on Disney's new streaming service, Kravitz will play the lead character, giving the story a fresh perspective from a woman's point of view.
Played by John Cusack in the 2000 fan-favorite movie, Kravitz will take on the lead character in the 10-episode series. In the book, the lead was a 30-something record store owner named Rob Fleming. Obsessed with music and pop culture, Rob constantly creates top five lists with his employees. When his girlfriend leaves him, he begins reevaluating his unsuccessful relationships by revisiting his top five worst breakups.
Cusack famously portrayed the character in the 2000 film, and Kravitz's mother, Lisa Bonet, starred alongside him (and did a rendition of "Baby, I Love Your Way"), which really brings things full circle. Additionally, Kravitz will serve as an executive producer on the series, which will be her first producing credit.
The series is being penned by Ugly Betty writers Veronica West and Sarah Kucserka, which means fans can likely expect a more lighthearted tone. While Cusack's Rob was all about the cynicism, there's a good chance that Kravitz's character will be forging her own path — albeit one with plenty of top five lists. When the news was first announced in April, Deadline described the series as "an optimistic-in-tone mixtape/diary rom-com" that "will be PG-13 and intended for family co-viewing." However, the new version of the lead will still talk directly to the camera at times.
Kravitz, who will soon be seen in Big Little Lies Season 2, seems like the perfect choice to play a music obsessed, unlucky in love record store owner. She's not going to be playing a carbon copy of Rob, but that's actually a good thing. Gender-swapped reboots should be about more than simply replacing a male character with a female one. Kravitz's character will have her own voice and unique experiences to bring to the table, and having two writers from Ugly Betty on hand suggests the series is well-equipped to add a fresh spin on this classic story.
While some fans of the original story have expressed skepticism on Twitter, this is a project that likely needs to be seen before it can truly be judged. Not only is it a reboot, it's also among Disney's first batch of original series for the company's upcoming streaming service. The new High Fidelity could help set the tone for more Disney originals to come, and if there's one thing that's certain, it's that Kravitz can pull this role off. She's got the rockstar look, talent, and commitment. Fans are just going to have to wait until the show's official streaming debut to see how this new take High Fidelity actually turns out.