The World's Ugliest Dog, Zsa Zsa, Has Died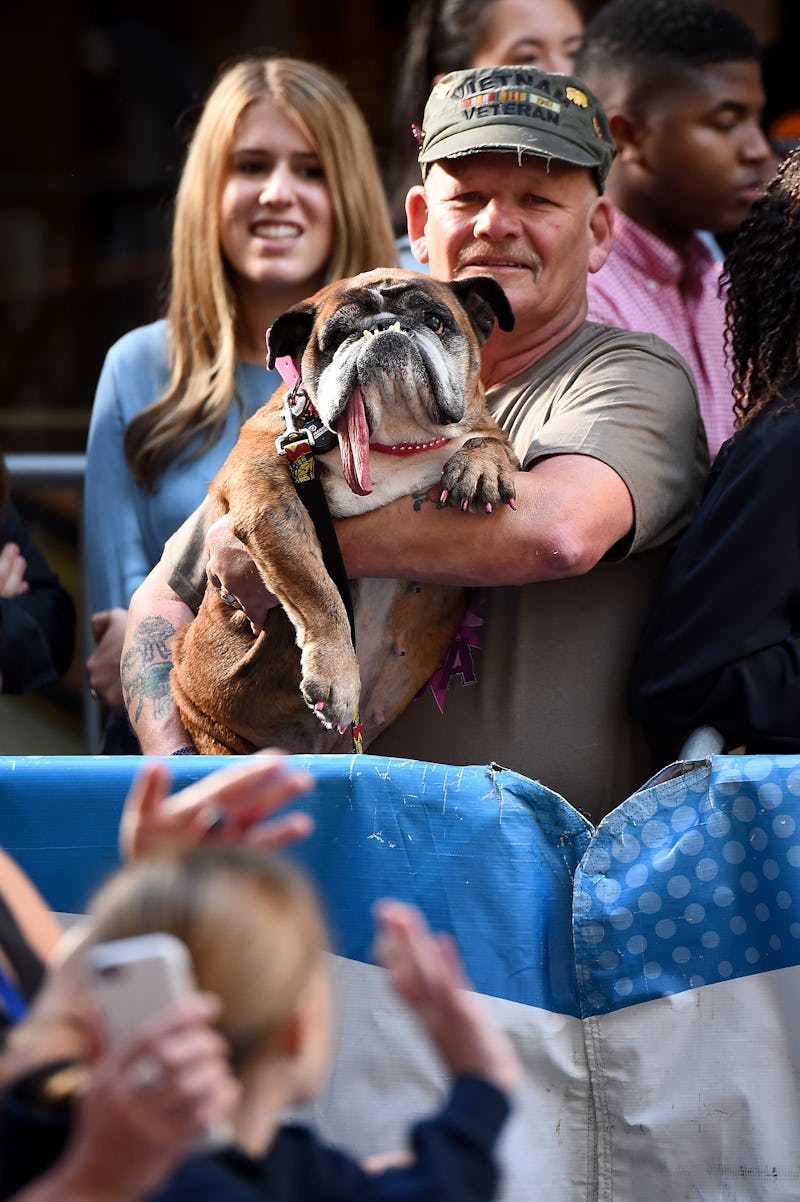 Michael Loccisano/Getty Images Entertainment/Getty Images
It is with great sadness that I inform you that Zsa Zsa, the World's Ugliest Dog for 2018, has died. Zsa Zsa, a 9-year-old English Bulldog, was crowned World's Ugliest Dog at the 2018 Sonoma-Marin Fair in Petaluma, Calif. just two and a half weeks ago; she passed away in her sleep on Tuesday morning. Her human, Megan Brainard, announced her passing to TODAY later that night. "She's been staying over at my dad's house. He woke up this morning and found her passed away," Brainard told TODAY. The pup will be sorely missed, both by those who knew her and those who did not.
Zsa Zsa hailed from Anoka, Minn.; a rescue who had been adopted by Megan and Jesse Brainard, she had spent five years at a puppy mill before being sent to a dog auction, according to a press release announcing her win. She was then purchased by the non-profit organization Underdog Rescue and subsequently adopted by the Brainards. "From the moment we saw her beautiful face, we knew we would be her forever home," the Brainards said. They named her after the late, great Zsa Zsa Gabor.
One of Zsa Zsa's most distinctive features was her tongue, which had a tendency to loll out of her mouth due to her intense underbite and the structure of her upper teeth. When the bulldog and Megan Brainard appeared on the TODAY show on June 25, Brainard revealed that kids sometimes shook Zsa Zsa's tongue as if it were another paw. The pup loved Slim Jims and Chipotle, and slobbering lovingly all over her humans was one of her favorite pastimes.
Although the World's Ugliest Dog contest, which has been running for nearly 30 years, is frequently viewed with laughter and humor, it also carries with it an important message: As CNN puts it, it illustrates the fact that "the pedigree does not define the pet." It also raises awareness about the benefits of adoption and rescue pets; the organizers noted to CNN that many of the contest's participants have historically been rescued from kill shelters or, like Zsa Zsa, puppy mills.
The contest is doubly important in light of the fact that "ugly" pets are generally adopted much less frequently than "pretty" ones. Dr. Emily Weiss, vice president of shelter research and development for the ASPCA, told Yahoo! Shine in 2014, "What we have found is that people are really picky." When folks go to a shelter to adopt a pet, said Weiss, they often have preconceived notions about what they want their pets to look like — even though that may not actually be the best way to find the right pet for you.
There's an ongoing movement to destigmatize "ugly" pets and encourage their adoption, though; the ASPCA has a tool called Meet Your Match that helps match pets with those looking to adopt through things like personality and activity level, rather than appearance, and in 2015, a group calling itself "Adopt Ugly" began encouraging would-be pet parents to... well, adopt ugly.
And truly, all pets are beautiful, regardless as to whether they fit a certain set of aesthetics. That's what many who are mourning Zsa Zsa and celebrating her life are saying on social media — and it's a message worth taking to heart.