How The City Healed Five Years On From The Manchester Arena Attack
Manchester's community reflects on the power, and resilience, of the city and how it found togetherness on one of the darkest days in the city's history.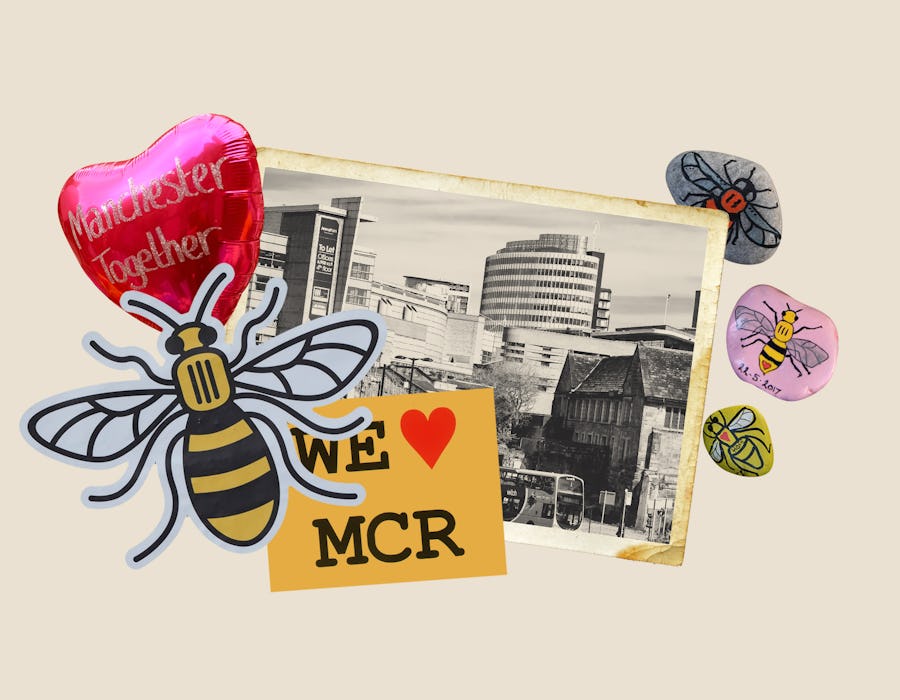 Alberto Manuel Urosa Toledano, Paul Ellis, Jeff J Mitchell, Xinhua News Agency/Getty Images
Trigger warning: this article contains details of a traumatic event.
Five years ago, on May 22, 2017, Islamist terrorist Salman Abedi detonated a shrapnel-packed, homemade rucksack bomb at the end of an Ariana Grande concert at Manchester Arena. "Suddenly, everyone started running," says 25-year-old Jessica Monk from Manchester, who was aged 20 at the time of the bombing. "We were guided out behind the stage for an emergency exit, people were scared, terrified." A bomb had been detonated in the entrance to the arena at 10.31p.m., near Manchester Victoria train station, killing 23, injuring thousands, and permanently altering lives in unimaginable ways. Dan Hett, 31, is one of those people. His brother, Martyn, died in the attack. "I felt a combination of shock, grief, confusion, and lots of other things," he tells Bustle. "It was overwhelming."
Hett wasn't alone. In the years following the attack, Monk suffered from panic attacks. "It was very hard," she says. "I struggled a lot through my last year of university, and I felt quite low. Loud bangs would scare me. When I passed the arena, I felt physically sick. I tried to brush it off, but working in a kitchen meant I was constantly surrounded by loud noises and I would frequently get panic attacks."
For Hett, part of coping with his loss was trying to remember everything he could. "I was quite worried at the time about forgetting anything, and so I've always written everything down," he says. "The experience was so big and so dense. It wasn't one big experience, it was millions and millions of tiny experiences. I've always kind of kept diaries, and I've written stuff and I journal, it's just been the thing that I've always done."
Jessica MonkJessica Monk
Martyn Hett, Dan Hett's brother, who was killed at the Manchester Arena bombing on May 22, 2017.Getty Images
Dan Hett
Hett says that you never really move past these kinds of tragedies, you simply learn to adapt, a sentiment surely shared by not just the families of victims, but by all the survivors, the emergency responders, Ariana Grande herself, and the people of Manchester. The city hadn't seen a terrorist attack since the IRA bombing in 1996, but the city didn't waver. Initiatives to support those affected were set up immediately, from the We Love Manchester Emergency Fund to Manchester businesses donating hundreds of thousands of pounds to the families of victims.
Vigils swept the country while world monuments lit up in the colours of the Union Jack. The famous Manchester worker bee symbol became synonymous with the tragedy, a reminder not just of what the city lost, but of the solidarity of its people. The symbol was plastered all over the city, on protest banners, in the windows of every shop, scrawled on pavements by graffiti artists and, most notably, on the bodies of those who wanted to support the victims of the attack through the Manchester Tattoo Appeal.
In a time that could very well have been marred by hate and anger, Manchester stood together with compassion and resilience; a legacy that still lives on.
"The immediacy of the outpouring of support from the people of Manchester was unbelievable," says Hett. Being half Turkish, he says he's always felt proud to be part of such a diverse, multicultural, and creative city. "Manchester has always been quite a close knit city," he adds. "But I think that that really came into its own in the aftermath. I think what struck me most is that people were very united in their support. I would get stopped by people from all walks of life offering support…and it's still true now."
The One Love Manchester concert, which raised money for the emergency fund, took place on June 4, 2017, two weeks after the attack. The event was unforgettable, and a much needed stance against the fear that could have been instilled in the city. "I've never experienced anything like it in my life," says 20-year-old Aimee Prescott, from St Helens, who bought tickets after hearing that donations were being made to those affected. "There was so much love and respect," she continues. "You'd expect some sort of intense feeling following the attack, fear if you will, but there was not a single ounce of it. Not only because of how the artists made the crowd feel but also from how the crowd interacted with one another and how they all came together as if we were one big family." For Prescott, One Love Manchester was about more than going to a concert, it was about showing that "love will always overcome hate."
This ethos was mirrored in a number of initiatives designed to help those impacted by the attack. Namely, there was the Manchester Attack Support Group Programme (MASGP). Designed by a team of disaster management and trauma specialists, and lead by two survivors of collective trauma, the MASGP was a facilitated peer support group programme set up to bring people together. "I was advising the local authorities in Manchester after the attack," says Dr Anne Eyre, who co-lead the programme. "One of the things I was advising them on was the value of bringing people together who'd been affected by the incident so that they could provide peer support."
Built on "mutual understanding, mutual support, and a wish to help each other", the group was a "community within a community" that gave those directly impacted by the attack a place to belong. "That community aspect is so important, because what people want, and I can speak personally to, is they want to feel normal," says Dr Eyre. "They want to know that being involved in a traumatic experience and how that is affecting them doesn't necessarily mean they're not normal. And you often get that by making sense of the experience through connecting and talking with other people who've been through similar things."
I have had wonderful employers and colleagues and family and friends who have been there for me when I needed them. And, five years on, I know they'll continue to be.
This year, to mark the fifth anniversary of the tragedy, a permanent memorial was erected in Manchester City Centre, opened by the Duke and Duchess of Cambridge. The Glade of Light was designed to be a living memorial, a tranquil garden space for remembrance and reflection, where people will be able to go to commemorate the victims. At the nearby Manchester Cathedral, prayers will include acts of remembrance during which the names of the 23 people killed will be read out, and a minute's silence will be held at noon and at the time of the attack.
Five years on, Hett and Monk are still processing the events of that night, but they've learned a lot. For Hett, part of coming to terms with what had happened was giving purpose and meaning to his work. As a digital designer, he has worked on a number of projects relating to his own experiences following the attack, as well as bigger societal questions around radicalisation. "Everything that I'm doing with my life has been affected by what I went through," he says. "Not only did I become stronger, having never been through loss or grief prior to what happened, but I've found a lot of meaning and direction through my work."
Monk sought refuge in the comfort of her friends and family. "I have had wonderful employers, colleagues, family, and friends who have been there for me when I needed them. And, five years on, I know they'll continue to be."
Victim Support provides practical help and emotional support to victims and witnesses of crime and major incidents, no matter where or when the incident took place. Anyone seeking support can contact the charity's free 24/7 support line on 0808 16 89 111 or via www.victimsupport.org.uk