9 Ways To Give Back This Giving Tuesday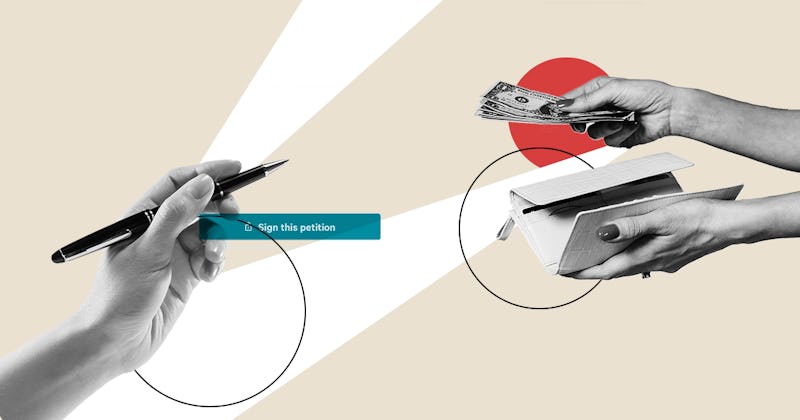 Margaret Flatley/Bustle
Early last week, Black Friday probably felt like it was five hundred years away. But then you blinked, and now it's Giving Tuesday. Everything feels more than a little different this year, but yes, the Tuesday after Thanksgiving is still the day you get all those emails asking you to donate. But breaking out your wallet is only one of the many ways to give back on Giving Tuesday.
Starting on Dec. 1, Giving Tuesday will kick off the official charity season, prompting people to connect with an organization or cause that needs help. Once you pick a place to donate time or money to, you can share the news with #GivingTuesday to spread awareness and inspire others to partake in the spirit. Charities can sometimes be overwhelmed with volunteers during this season — so if places nearby you don't need any extra physical hands, ask if there are supplies you can buy for them, or if they'd prefer donations to help with their operating costs. If this has been a difficult year for you financially, you can still support your favorite causes by raising awareness on social media, signing petitions, and educating yourself and those around you on important issues — all for free.
With so many dire causes and amazing organizations, it can be overwhelming to wade through it all and find your perfect match. When in doubt, you can always check the efficiency and rating of a charity you're interested on CharityNavigatory.org and evaluate the organization's ethics with trans activist Dean Spade's guide to assessing charities. If you're looking for ways to spend your money and time on important causes today, here are nine causes to support on Giving Tuesday.