Sunny Hostin Wrote The Beach Read She Craved
The debut novelist talks Toni Morrison, The View, and finding comfort in the kitchen.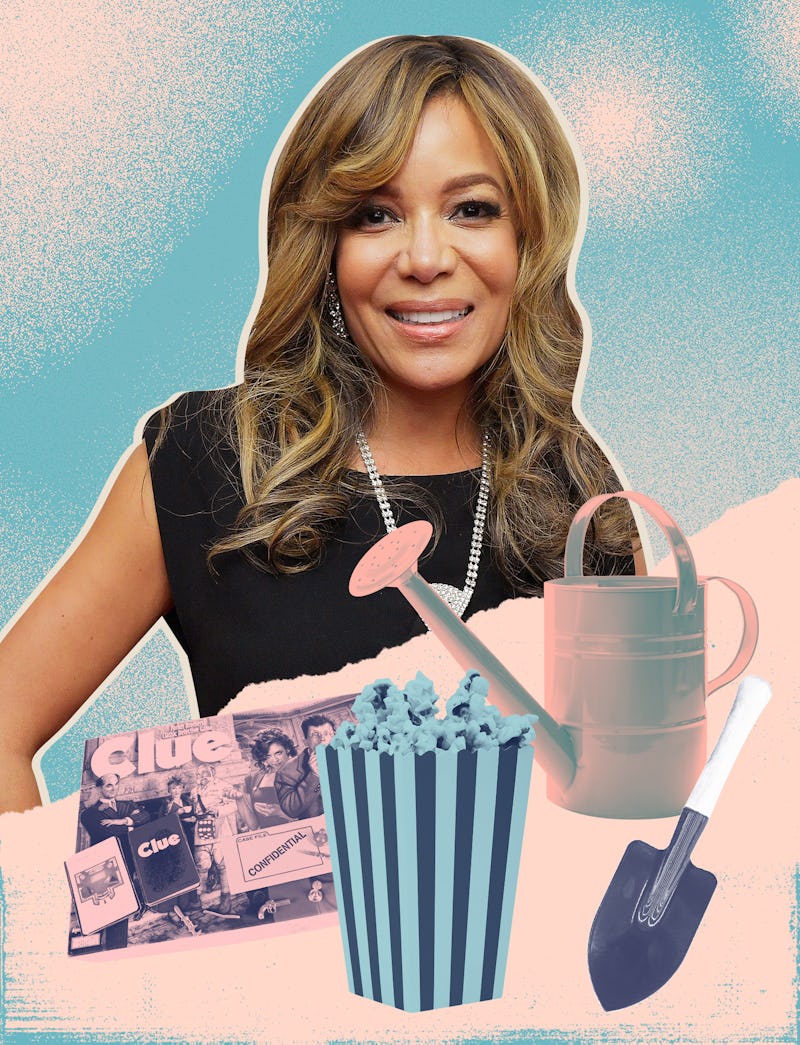 Roy Rochlin, Yevgen Romanenko, Andreas Berheide/EyeEm, JulNichols/Getty Images
In "Pep Talk," Bustle chats with celebrities about finding levity in a year of loss. This month, The View co-host Sunny Hostin talks about the past year and her debut novel, Summer on the Bluffs.
It's rare for a first-time novelist to land on the New York Times bestseller list, but Sunny Hostin is used to paving her own path. When she started writing Summer on the Bluffs in 2019, the book complemented some emotional heavy-lifting she was doing professionally. "[I do] a lot of reporting with social justice work, so I want to read something light on my way there or back," Hostin tells Bustle. Her story, the first in a trilogy, follows three adopted, 20-something goddaughters over a summer in Oak Bluffs, Massachusetts — a Black beach community on Martha's Vineyard.
"I never saw a beach read that [featured] complex Black characters [like] my friends," says the three-time Emmy Award winner, who wrote the book in her home office. "Toni Morrison said, 'If there's a book that you want to read, but it hasn't been written yet, then you must write it.' I just wrote the book that I wanted to read, and it poured out of me."
Between her fiction debut and hosting duties (on The View and a series for ABC's Soul of a Nation), Hostin is also celebrating the May launch of her new venture, Roots & Wings Productions, which will bring diverse stories to television and film. First up? Developing two drama series: one based on Summer on the Bluffs, and the other inspired by her time as a former federal prosecutor. A few months ahead of her five-year anniversary on The View, the South Bronx native talks to Bustle about personal loss and finding community.
Can you tell me about the beginning of lockdown?
My husband's [an orthopedic surgeon] at a hospital, so I was worried. I didn't want him to get sick. My son was a high school senior, so we were talking about no prom, no valedictorian speech, no real graduation. And my daughter didn't have a real freshman year of high school. She plays basketball, so there were no tournaments. I also thought, "How am I going to work?" because I work in front of a live studio audience, but ABC built a studio in my house. Our ratings on [The View] are higher than they've ever been.
What have you been most grateful for during this past year?
I lost my in-laws to COVID within three days of each other. That's been very hard. We've experienced tremendous, unimaginable loss, which I share with nearly 600,000 other American families. I'm just thankful that we're still here and pushing through.
I'm so sorry. Has anything good come out of lockdown for you?
Being able to spend so much time with my husband and kids. Both of my parents ended up staying with us, too. Family game nights took on a life of their own. I forgot how much I enjoyed board games, like Monopoly, Scrabble, and we play a version of Pictionary — but Clue is my favorite.
I also started taking online cooking classes on Airbnb Experiences with friends. We made street tacos [with] our own tortillas. We learned how to make gnocchi, and did a wine tasting from a vineyard. I found ways to connect with people virtually.
I know you love cooking. What have been your favorite dishes to cook this past year?
I make arroz con calamares, which is black rice with squid. I make arroz con gandules, Puerto Rico's national dish, with rice, pigeon peas, and pork. I make tortilla de patatas, a Spanish-style [frittata]. I make a lot of collard greens because they taste good and they're good for you. We also have an outdoor pizza oven, which my husband built, so we make pizzas with the whole family.
And I hear you've become quite the farmer.
I live outside [New York City], on 2-and-a-half acres. As a family, we built an orchard and planted a bunch of fruit trees: peaches, cherries, plums, apples, and figs. We also have blueberry, blackberry, and raspberry bushes.
On a different note, tell me about your TV habits.
I make a mean truffle popcorn with parmesan cheese sprinkled on top, because I'm streaming all the time. I love making my own popcorn, having a nice glass of wine, and watching Bridgerton, Lupin, and One Night in Miami. I watched very little television before the pandemic, which people think is hilarious because I'm on TV, but now I'm the streaming queen.
And for a final question: The past year has been really hard — for you and for so many Americans. What would you tell someone who's having a hard time right now?
You can survive alone, but together we really do thrive. There are so many ways to be together. Get on that Zoom call, or go for that walk with your mask on to see other people. The light at the end of the tunnel is in sight, and for that, we can be grateful. We can be hopeful and pray for better days ahead.
This interview has been edited and condensed for clarity.