10 Stylish & Versatile Purses With Lots Of Pockets
Everything in its right place.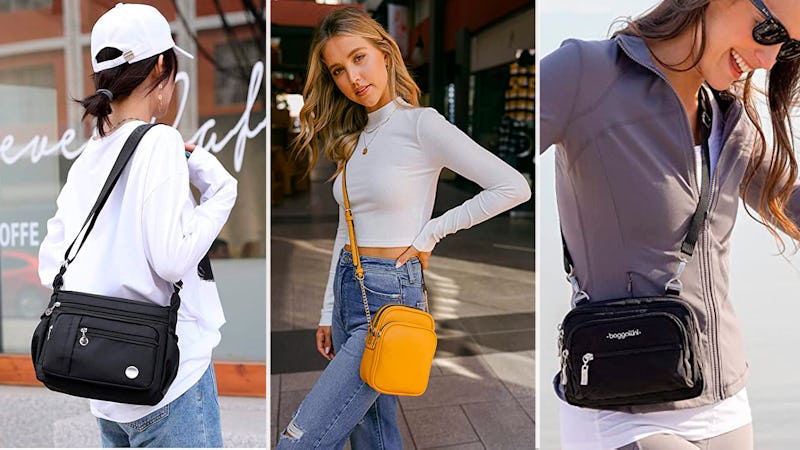 Amazon
We may receive a portion of sales if you purchase a product through a link in this article.
If you're over rummaging around your purse for a solid 10 minutes to find a tube of lip gloss — or if you identify more as a Mary Poppins than a Marie Kondo — you're in the right place. Chock-full of interior and exterior storage, these purses with lots of pockets are spacious enough to fit all your daily necessities, from the smallest lip balms to your clunky laptop, and all the compartments will keep them within easy reach.
What To Look For When Shopping For Purses With Lots Of Pockets
Size & Style
If you're headed to the office (yes, that's still a thing), you'll likely want a larger, structured tote or shoulder bag with a polished look, complete with several compartments for a laptop, notebooks, and chargers — the fashion-forward answer to your typical commuter backpack. On the other hand, if you're shopping or traveling, a more compact nylon crossbody bag with a multitude of little pockets is better for those days where being hands-free and unencumbered is of the utmost importance. For something a little more chic, opt for a classic tote bag or an of-the-moment slouchy purse in supple genuine or faux leather, stylish options that still have enough pockets to keep you organized.
Type & Number Of Pockets
The purses on this have anywhere between six and 12 pockets, including the main compartment. In addition to your standard interior and exterior pockets, both zippered and open, you'll find some clever pocket styles. Cylindrical pockets on the sides offer unfussy access to a water bottle (hydration is key!) or mini umbrella, a lifesaver in inclement weather. Anti-theft pockets with locks, or hidden zippered pockets along the back of the purse, can add an extra layer of security when traveling or commuting. Card slots mean you won't need to pull out your wallet to pay for your coffee; an included wristlet lets you forgo a wallet altogether so you can pack even lighter. And let's not forget the all-important phone pocket, offering instant access to your most-used item.
From lightweight nylon crossbody bags to roomy, trendy tote bags, keep reading for a list of stylish purses with lots of pockets.